Say hello to meen thala curry /fish head curry and another toddy shop /kallu shappu copycat recipe you can make at home. Kallushap /Toddy shop is the most popular thing in Kerala. If anyone wondering what exactly is kallu shappu, the place where a mildly alcoholic beverage made from the sap of palm trees, is served along with food. The food served with toddy is very spicy and hot.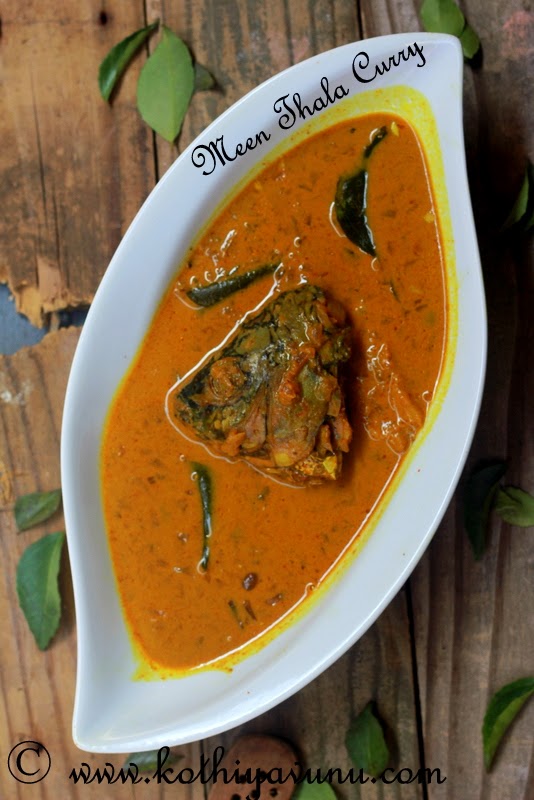 Yes, as you all know I love the nadan food, which is extremely hot and spicy, so full of flavors! So this is for all the hot and spicy food lovers out there ..
Well, when it comes to talking about Meen Thala Curry…oh.. that does bring back memories..! The very first time I heard about the meen thala curry that is served in toddy shop was from my hubby's cousin. I still remember getting this meen thala curry for us from the kallushap/toody shop and needless to say it was out of this world! Even last time when I was on my vacation my cousin bought, chilli beef, meen thala curry, from kallushap and we couldn't stop eating. Last week during my rotuine call to India, my cousin's said they all are planning to have meen thala curry/fish head curry for dinner. At the very mention of this, I couldn't resist my cravings. So I googled and found the recipe from
here
. It came out perfectly! I did tweak it a bit, but I will sure make this again!
Try this delicious Kallu Shappu /Toddy Shop specials that sets the mouth watering and the taste-buds tingling. Serve with Kappa or with piping hot plain boiled rice and enjoy!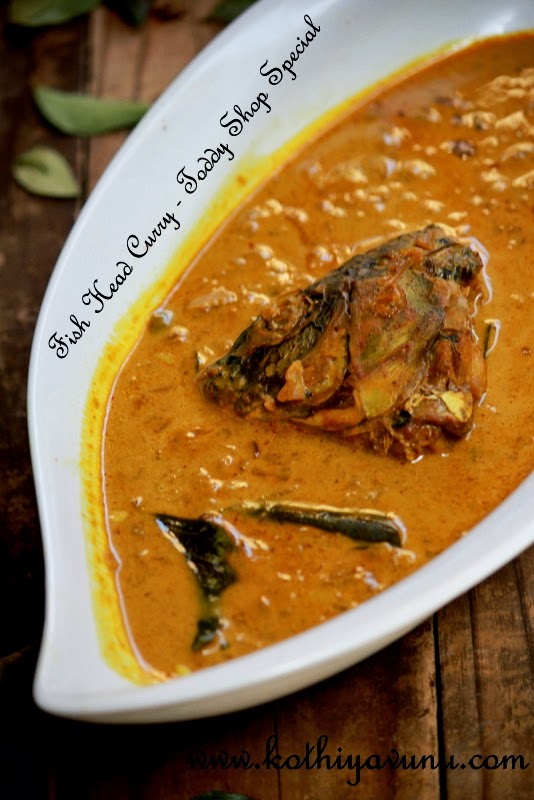 Meen Thala Curry Recipe- Kerala's Kallu Shappu Special-Fish Head Curry – Toddy Shop Special
Preparation Time : 10 mins
Cooking time : 45 mins
Serves : 4
Ingredients :
Fish head pieces (Nenmeen /King Fish,Vatta / Bluefin Trevally are best for this curry, or you can try
with Ayala /Mackerel ) :
6 pieces
Kudampuli /Fish Tamarind:
3-5(soaked in warm water for 5 mins)
Water : 6 cups
Onions :
3 (finely, chopped)
Garlic :
8-10 cloves (crushed)
Ginger :
1″ piece (crushed)
Red Chilli Powder :
21/2 tbsp or to your spice level
Turmeric Powder :
1/2 tsp
Turmeric Powder :
1/2 tsp
Coriander Powder :
2 tbsp
Semi Thick Coconut Milk :
1 cup
Mustard Seeds :
1 tsp
Fenugreek Seeds :
1/2 tsp
Curry Leaves :
2 sprig
Coconut Oil :
2 tbsp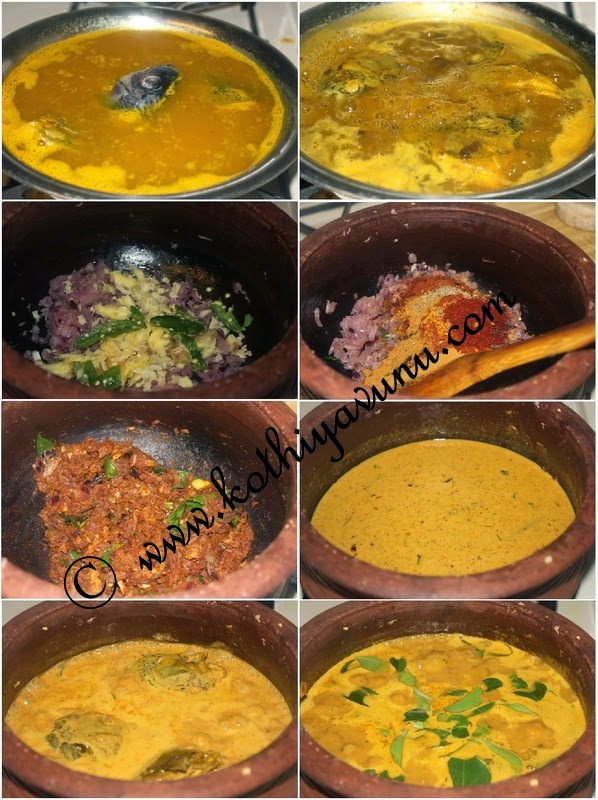 How to make Meen Thala Curry – Fish Head Curry :
1. In a pan, boil 6 cups of water and add a pinch of turmeric powder, salt and kudampuli /Fish Tamarind. To this add the fish heads; cover and cook well.
2. In a cooking vessel (preferably in 'Kalchatti' an Earthen pot), add oil and splutter mustard seeds and fenugreek seeds.
3. Add crushed ginger, crushed garlic and chopped onions. Saute them well till the raw smell disappears and onions turn translucent and light brown color.
4. Now add red chilly powder, turmeric and coriander powders and combine it.(Note : Take care not burn the spices)
5. Now reduce the flame to medium- low, Add the coconut milk.When it starts boiling add the cooked fish heads along with kudam puli; check and adjust the salt; swirl the pan in such a way that all the fish head pieces totally immersed in the gravy. Close and cook it for 5-8 mins(approx) or till the fish head completely absorbs it.
6. Open the lid and add some curry leaves, drizzle little coconut oil and keep covered for 10-20 minutes, let the flavor set.
7. Delicious Meen thala curry /Fish head Curry is ready. Serve with steamed rice, Kappa or with Appam…Enjoy!
Notes :
This is a very hot dish. Add or reduce chilli powder according to your taste. Optional – To bring down the heat, if you want can substitute red chilli powder with kashmiri chilli powder or paprika .
Keep this curry closed for at least 20 minutes before serving, so that the gravy absorbs all flavors.
The taste of the curry depends the quality of the coconut milk. I prefer using fresh squeezed coconut milk.
I have used King Fish head, in this recipe, you can use vatta / bluefin trevally, ayala /mackerel fish head for this recipe.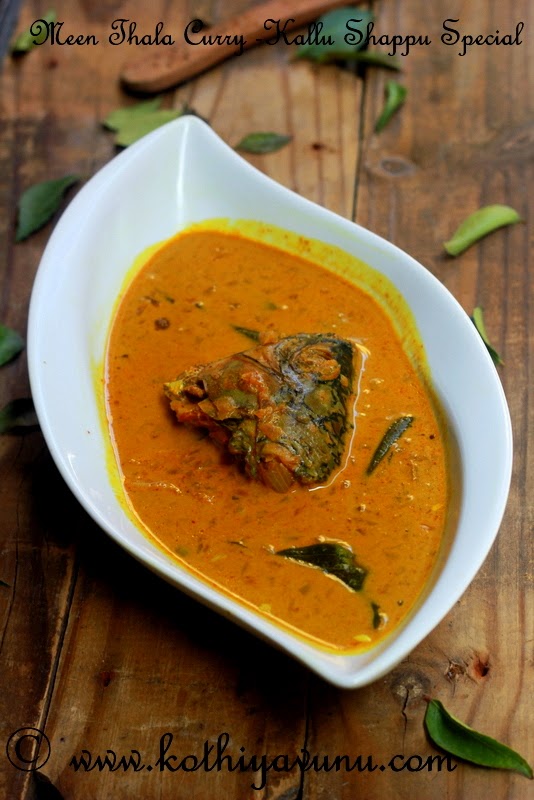 Have a Great Weekend!
Sangeetha