Blueberry, Banana, and Oatmeal. When combining all these ingredients together, you get a delicious smoothie. Not only are they a quick and easy breakfast on the go, but they are also perfect when it is hot outside. Most people will get put off when they hear about oatmeal in smoothies but trust me, I'm not a fan of oats either but this is tasty and refreshing.
If you want an easy, healthy and tasty blueberry banana smoothie then this is it.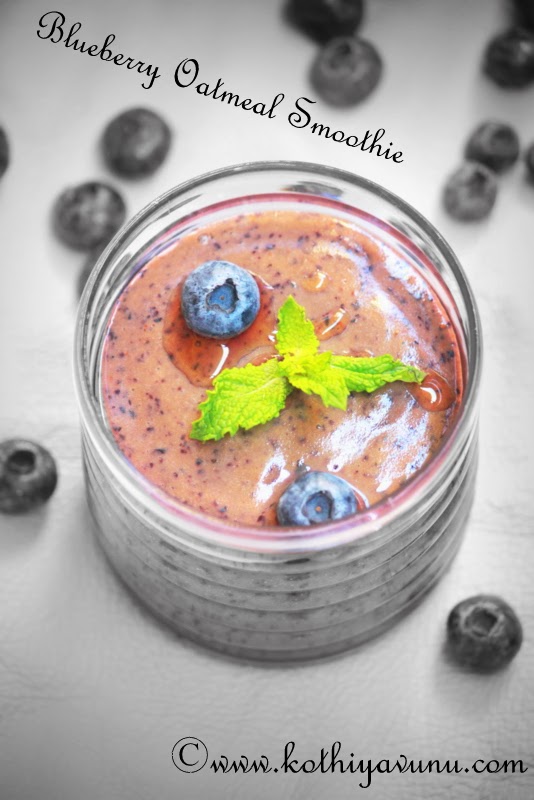 Blueberry Oatmeal Smoothie Recipe
Preparation time : 10 min
Serves : 2
Recipe adapted here
Ingredients :
Blueberry (fresh or frozen ):
1 cup
Banana :
1 small (broken into 3-4 pieces)
Old Fashioned Rolled Oats :
1/2 cup
Almond Milk or Regular Milk or Vanilla soy milk :
2 cup
Greek Yogurt :
1/2 cup
Dash of Cinnamon Powder:
Honey :
1 tbsp
How to make Blueberry Banana Oatmeal Smoothie :
1.In a bowl, combine the rolled oats with 1 cup of the almond milk. Stir and let the oats soak for 10 minutes.
2. In a blender, combine the soaked oats-almond milk mixture, the remaining almond milk, the blueberries, banana, greek yogurt, and honey. Blend until smooth, transfer, serve and Enjoy!

Notes :
You can add in pretty much anything you like. I often add flaxseeds for a nutritional boost.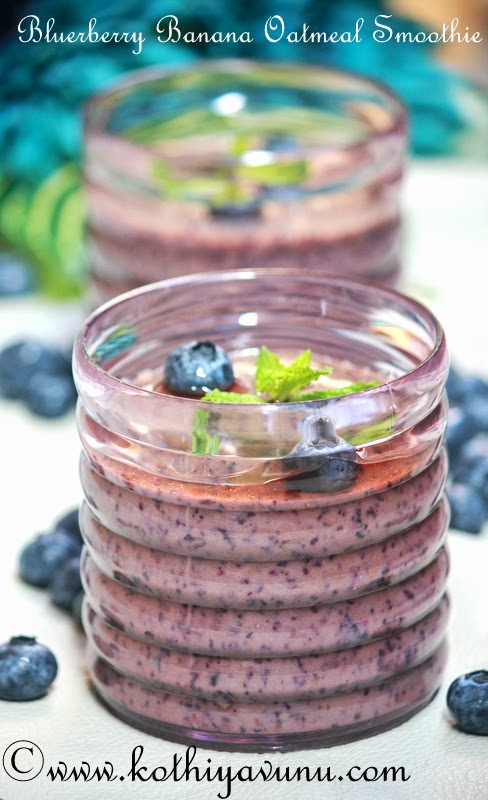 Catch you with more yummy updates!
Sangeetha