Even though I've posted lots of puttu recipes, I've never posted a gothambu-wheat puttu. My other favorite puttu recipe that I've posted with several variations are
Kappa Puttu /Taipoca -Yuca Puttu
,
Erachi Puttu/Meat Puttu
which is so delicious, these puttus are another great option for your breakfast or dinner for that matter.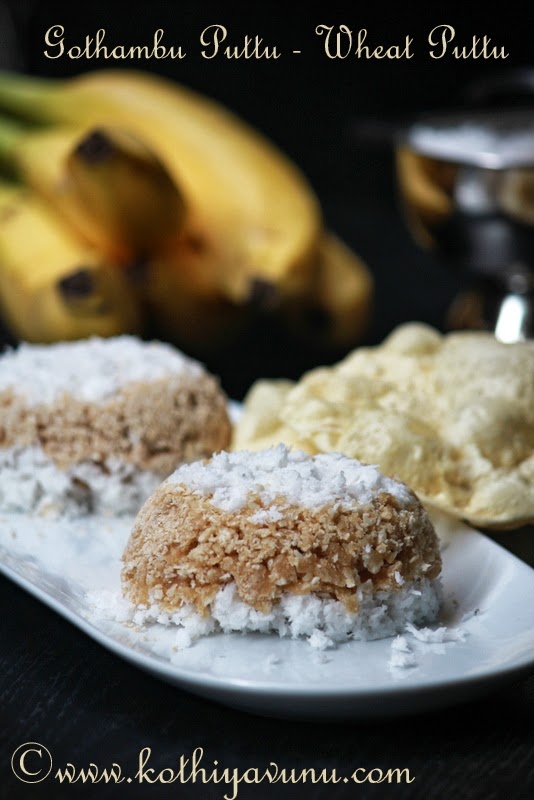 Puttu
are one of my DH favorite comfort foods. He is a breakfast person, that too he prefers only traditional mallu breakfast…No cereals, oats, sandwiches..:( Sometimes I hate elaborate cooking in mornings. On such lazy morning, an easy recipe like gothambu puttu, is my life saver 🙂 I found this better and healthy option than the regular
Puttu
.
It's a recipe you won't want to let go of. Quick, simple,healthy! Does it get much better than that :)? Enjoy!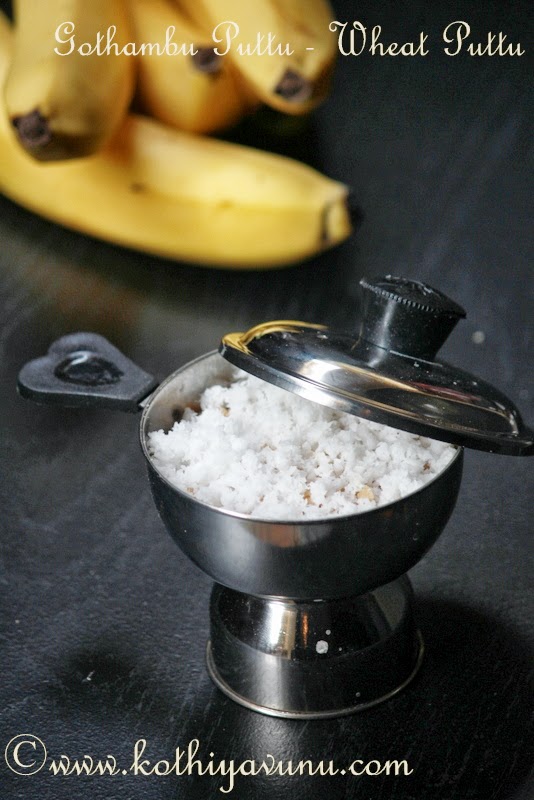 Gothambu Puttu Recipe – Wheat Puttu Recipe
Preparation Time : 10 mins
Cooking time : 6-8 mins
Serves : 4
Ingredients :
Wheat Flour /Atta : 2 cups
Grated Coconut :
1 cup
Water :
3/4 cup or enough to moisten the flour
Salt to taste :


How to make Gothumbu Puttu – Wheat Puttu :
1. Dry roast wheat flour over medium heat, stirring continuously. After about 5 minutes remove from the stove, and let it cool.
2. Add salt to 1 cup of water and wet the gothumbu puttu podi/powder, a little at a time, and mix well till you reach breadcrumbs consistency. (Note : The wheat flour mixture should be wet but not lumpy. The right consistency is reached when you press little flour in your fist and it forms a shape and not crumble off.)
3. Now pulse it couple of times in a mixer or in food processor.This will remove the lumps and you get very soft puttu.
4. Optional – Add little scrapped coconut into the mixture and mix well.
5. Now fill your pressure cooker or puttu kudam with water till two thirds full. Place on the stove. Take the cylindrical tube part or chiratta puttu kutti, insert the flat disk with holes at the bottom of the tube.
6. Fill half of the tube with a fistful full of grated coconut and then add the prepared wheat flour till half and fill the rest of the tube with more prepared wheat mixture and sprinkle grated coconut on the top. (Note: The wheat flour must be loosely filled and not packed.)
7. Cover the cylinder tube or chiratta puttu kutti and place on the cooker spout or on puttu kudam once the steam starts coming out.
8. Steam for 6-8 minutes; when the puttu is cooked, steam will start coming through the holes on the lid. Remove the tube from the pot and open the lid. Using the handle of a large spoon, slowly push the puttu, and slide it onto a plate.
9. Serve hot with Kadalakari /Kerala Style Black Chickpea Curry or Kerala Meen Curry, Pappadam and yellow small bananas and Enjoy!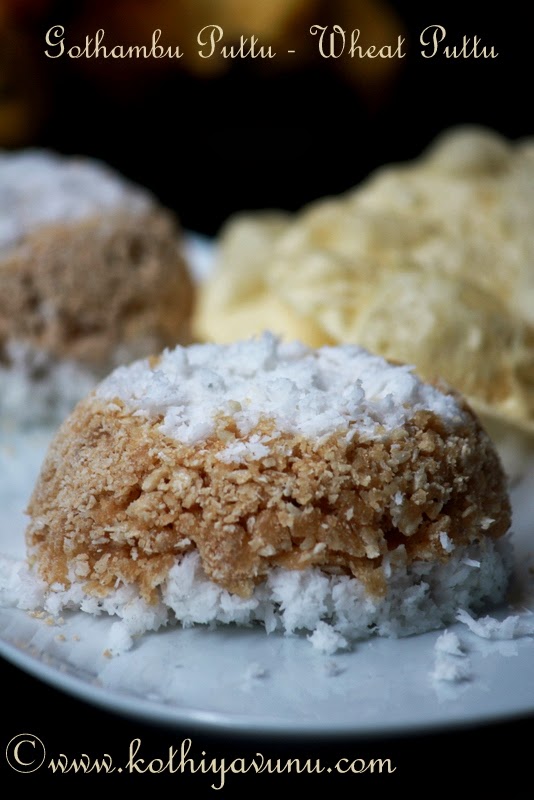 Related Posts :
Puttu
Kappa Puttu /Taipoca -Yuca Puttu
Erachi Puttu /Meat Puttu
Puttu Ularthiyathu /Puttu Upma
Check here for more Whole Wheat Recipes
Until next time, Bon Appetit,
Sangeetha