Kappa Stew – Ishtu Recipe | Tapioca Stew Recipe – Kerala Style
Preparation Time : 10 mins
Cooking time : 20 mins
Serves : 4
Ingredients :
Kappa /Tapioca /Cassava :
1 medium sized (peeled and cubed)
Onion :
1 small (thinly sliced)
Green Chilles :
3-4 (slit lengthwise)
Ginger :
11/2″ piece (finely chopped)
Thin Coconut milk – 2nd extract /Randampaal :
1 cup
Thick Coconut milk -1st extract /Onnampaal :
1/2 cup
Coconut Oil :
2 tsp
Black Pepper Powder :
1/2 tsp (optional)
Curry Leaves :
1 sprig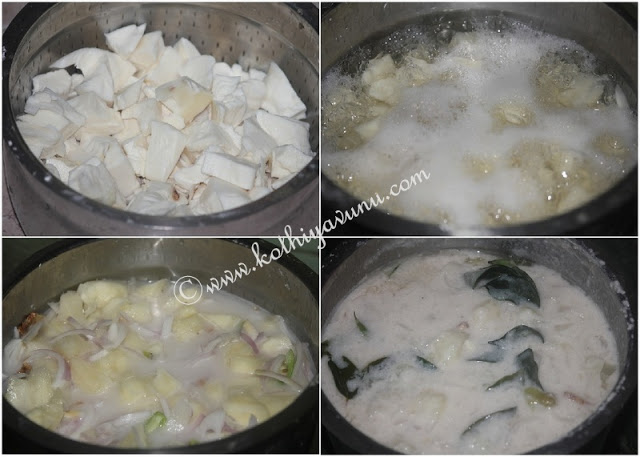 How to make Kappa Ishtu – Stew | Tapioca Stew – Kerala Style :
1. Clean the impurities of tapioca/kappa and peel the skin and cut into cube pieces.
2. Pour enough water to the cleaned tapioca so that all the pieces will be immersed completely, cook uncovered and allow to boil.When the water boils, remove and drain the water.
3. Again add the 1/2 cup of water, salt and cook for for 10 minutes or till it turns to very soft and tender. Now mash some of the tapioca/kappa pieces to get a thick gravy.
4. Add thin coconut milk – 2nd extract /randampaal,sliced onion,green chillies and ginger; let it cook on low heat for 10 -15 mins.
5. Now add the thick coconut milk – 1st extract /Onnampaal and bring to boil and reduce the heat to low and cook uncovered till it reaches thick and creamy.
6. Add the curry leaves, drizzle coconut oil and remove from the fire.
7. Cover and let it rest for couple of minutes, this allows the aroma and the flavor to seep in.
8. Optional – Sprinkle pepper powder at the time of serving.
9. Goes well with
Appam
,
Idiyappam /Noolappam
,
Idli
or white bread.
Notes :
You can make stew/ishtu using a combination of veggies like potatoes,carrot,green peas and so on.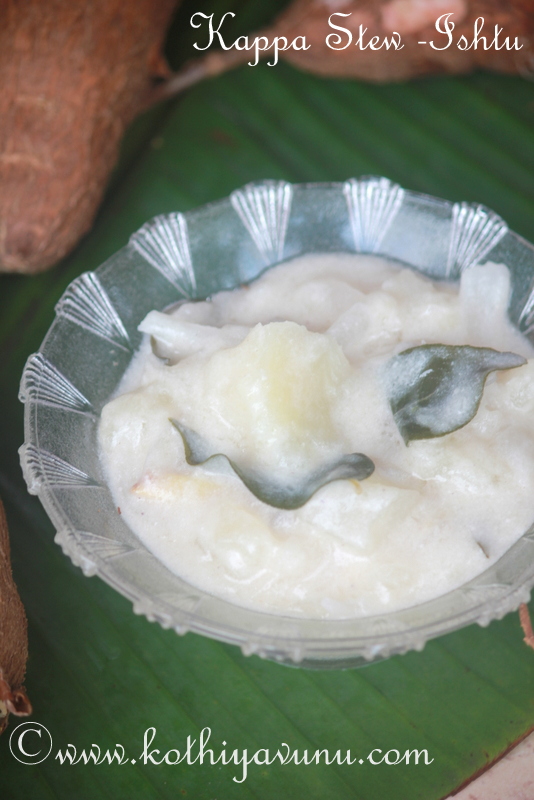 Related Posts :
Happy Weekend!
Sangeetha