This is also one of the recipe I clicked when I was in my home at Kerala. I know I don't have to say more to a Mallu what Koorka is most of us from Kerala love this popular tubar but to all those who not familiar with it, let me lure you in.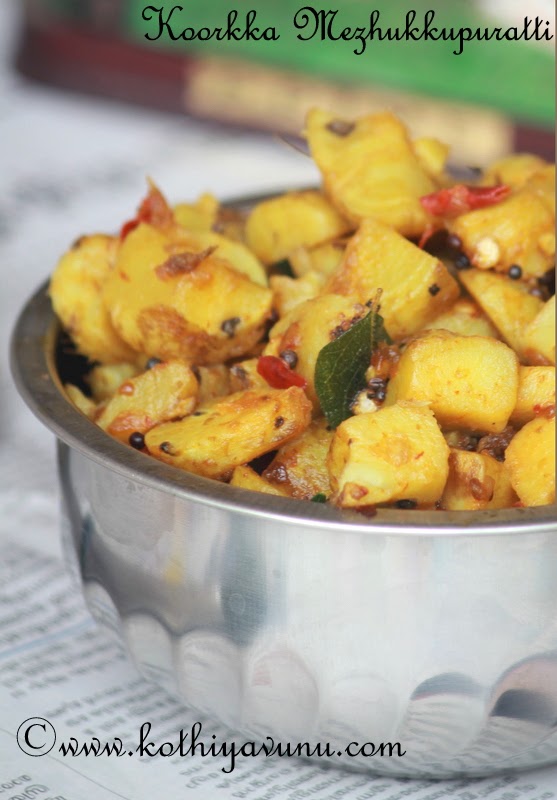 Koorka is also called Shemma/Chivakizhnagu and Chinese Potato in English.This popular tubar is a seasonal veggie available only for about 3 months during the winter in Kerala.These tubers are round, dark brown or black and aromatic. It needs some time and patience for cleaning. Its done putting into a jute bag or sack and beat it on the floor till the skin peels off and then knife is used to scrape off the remaining skin, even though it takes more time to scrape off of the skin its unique taste always hit the spot and are so comforting!
Do try it if you get hold of Chinese potato/ Koorka, I am sure that you will make your loved ones happy.
Koorka Mezhukkupuratti Recipe | Stir-fried Chinese Potatoes Recipe
Preparation Time : 20 mins
Cooking time : 20 mins
Serves : 4
Ingredients :
Koorka /Chinese Potatoes:
1/2 kg /1lb
Garlic:
4 (crushed)
Small Red Onion /Shallots :
8-10 (crushed) or Onion : 1 small
Crushed Red Chillies Flakes or Red Chilli Powder :
2 tsp or as needed
Turmeric Powder :
1/4 tsp
Curry Leaves :
1 sprig
Coconut Oil or Cooking Oil :
3 tsp (Preferably coconut oil)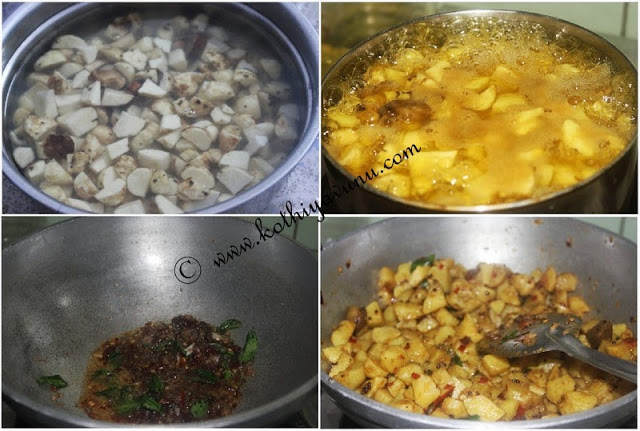 How to clean Koorka – Chinese Potatoes :


There are various way to clean and scrape the skin:
Put into a jute bag or sack and beat it on the ground several times or till the skin peels off and then scrape off the remaining skin using knife. (or) Wash and pressure cook with the skin for 1 whistle and then later on peel off the skin. (or) Soak them in water for an hour or so. Then scrub them on the stone.


How to make Koorka Mezhukkupuratti – Stir-fried Chinese Potatoes :



1. Wash and scrape the skin of the koorka/chinese potatoes and cut into small pieces.
2. Cook with enough water, salt, turmeric powder until they are soft or pressure cook with little turmeric powder, salt for 2 whistles.
3. Heat coconut oil in a pan. (Note : Preferably coconut oil, It will enhance the authentic taste). Add crushed small onion and garlic, saute it till turns light brown in color.
4. Add crushed red chillies and curry leaves and stir fry for couple of minutes.
5. Add cooked koorka and mix it well on low flame. Simmer for about 5 minutes. (Note : If you prefer them to be browned & crisp, add little more oil and stir-fry at medium heat for some more time)
6. Remove from the fire and serve with curd rice or rice of your choice & Enjoy!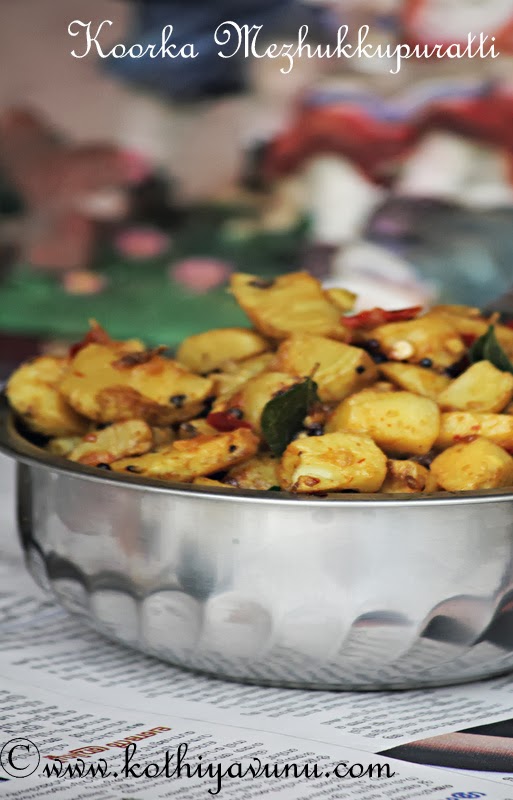 Related posts:
Kaya-Achinga Payar Mezhukkupuratti /Raw Banana and Long Beans Stir Fry
Elaneer /Karikku Mezhukkupuratti /Tender Coconut Stir Fry
Pavakka /Kaypakka Mezhukkupuratti /Bitter Gourd Stir Fry
Achinga Payar /Pacha Payar Mezhukkupuratti /Long Beans Stir Fry
Thamara Valayam Mezhukkupuratti /Lotus Root Stir Fry
Urulakkizhangu Mezhukkupuratti (aka)Upperi /Spicy Potato Fry
Kaya Mezhukkupuratti /Stir Fried Raw Plantains
Cheers!
Sangeetha