Ok, my friend's let go green today!:)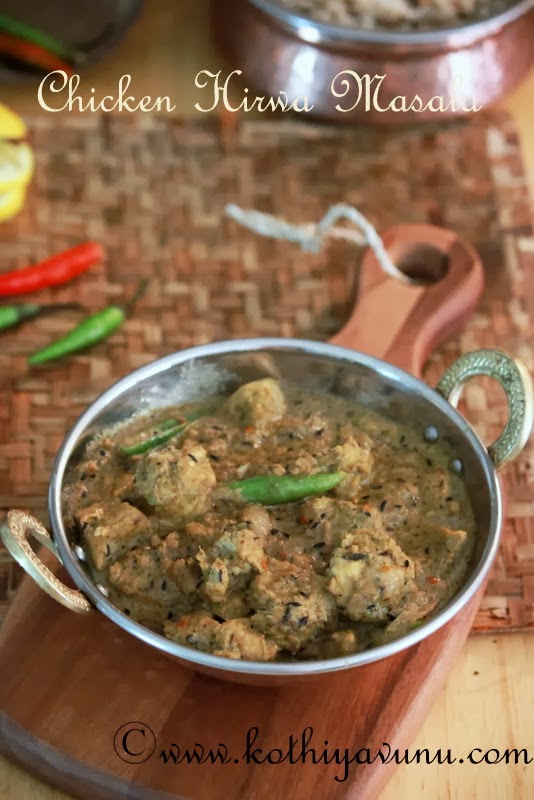 I would like to share with you, something I tried out last weekend. It is a simple chicken curry, yet with a green masala, which is quite new for me -Chicken Hirwa Masala. I first had this at one of our friend's place. My little family loved it and I requested my friend for the recipe. She adapted this recipe from sanjeevkapoorkhazana. No time i tried and indeed it came out well best of all it can be made in a jiffy. I tried some few tweaks to the recipe by adding extra green chillies and freshly grounded pepper powder, it adds to the wonderful aroma and gives a fantastic yummy spicy finish.
A lovely simple spicy chicken dish, that is mainly flavored by fresh coriander, mint leaves and that is highlight of this dish. A nice change from the usual red curries, perfect with Indian Bread or rice!
Hope you enjoy this easy pleaser.Enjoy!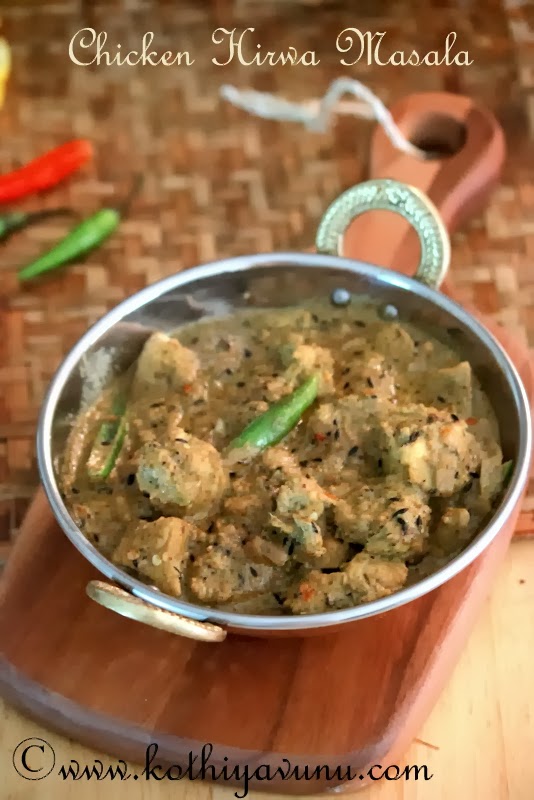 Green Chicken Masala Recipe – Chicken Hirwa Masala Recipe
Preparation Time : 30 minutes
Cooking Time : 15 minutes
Serves : 4-6
Ingredients :
Chicken : 1 whole (approx, 800 grams) skinned and cut up into curry size pieces
Yogurt : 1/2 cup
Hirwa – Green Masalax- To grind into paste:
Garlic Paste : 1 tbsp
Fresh Coriander with stems : 1 cup (chopped)
Mint leaves : 1 tbsp
Thick Coconut Milk : 1 tbsp
Green Chillis : 5
Juice of 1 Lemon
For Masala :
Onions : 1 big, chopped
Ginger – Garlic Paste : 1 tbsp
Garam masala powder : 1/4 tsp
Fresly ground black pepper powder : 1 tsp
Cumin seeds : 1 tsp
Bay leaf : 1
Cloves : 2
Cardamom pods : 2
Cumin powder : 1 tsp
Coriander powder : 1 tsp
Green chilli : 2 (slit lengthwise)
Coconut Milk : 1/4 cup
Salt to taste
Oil : 3tbsp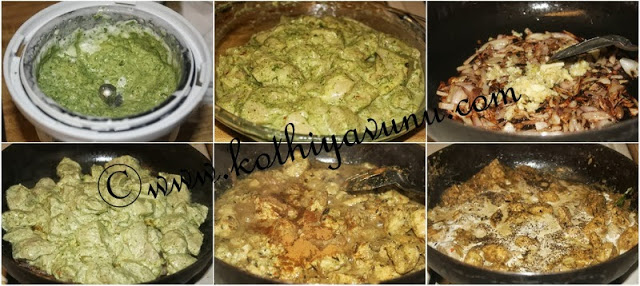 How to make Green Chicken Masala – Chicken Hirwa Masala :
1. Grind together all the listed ingredient above 'To Grind into paste' to a fine smooth paste
2. Marinate the chicken in the green paste along with half a cup of yogurt for about 30 mins to 1 hr.
3. Heat the oil, add the cumin seeds and the cardamom pods, bay leaves, cloves and sauté till fragrant.
4. Add the sliced onions and fry until golden brown, then add the ginger and garlic pastes, fry for couple seconds
5. Now add the marinated chicken. Cook on high heat for 5 minutes, then lower the heat, add the salt to taste.
6. Add the coriander, garam masala powder and cumin powders. Cover and cook for about 15 minutes on low fire.
7. Add the green chili and adjust water if needed. Once the chicken is about done, add in the coconut milk and adjust salt ;Mix well and let it heat through.
8. Sprinkle the pepper powder. Simmer together on low heat for about couple more mins, then remove from the fire.
9. Garnish with coriander leaves and serve hot with paratha or rice and enjoy!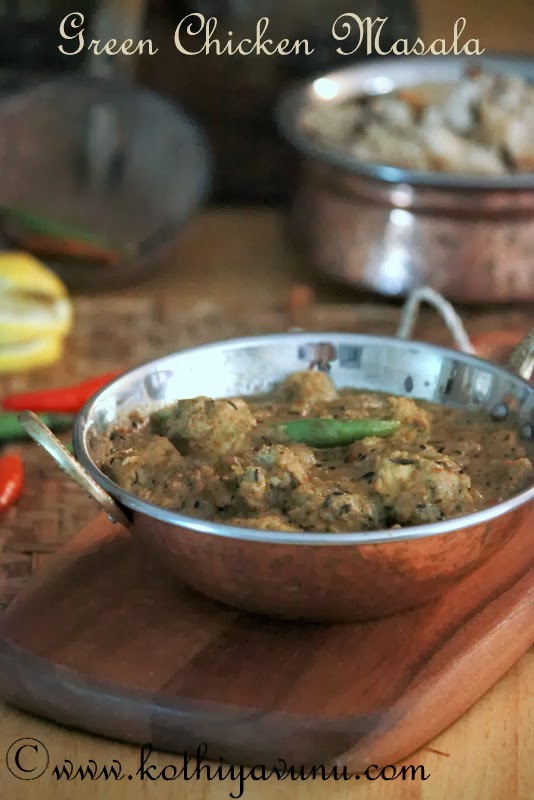 Related posts :