Hello All, Hope everyone had a fabulous Onam with family & friends. We had a very beautiful one with friends.
Today's featuring Muringayila-Muringya Ila Thoran |Drumstick Leaves Thoran-Stir Fry!
I'd mentioned about our Onam celebration in our friends house on my last post. We 6 families and we cooked an elaborate grand sadya. It was so much fun cooking together with friends. Everything turned out delicious. So after all the cooking spree. I feel lazy now to get into kitchen. Finally, I did overcome the laziness, turned on my favorite songs and got into the kitchen 🙂
Special note : Let me stop by extending a huge thanks to all who tried recipes from this humble space for your onam sadya. I was thrilled to read your comments 🙂 You all made my day! I'm so glad that you all like the recipes posted here. Please keep checking and let me know your valuable feedback.
Now lets get into today's recipe…We all know drumstick leaves is highly nutritious.This wonder leaves has lots of health benefits, it serves as a excellent source of protein, vitamins, iron, all of which are very important for all age group. Me and my hubby are die hard fan of muringa ila (drumstick leaf). Any dishes with drumstick leaves are always welcome in our house. Back home in Kerala drumstick tree in the backyard of a house is a very common sight. We too had one in the house, so this is a regular visitor in our table at least once a week. But after coming to US, I always kept thinking that it was something, I can eat only in India. but to my surprise, we got this here in Indian Grocery.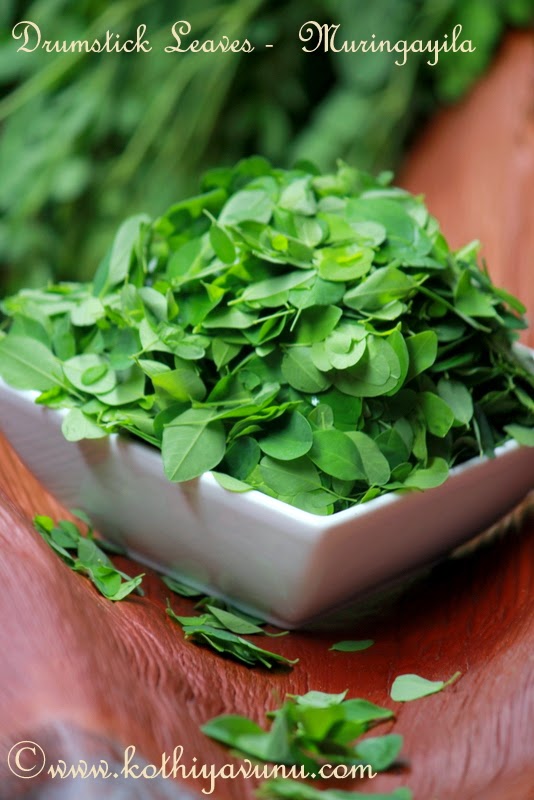 This is a very simple yet nutritious dish which goes well with moru curry-buttermilk curry and rice. Here is a muringayila – drumstick thoran which my family enjoyed having and hopefully anyone trying this recipe enjoys it too!
Muringayila – Muringya Ila Thoran Recipe | Drumstick Leaves Thoran-Stir Fry Recipe
Preparation time : 30 mins to 1 hr
Cooking time : 15 mins
Serves : 4

Ingredients :
Muringayila / Drumstick Leaves : 6 cup (cleaned)
Shallots /Pearl Onions /Small Red Onion : 5-6 (finely, sliced)
Garlic : 2 pods (crushed)
Dry Red Chillies : 2 nos (broken into halves)
Mustard Seeds : 1 tsp
Raw Rice : 1 tsp
Grated Coconut : 1/4 cup
Cumin Seeds : 1/2 tsp
Green Chillies : 2 nos
Turmeric powder : a pinch
Curry Leaves : 1 sprig
Salt to taste
Coconut Oil : 1 tbsp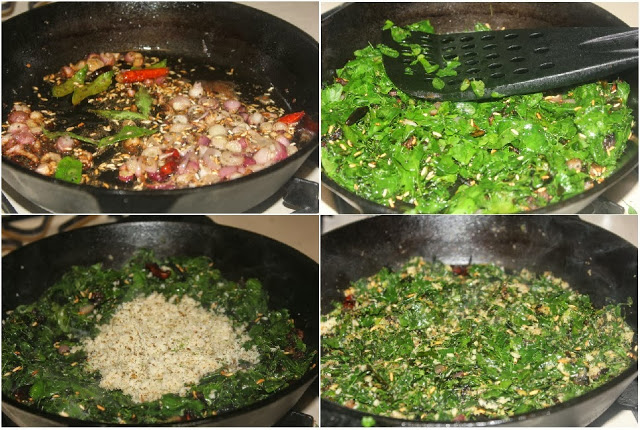 How to make Muringayila-Muringya Ila Thoran-Drumstick Leaves Thoran-Stir Fry Recipe :
1. Wash the muringayila-drumstick leaves well under running water and remove all the impurities from the leaf. Spread it on a paper, let it dry thoroughly, at least half hour before you use, This is done to avoid lumps in your thoran /stir fry.
2. Grind coconut, green chillies, turmeric powder and cumin without water into a coarse paste.
3. Heat the oil in pan and splutter mustard seeds, followed by rice, add sliced shallots, crushed garlic, dry red chillies, curry leaves and saute for a few minutes.
5. Add the cleaned and dried drumstick leaves and mix everything and reduce the fire to medium-low, keep covered for a minute to wilt the drumstick leaves (
Note :
Don't cover for long, since the steam will accumulate;which in turn end up in lumps).
6. Add salt and then sprinkle little water into it and cover it with a lid and cook for couple of minutes on low flame.
7. Spread out the drumstick leaves to the side of the pan and make a well in the middle, add the coconut mixture and combine everything together.
8. Uncover the pan and cook on low flame for 5 minutes, stirring occasionally till all the water evaporates, adjust the salt.
9. Stir fry carefully for another couple minutes so that all water evaporates and the drumstick leaves is not soggy.
10. Finally pour 1/2 tbsp of coconut oil over the thoran. Switch off the flame, and keep it at least 5 minutes before serving, so that the thoran absorbs all flavors….Serve with rice & Enjoy!
Notes :
This is very important,wash the drumstick leaves and spread it on a paper, at least hour before you use them, This is done to avoid lumps in your thoran /stir fry.
The drumstick leaves will reduce to a smaller quantity when cooked.
If you wish you can add any other oil, using coconut oil gives authentic and special flavor to the dish.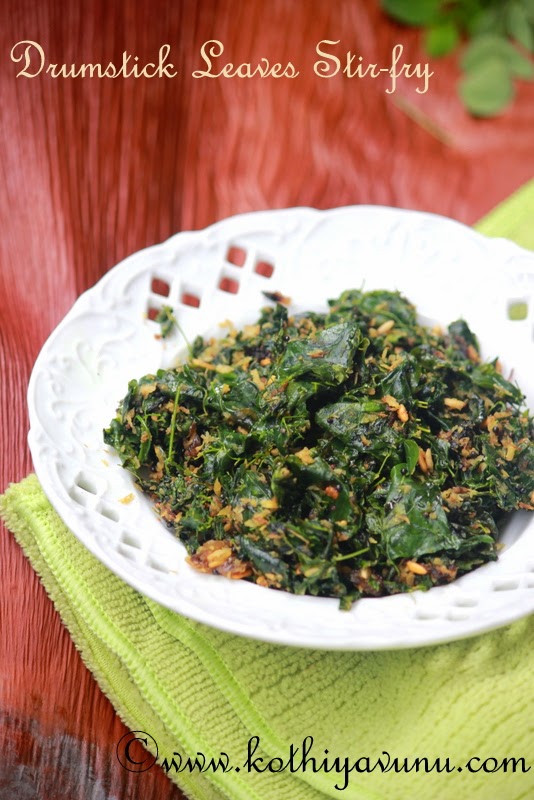 Related posts:
Happy Cooking!
Sangeetha