Can you believe it's only 5 days until Thiruonam?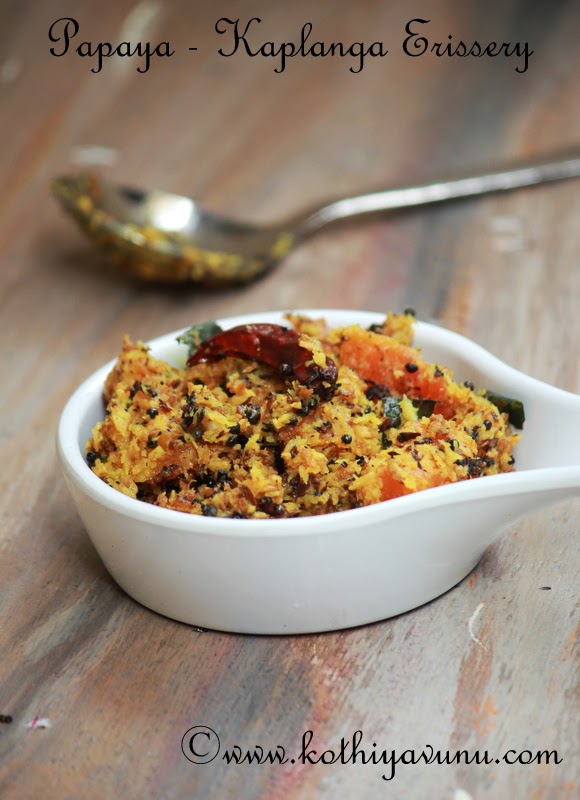 Do you have your Onam shopping and Sadya menu done yet? I still have some to do and also planning to celebrate this Onam with our best friends in their new house. Having so many wonderful friends and people I love in one place, all mingling, chatting, joking, cooking together and having fun, sound exciting Isn't it?:) Yes me and my little family were looking forward for the day.
Stories apart, I know what some of you may be thinking. Girl, you have posted erissery already. I know I know, but have you tried papaya in erissery form yet? If not, I'd say to you it's a must try and I can assure you that it is a welcome change in taste and flavor from the usual traditional erissery. Try and let me know how it turned out buddies 🙂
Here is the picture of some papaya from our yard ,back in Kerala.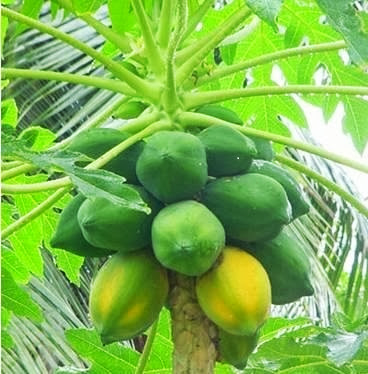 Papaya Erissery Recipe – Kaplanga Erissery Recipe
Preparation time : 10 mins
Cooking time : 15 mins
Serves : 4
Ingredients :
Semi Ripe Papaya or You could make it with raw papaya too : 2 cups (cut into 1/2 inch cubes)
Turmeric powder : 1/2 tsp
Salt to taste
To Grind :
Grated coconut : 1/2 cup
Turmeric powder : 1/4 tsp
Cumin seeds : 1/2 tsp
Shallots /Small Red Onion : 1-2 (optional)
Green Chillies : 2
For Tempering :
Dry Red Chillies : 2 nos
Grated Coconut : 4 tbsp
Curry leaves : 1 sprig
Mustard seeds : 1 tsp
Coconut Oil : 2 tsp
How to make Papaya Erissery – Kaplanga Erissery :


1. Chop the raw pappaya into ½ inch cubes. In a pan; add the papaya piece with turmeric, and salt adding littel water and cook uncovered till the papaya turns to soft and tender; slightly mash the papaya pieces.
2. Grind all ingridents above with little water to coarse smooth paste (Note : The paste should not be watery, it should be in chutney consistency.)
3. Add this ground coconut paste and mix thoroughly with papaya mixtures.
5. Heat a tsp of oil in a pan , add mustard seeds when its starts to splutter, add dry red chillies, grated cocount and curry leaves and fry till they turn golden brown. (Note : Be sure not to burn it)
5. Pour this tempering and drizzle 1/2 tsp of coconut oil over the gravy, mix well and adjust the salt.
6. Serve with hot Kerala red rice, thoran and papadam. Enjoy!
Notes :
Prepare the erissery using coconut oil, if you want the authentic Kerala taste.
Like traditional erissery you can add toor dal or red beans(vanpayar) along with papaya while cooking.
The consistency of this dish should be reasonably thick.
You can make erissery using Yam, Raw Banana, Pumpkin, Jackfruit.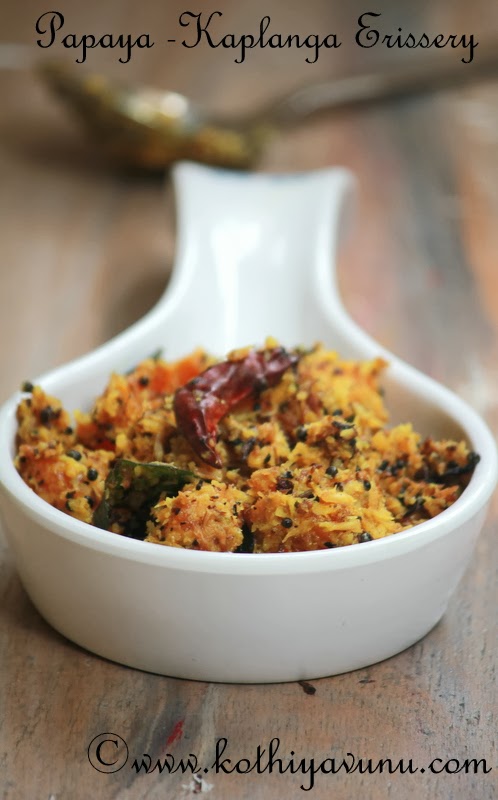 Related Posts :
Chakka Erissery /Jackfruit with Roasted Coconut Gravy

Happy Cooking!
Sangeetha