The weather is so awesome out here today that triggered the craving for eating fried crunchy snacks.I assured my girls that I would make chicken nuggets, they couldn't get any happier. However, for some reason hot and spicy chicken 65 is what is running on my mind! Do I have to say more?:)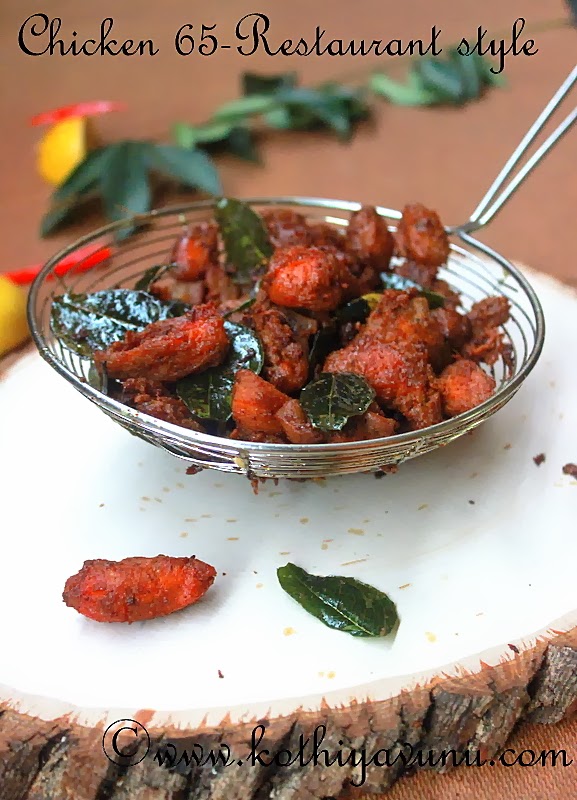 Chicken 65 – Delicious, juicy, deep fried spicy piece of chicken meat bursting with flavor of chilly and curry leaves is one of the most popular starters in an Indian restaurant menu. How the name chicken 65 came? Some say it has to do with the fact that it is 65th dish number in the menu of military canteen in Chennai and some say 65 was the number of spices or chillies used. Rest assured, chicken 65 by any other name would be just as scintillating, fiery and hot. Regardless of the thousand stories I simply feel it's delicious every single time I taste.There exist many versions of this dish, and today I am posting Restaurant style-dry version with no sauce, just the tempering. I also make with saucy version which is my foolproof  recipe.I will post it in the future sometime.
Well stories apart lets take a look at how you whip up this quick dish in no time. Give a try, they'll be sure to be a hit with both kids and adults alike. Enjoy !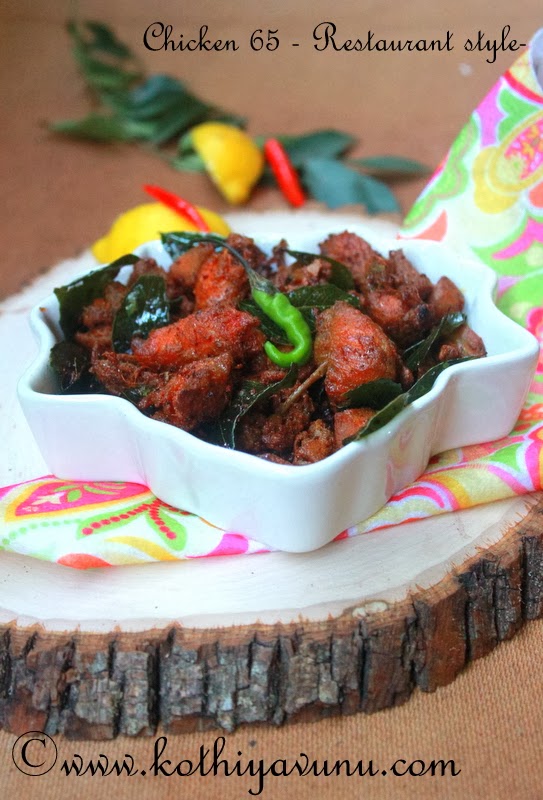 Chicken 65 – Restaurant style | Indian Style Fried Chicken Recipe
Preparation Time : 2 hrs
Cooking Time : 10 minutes
Serves : 2 or 15-20 pieces
Recipe Source : Chef Kiran, Flavor Of India
Ingredients :
To Marinade:
Boneless Chicken Thighs or Breast: 1lb/12kg (Cut into small bite size pieces) ( Preferably tender chicken thigh part works best)
Ginger :1 tsp (minced)
Garlic : 1 tsp (minced)
Freshly Grounded Black Powder : 1 tsp
Turmeric Powder : 1/4 tsp
Coriander Powder : 3 tsp
Red Chilli Powder : 11/2tsp
Kashmiri Chilli Powder/Sweet Paprika  : 1/2 tsp
Garam Masala : a pinch
Cumin Powder : 1/4 tsp
Corn Flour : 2 tbsp
Egg : 1(beaten)
Lemon Juice : 3 Tbsp
Red color : few drops (optional)
Salt to taste
Oil : 2-3 cups for deep frying
To Tempering :
Cumin Seeds : 1/4 tsp
Ginger : 1/2 inch (finely, chopped)
Garlic : 3 nos (finely, chopped)
Curry Leaves : 1 sprig
Green Chili : 2 nos (slit, lengthwise)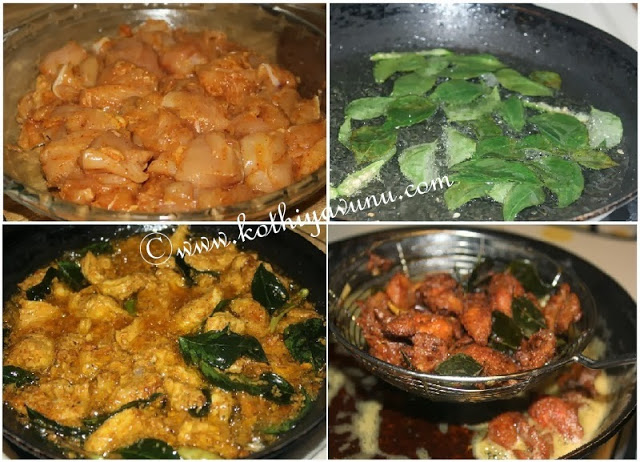 How to make Restaurant Style Chicken 65:
1. Cut the chicken into small one inch bite size pieces.
2. Marinate chicken with all ingridents listed above 'To Marinate' except the oil and leave it in the fridge for 2 hrs or overnight in the refrigerator.(Note : More marinating time the softer the chicken 65 will be.)
3. In a non stick pan, heat the oil, add marinated chicken pieces  in batches and deep fry it .At a medium heat it just takes about 5-8 minutes to cook each batch.(Note : Take out one piece and check to see if the meat is cooked inside.Over cooking them can make it hard and chewy, so make sure you cook it for sufficient time to keep it juicy and moist. Once done, drain them in a kitchen towel to remove excess oil.)
4. In an another non stick pan, add cumin seeds, fry them for a while to release aroma, add chopped garlic,and ginger, chopped chillies and curry leaves, fry everything stirring for about 2 minutes.Add the fried chicken to it. Toss them well.
5. Serve with raw onion slices and lemon wedges as a starter or with rice, chappathis or naans.
Notes :
Here I fried chicken along with the seasoning ingredients, because i had only one batch (10-12 pieces) to fry, but if you have more chicken pieces then fry the marinated chicken pieces in batches and then separately do the tempering and combine it with fried chicken like recipe mentioned above.
Normally, the chicken 65 that is served in is restaurant is fiery red in color, that is because red color is added to it, but i don't prefer adding color rather; I would add more Kashmiri chilli powder for the color and it's always better to avoid the color and eat it with the natural color.
To get juicy soft chicken 65 marinade overnight or atleast for 2 hours, else it would turn hard and rubbery.
Tender chicken thigh part works best for chicken 65.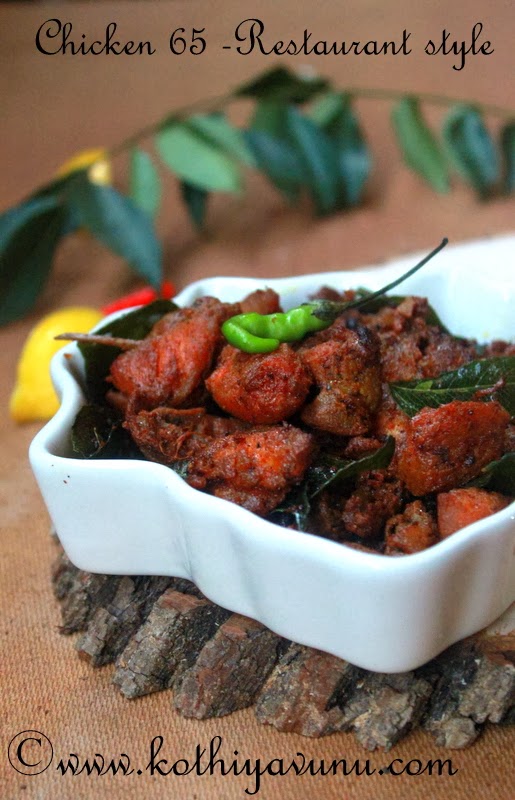 Related posts:
Have a Good day All!
Sangeetha