Yesterday,I shared with you the one of the popular Indian appetizers
Chicken 65
and today it's yet another popular Indian appetizers, which is very common dish at Indian restaurants around the world and it can be served both as an appetizer and as a main dish.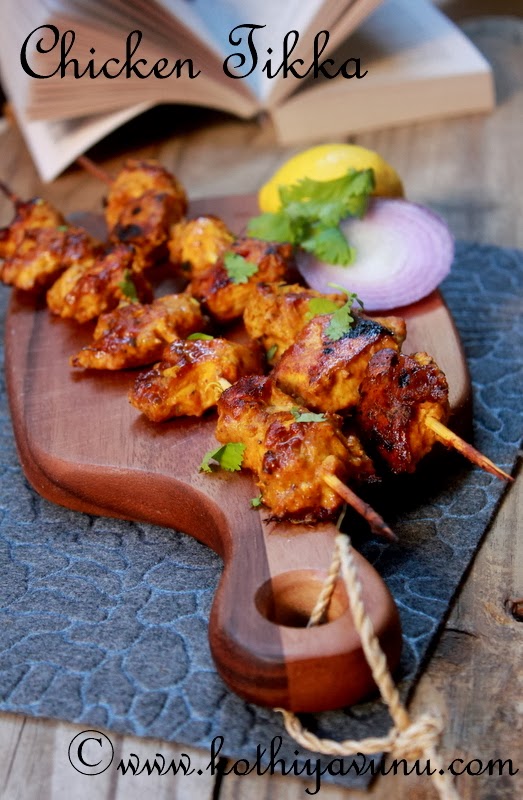 Yes as title states, it's Chicken-Murg Tikka. Easy-to-cook dish made out of chicken chunks; marinated in a blend of fragrant spice mix and yogurt and and then grilled on skewers. My first time tasting of spicy and fully flavored chicken tikka was from Kabul Restaurant in Chennai. It was so delicious, that I couldn't resist for my second order 🙂
Ever since I started making chicken tikka on my own, I have been trying Chef Harpal recipe . I have tried this so many times, now I don't even have to consult the recipe anymore.I have adjusted the ingredients to suit our palates. Earlier I have posted 
Tandoori Paneer Tikka
 recipes of Chef Harpal in this blog, but this one has most of the basic ingredients as the panner tikka, but the end result is quite different.
Chicken Tikka Recipe – Murg Tikka Recipe | Spiced Skewered Chicken Recipe
Preparation Time : 2-4 hrs or overnight is great
Cooking Time : 15 miutes
Serves : 4

Ingredients :
Skinless and boneless chicken breasts : 1 lb /1/2 kg (cubed into 1″ pieces)
To Marinate:
First marinade:
Kashmiri Red Chillie Powder/Paprika : 1.5 tsp
Ginger paste : 1/2 tsp
Garlic paste : 1/2 tsp
Lemon juice : 2 tsp
Salt to taste
Second marinade:
Butter/Oil : 1/2 tbsp
Ajwain Seeds /Carom Seeds : 1/2 tsp + 1 tsp crushed with a mortar pestle
Gram Flour/Chickpea flour : 1/4 cup
Garlic Paste : 1 tsp
Ginger Paste : 1 tsp
Thick Yogurt /Hung Curd : 1/2 cup
Turmeric Powder : 1/2 tsp
Red Chillie Powder : 1/2 tsp or to your tolerance level
Tandoori Masala : 1/2 tsp
Black Pepper : 1/2 tsp (freshly ground)
Saffron : a pinch
Warm Milk : 1.5 tsp
Mustard oil : 2 tbsp
Red or orange food colour (optional)
Chat Masala : for garnish
Lemon & Onion Wedges for garnish
Salt to taste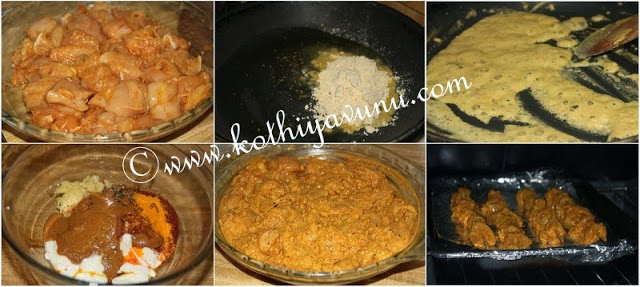 How to make Chicken Tikka – Murg Tikka :
1. In a bowl, mix all the ingredients listed above of the 'First marinade', add the cubed chicken and mix well. Keep it aside for about half an hour.
2. Melt butter in a pan and add the ajwain seeds and gram flour and roast it in a slow flame for a minute till you get a nice aroma. (Note : Care should be taken not to burn the gram flour; the best way is to stir continuously and take the pan off the heat, back to the heat time and again). Allow this to cool.
3. Soak saffron in warm milk and keep it aside.
4. Soak the bamboo skewers in water for 5 minutes. Take them out and wipe them and set it  aside or you can use metal skewers without soaking them in the water.
5. To prepare marinate :  In a large blow, add the above roasted gram flour mix, crushed ajwain seeds,yogurt, kashmiri red chilli powder, ginger garlic paste,freshly grounded black pepper and food color (if you are using it) mix well.
6. In a small frying pan; heat mustard oil till the smoke comes and remove from the fire, now add turmeric powder and stir well; add the turmeric oil into the above marinate mixture and combine well.
7. Add the marinated chicken cubes, and the saffron milk into above marinate mixture and mix well.
8. Arrange chicken pieces on soaked bamboo skewers or metal skewers;about 6-8 in each stick and set aside for around 2-4 hrs or overnight in the refrigerator.(
Note : 
More marinating time the softer the chicken tikka will be.)
Baking :
9. Place the chicken tikka skewers on baking tray covered with aluminum foil, brush with little oil on top.
10. Bake the chicken in a pre-heated oven at 400°F/205°C for about 10-15 minutes or until cooked through.During this cooking time, make sure that you baste them generously with some ghee/oil on both sides and turn them over at least twice (or) Broil the chicken in the oven on high for 8-10 minutes each side. (Note :Temperature setting and cooking time may vary depending on oven so adjust the timing accordingly.) (or) 
Grilling :
1. Grill the chicken tikkas on a tandoor or barbecue; cover and grill over a moderate heat for about 5-8 minutes. Uncover, cook until almost done; baste generously with ghee/oil, and turn them over and cook until done or till light brown in color from all sides (Note : Do not overcook it or the chicken will become chewy.)
11. Remove and sprinkle chaat masala and some lemon juice on it and relish it with
 mint chutney
 and Enjoy!
Alternatively you can cook Chicken tikka on Tava/Pan :
Follow the above step 1 to 8. Heat a non- stick tava or cast iron grill pan and place the skewered chicken on a medium flame using oil; cook for about 5-8 minutes at medium heat. Turn them over and baste them generously with ghee/oil a couple of times and cook all sides for another 5 minutes or till the chicken is light brown in colour from all sides.Serve immediately sprinkled with chaat masala and along with some lemon, onion wedges and relish it with 
mint chutney
 as appetizers or with flavored rice or with
naan
and enjoy!
Notes : 
Do not overcook it or the chicken will become chewy.
Temperature setting and cooking time may vary depending on oven so adjust the timing accordingly.
Normally, the chicken-murg tikka that is served in is restaurant is fiery red in color, that is because red color is added to it, but i don't prefer adding color rather; I would add more Kashmiri chilli powder for the color and it's always better to avoid the color and eat it with the natural color.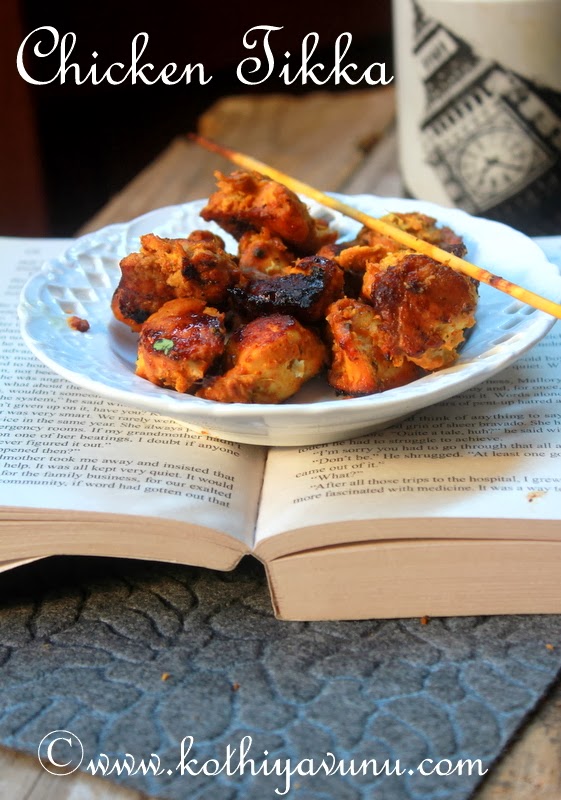 Related posts :
Have a Good Day All!
Sangeetha