Pastel is the name given to different typical dishes of many countries of Hispanic or Portuguese origin. Here I'm sharing Cochin Jews Version.Pastel is half-moon parcels made with rice flour and filled with assorted fillings that is deep fried in vegetable oil. The variety of fillings is endless, but some of the most popular are fish, ground beef, egg and potato.Crunchy on the outside with a creamy filling inside, this typical Cochini Jews snack is often called Empanadas, Pastelillos, Pastelitos in the US. Empanadas /Pastelitos are usually baked, instead of fried.
I got the recipe from Ashima Narain, Photo Editor of NGTI. Orginally adapted from Sarah Cohen, a senior Cochini Jews. I followed the recipe except for some minor changes.To my surprise, my first attempt was a success, those of you who have not tasted it, do give a try and you will be hooked.This is served hot as snack for tea or as a starter..Enjoy!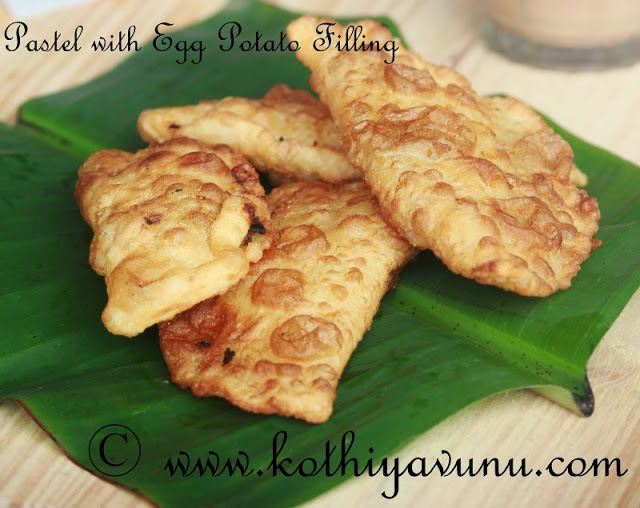 Pastel Recipe – Pastel with Egg-Potato Filling.
Preparation Time : 20 mins
Cooking Time : 20 mins
Makes : 12-15
Ingredients :
For Dough :
Rice Flour or All Purpose Flour : 2 cups plus more for the working surface (Here i have used rice flour)
Salt : 1/4 tsp
Coconut Milk : 2 tbsp
Vegetable Oil : 1 tbsp
Egg : 1 (lightly, beaten)
Warm Water : 3/4 Cup
For Filling :
Hard Boiled Eggs : 2 (boiled, cut into small cube pieces)
Potato : 2 (small, peeled, shredded and squeezed dry)
Onion : 1 cup (minced)
Green Chillies : 2 (chopped, finely)
Vegetable Oil : 2 tbsp or more
Turmeric Powder : 1/4 ts
Ground black pepper : to taste
Lemon Juice : 1 tsp
Salt to taste
Cilantro/Coriander Leaves : handfull, (chopped)
Oil for deep-frying
Learn How to Make Pastel Recipe – Pastel with Egg-Potato Filling :
1. In a large bowl, mix the flour, salt, vegetable oil,egg, coconut milk until all incorporated. Add the water slowly, ¼ cup at a time, while mixing with your hands.
2. Work the dough until it forms a smooth soft ball and it is not sticking to your hands and fingers anymore. On a clean working surface, knead the dough for a few minutes, until very smooth. Transfer it back to the bowl, cover with a damp cloth and let it sit for 15 minutes.
3. Heat the oil in a pan. Add the minced onions, shredded potato, green chillies,turmeric and black pepper and salt.Cook over low heat for about 5 minutes, until the everything combines well. Stir in the boiled egg pieces,cilantro and lemon juicein the last few minutes of cooking. Taste and adjust the seasonings. Cool completely. (
Note :
You can make the filling ahead of time and freeze or refrigerate it.)
4. Now to fill the pastel; sprinkle the working surface with flour and divide the dough into thirds. Roll it out thinly one-third at a time.
5. Cut out circles, each the size of a large coffee mug. Place a heaping teaspoon of filling on half of each circle, fold,closing it tightly with your fingers. The shape should be of a half-moon. Sprinkle a little bit of flour over the border of each pastel and press it all around with a fork, making sure the filling is well sealed inside.
6. Repeat the process until all ingredients are over. You should end up with about 10 to 15 units, depending on how small you are making them.
7. Heat the oil. Deep-fry two or three pastries at a timet, flipping them halfway through, until light brown, about 3 minutes total. Drain on paper towels.Serve it immediately.(
Note :
Must eat them hot.)
Notes :
The possibilities for fillings are endless! You can use your creativity and experiment!
Do not be intimidated by the dough process. It seems difficult, but it is not! Just follow the instructions and you will be able to make this delicious pastry dough! It is kind of time consuming and it must be precise, but it is not difficult.(or) Store-bought empanada dough does a good job substituting home-made pastel dough. I personally recommend the use of home-made dough because it is thinner, crunchier and the pastel will taste more traditional and more delicious!
Related Posts :
Sangeetha