I had an amazing weekend and I hope you did too. Here for us weekends was mostly about catching up with friends.It is indeed a lot of fun with friends who share the same wavelength.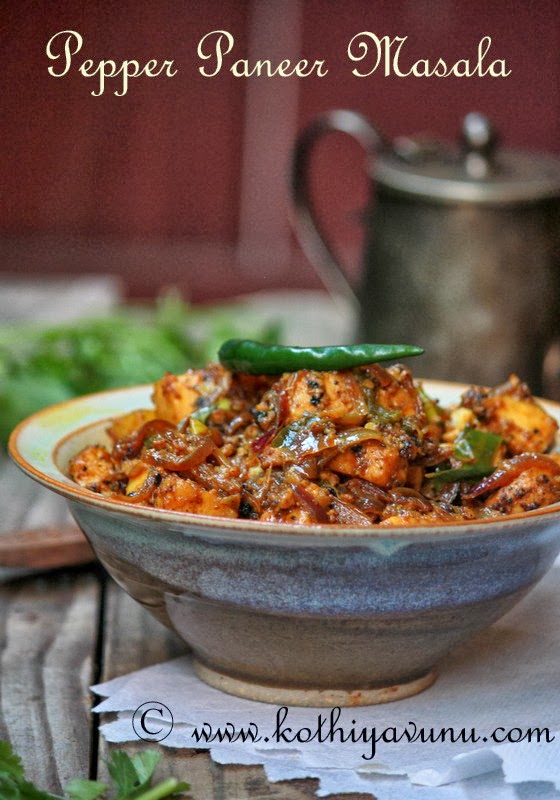 Well, talking about today's recipe, I love making paneer and my little family love this a lot. It is one of my favorite thing to whip up for quick dinner.I vary the preparation of paneer everytime, but this one is 'most popular with my dear and near. The best about paneer is it is bland, so it picks up all the added flavors.
Pepper paneer is one of the paneer dish which i make often to go with roti. After I posted the recipe of pepper chicken, one of my reader Anusha requested me to post pepper paneer, so this is for her and also for you all.I hope you will like it and let me know what you think. Enjoy!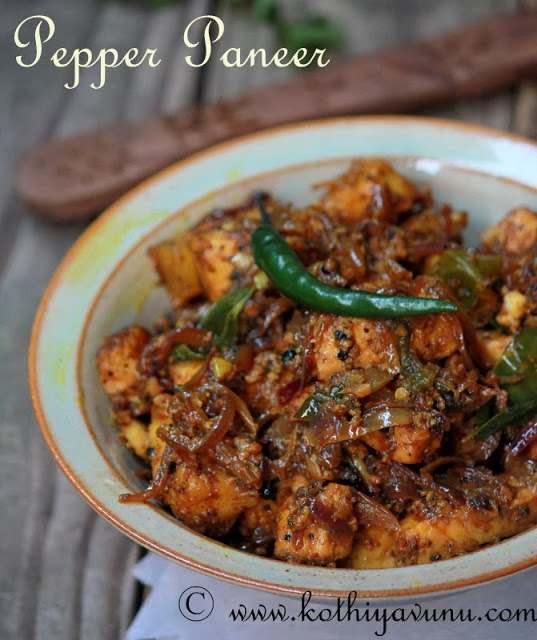 Pepper Paneer Recipe – Paneer Pepper Masala Recipe
Preparation time : 10 minutes
Cooking time: 20 minutes
Serves : 4-6
Ingredients :
Paneer : 500 grms / 2 cups (cut into 1″ cube)
Onion : 1 big (sliced thinly)
Green Chillies : 2 (slit lengthwise)
Ginger : 1/2″ piece (crushed)
Garlic : 3-4 small (crushed)
Tomato Sauce or Tomato Ketchup : 1tbsp (or) Tomato : 1 small (add a tomato in a blender and make it to paste)
Turmeric Powder : 1/4 tsp
Black Pepper : 1 tbsp or to your spice tolerance level (freshly crushed)
Cooking oil : 1 tbsp
Coriander leaves : for garnish(finely,chopped)
Salt to taste
To roast and grind the Spice Powder:
Fennel seeds : 1/4 tsp
Cumin seeds : 1/4 tsp
Cloves : 2
Star anise: 1
Cardamom Pods : 1
Cinnamon : 1/4″ stick
Bay Leaves : 1
(or) Substitute with store bought Garam Masala : 1/2 tsp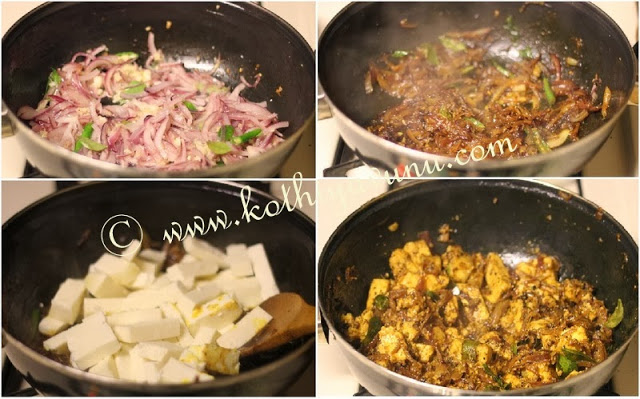 How to make Pepper Paneer – Paneer Pepper Masala :
1. Cut paneer into small size cubes. If you are using store bought paneer, then briefly soak them in salted hot water to make it soft and tasty. To do the above, heat 2 cups of water for couple of minutes and add a teaspoon of salt to the water and drop the paneer cubes for 2 minutes and drain the water and set it aside.
2. In a small frying pan; lightly roast all the ingredients listed " To roast and grind the spice powder" and powder it using a mortar and pestle or coffee grinder till smooth. (Note : You can skip this step and can use store bought garam masala, but fresh masala taste too good.)
3. In a nonstick fry pan and heat oil and saute the sliced onions till they are golden brown. Add crushed ginger and garlic and green chillies and saute till the raw flavor disappears.
4. Add turmeric powder, grounded spice powder, half of crushed black pepper (leaving ½ behind for final sprinkling) and salt; saute it for couple of minutes.
5. Add tomatoes sauce or tomato ketchup or tomato paste, whichever you prefer (I have used tomato sauce); saute and mix them well.Taste and adjust the seasonings.
6. Now add the paneer pieces and gently combine well. Let it slowly fry on all sides in a low heat for about 5 minutes.
7. When paneer pieces are well coated with masala and becomes dry and starts taking a light blackish/dark brown colour sprinkle remaining ½ of pepper powder and finally garnish with coriander leaves.
Notes:
You may adjust the spiciness by increasing or cutting down amount of pepper powder.
Using freshly ground pepper and garam masala enhance the authentic taste and flavor.
Related Posts :
Happy Cooking!
Sangeetha