Recipes That Deserve A Second Look! Butter Chicken-Murg Makhani-Chicken Butter Masala.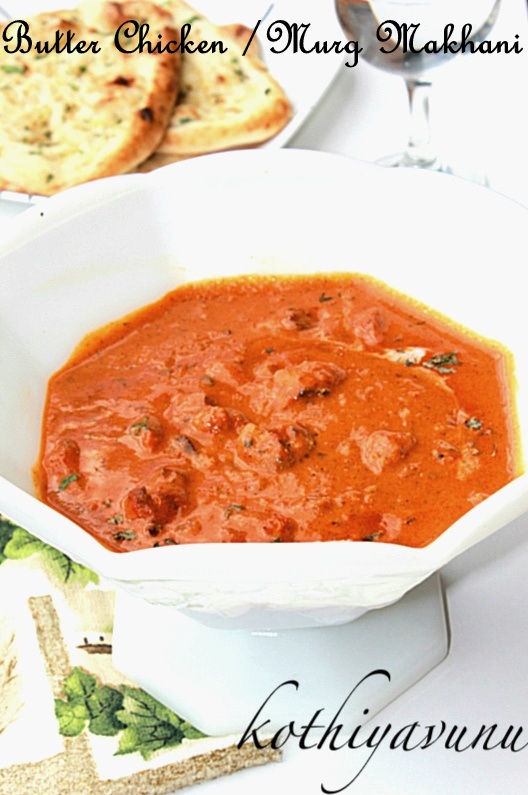 Butter Chicken-Murg Makhani is well-known  north Indian recipe, which is staple at most Indian restaurants in every corner of the world. Tandoori chicken, cooked in butter and simmered in a creamy, pureed tomato sauce. Butter chicken goes by different names; Chicken Butter Masala, Murg Makhani, Chicken Makhanwala.
Here I have used Chef Harpal Singh's recipe with slight modifications.Trust me folks; This is a Keeper! This one is a treasure in my kitchen. It's always a big hit and requested by my family and friends constantly. Makes an excellent side dish for everyday meals, party or potluck where its fragrance and color will be sure to steal the show..Enjoy!
Other Restaurtant Popular Recipes You Might Also Like :
Paneer Butter Masala -Paneer Makhani
Mushroom Butter Masala – Mushroom Makhani
Rogan Josh – Kashmiri Lamb Curry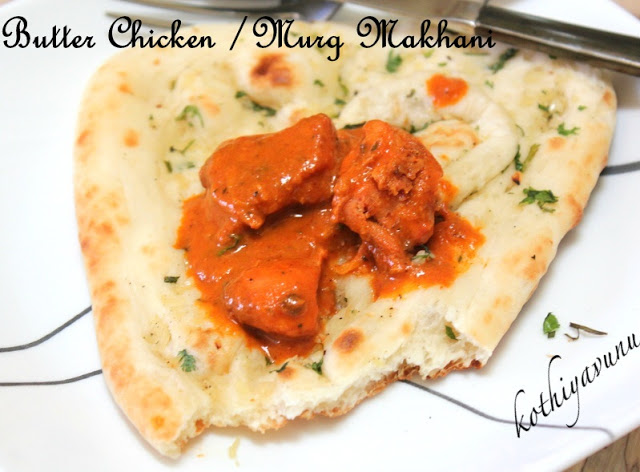 How to make Butter Chicken Recipe – Murg Makhani Recipe – Chicken simmered in creamy sauce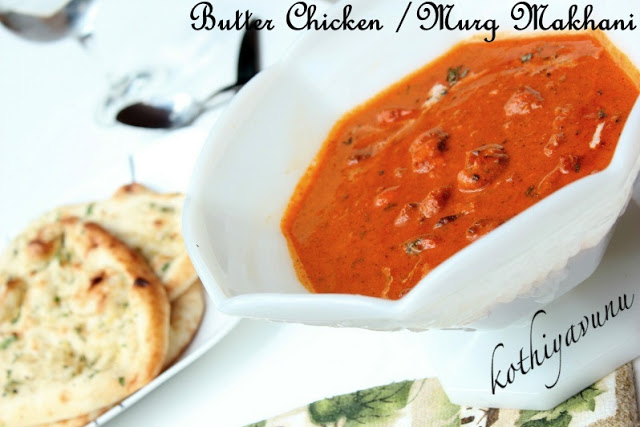 Butter Chicken-Murg Makhani-Chicken Butter Masala
Tandoori chicken are cooked in butter and simmered in a creamy, pureed tomato sauce. Butter chicken goes by different names; Chicken Butter Masala, Murg Makhani, Chicken Makhanwala.
Cuisine:
Indian, Punjab, North Indian
Ingredients :
For Marination:
Boneless Skinless Chicken : 1.7 lbs /800 grms (cut into bite-size cube)
Lemon Juice : 1 tbsp
Kashmiri Red Chili Powder : 1 tbsp
Yogurt : 1 cup
Ginger & Garlic Paste : 2 tsp
Tandoori Masala : 11/2 tsp
Salt to taste
For the Gravy :
Unsalted Butter : 4 tbsp
Oil : 1 tbsp
Big black Cardamom : 3 no
Mace : 1
Green Cardamom : 3 no
Tomatoes : 8-10 large sized, (finely chopped) or (Tomato Puree)
Garlic : 2 tsp (finely chopped)
Bay Leaf : 1
Cinnamon Stick : 1″ piece
Ginger : 1tbsp (juliened)
Green Chilly : 2 nos (remove seeds,central steam and slit lengthwise)
Garam Masala : 1 tsp
Kashmiri Red Chilli Powder : 2 tsp
Heavy Whipping Cream : 1 cup or to taste
Cardamom Powder : ¼ tsp
Honey : 2 tsp
Kasoori Methi/Dried Methi Leaves : 1 tsp
Cilantro : 1 sprigs (finely, chopped)
How to Make :
Marinate the chicken pieces with the above marinating ingredients and keep in the refrigerator for 4-6 hrs (Note: For best result marinate overnight)
Grease a broiler dish with ghee/oil and layer the chicken in a single layer.
Broil on high for 8-10 minutes on each side or till turns to light brown color.(Note: Keep an eye on it as cooking time may vary depending on the oven so adjust the timing accordingly. If don't have access to a oven then you can heat oil in the pan and fry the chicken pieces till the chicken is done)
Meanwhile heat 1 tbsp of oil and 2 tbsp of butter in a pan, add bay leaf, cinnamon stick, green cardamom, mace, chopped garlic and saute for a minute (Note : take care not burn the spices), now add chopped tomatoes and cook until it turns soft and pulpy.
Remove from the fire, cool for sometimes and grind the tomatoes into fine paste and set it aside.
Now lets prepare gravy; heat the pan on medium heat, melt 3 tbsp butter.
Add ginger julienne, green chilles julienne, saute it till the raw smell goes. (Note : take care not burn the spices)
Strain the grounded tomato paste or pour the tomato puree and mix well; cook for few minutes, now add salt, kashmiri red chilly powder and garam masala.
Bring to a boil and then lower the heat and cook for 5-8 minutes till the juice from the tomatoes evaporates.
Add the broiled chicken pieces and combine well.
Add the whipping cream, little green cardamom powder, honey mix well.
Sprinkle kasturi methi /dried fenugreek leaves, adjust the salt and add the half of the cilantro/coriander leaves and mix well.
Garnish with remaining coriander leaves and add a splash of cream before serving. Serve hot with Naan or with any Indian Bread or Pulao..Enjoy!
Notes
In restaurants Butter Chicken /Murg Makhani are red in color. They add color, as you all know using food color are bad for health and I don't recommend adding artifical color. It's always better to avoid the food color and eat it with the natural color. So here is simple trick to get nice red color to Murg Makhani/Butter Chicken in natural way. Saute tomatoes in oil & butter around with garlic and use kashmiri chilli powder or paprika. It gives nice red color. Trust me u will never go wrong on this, do try and let me know.
Butter and cream were used to cook this basic sauce. If you do not want to indulge the butter/ghee may be replaced with cooking oil and the cream may be substituted with half & half, or even regular whole milk.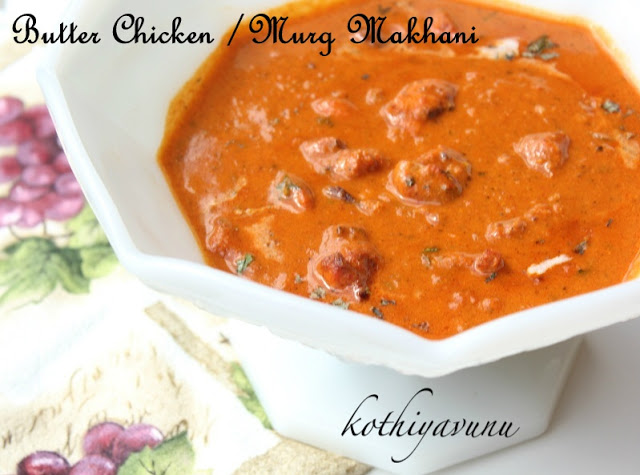 Hope you all will try making this version of Chicken Butter Masala Butter Chicken and enjoy with your loved ones. Do share you feedback if you get chance to try. I would love to hear your valuable suggestion and opinions.
Have a good day!
Sangeetha
Like this Recipe? Sign up, and get more recipes delivered directly to your inbox.