Who loves Puttu? What about Erachi Puttu? Oh yes…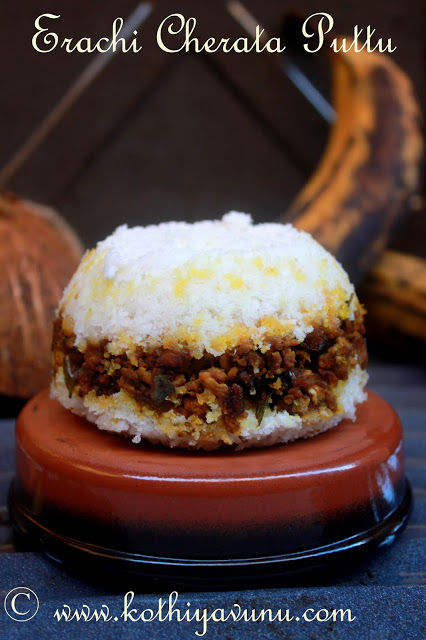 I know what you guys are thinking?…I've seen this recipe before in this space, you're absolutely right. I originally posted this recipe in 2009 and the old recipe is still in the blog. I'm re-posting this recipe today to talk about a technical issue. I received a few emails from watchful readers to notify me of the some broken links.I will fix issue at earliest.Sorry for any inconvenience caused.
Now let get into recipe…As I mentioned in my earlier posts, Puttu is a kind of staple breakfast for Keralites. A dish of steamed cylinders of ground rice layered with coconut.There are so many varieties of puttu we make – Puttu, Ragi Puttu,
Gothambu Puttu/Wheat Puttu
,
Kappa Puttu/Taipoca Puttu
,
Irachi Puttu,Chemeen-Prawns Puttu and there are many more varieties easily available in the market these days.There is a variety called the cherata puttu, where the rice powder and grated coconut mixture is filled into a half coconut nut shell and it looks like a hemisphere and it looks very unique.So today lets see the preparation of Erachi Cherata Puttu. I have used aluminum puttu maker which resembles a coconut shell.If you are in search of a variety puttu, I can suggest this one.
Do give it a try and pour your feedback…Enjoy!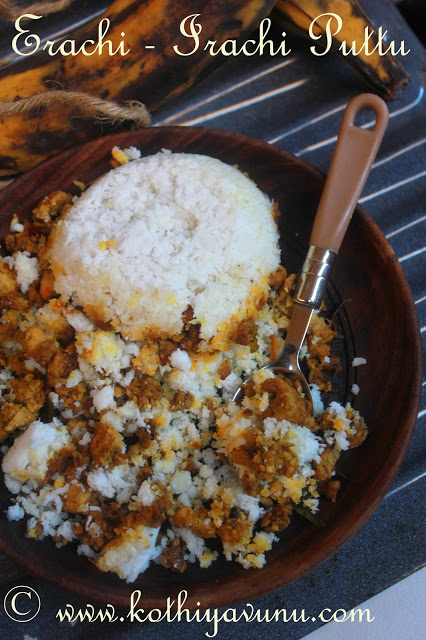 Erachi Puttu Recipe – Masala Erachi Puttu Recipe | Steamed Rice Flour with Meat Mixture
Prepration Time : 20 mins
Cooking Time : 30 mins
Serves : 4

Ingredients:
For Puttu:
Raw rice/Rice flour : 2 cups
Grated coconut : 1 cup
Cumin Seeds : 1-2 pinch (optional)
Salt to taste
Water : to sprinkle
For Meat Masala:
Minced Chicken or Beef : 1 cup (I have used chicken)
Fennel seeds : 2 pinch
Shallots/Small onion : 10-15 (finely chopped)
Ginger : 1/2 tsp (chopped finely)
Garlic : 1/2 tsp (chopped finely)
Green chillies : 3 (slit lengthwise)
Tomato : 1/2 of 1 (chopped finely)
Red chilly Powder : 1/2 tsp
Coriander Powder : 1/2 tsp
Turmeric Powder : 1/4 tsp
Gram Masala Powder : 1/4 tsp + 1/4 tsp
Curry Leaves : 1 sprig
Salt to taste
Oil : 1 tbsp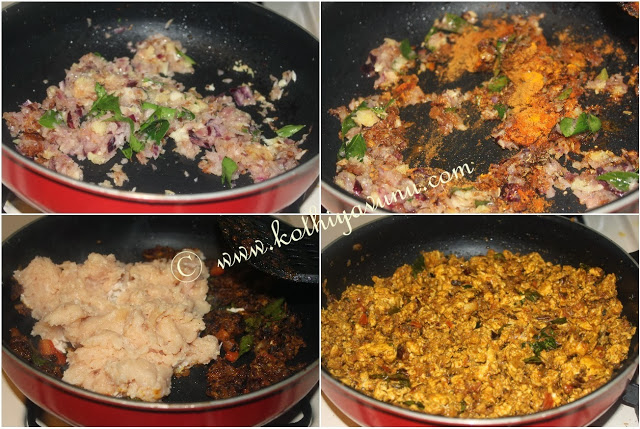 How to make Erachi Puttu – Masala Erachi Puttu :

Cooking Erachi /Meat Masala :
1. Heat oil in a pan, add fennel seeds,chopped ginger,chopped garlic and saute for a minute.
2. Add the chopped onion and saute till turns to translucent, now add curry leaves, green chillies and turmeric powder, red chilli powder, coriander powder and 1/4 tsp of garam masala and saute till the raw smell goes, now add chopped tomato and saute till it turns soft and mushy.
3. Add the minced chicken,salt to taste and let it cook thoroughly; it take 10-12 minutes.When it is almost done sprinkle 1/4 tsp garam masala to retain the aroma of the spices. Once it is done, let it cool down a bit in room temperature.

Preparing Puttu flour:
1. Dry roast rice flour over medium heat, stirring continuously. After about 5 minutes remove from the stove, and let it cool.
2. Add salt to 1 cup of water and wet the puttu podi/rice powder, a little at a time, and mix well till you reach breadcrumbs consistency. (Note : The flour mixture should be wet but not lumpy. The right consistency is reached when you press little flour in your fist and it forms a shape and not crumble off.)
3. Optional – Add little cumin seeds and scrapped coconut into the mixture and mix well.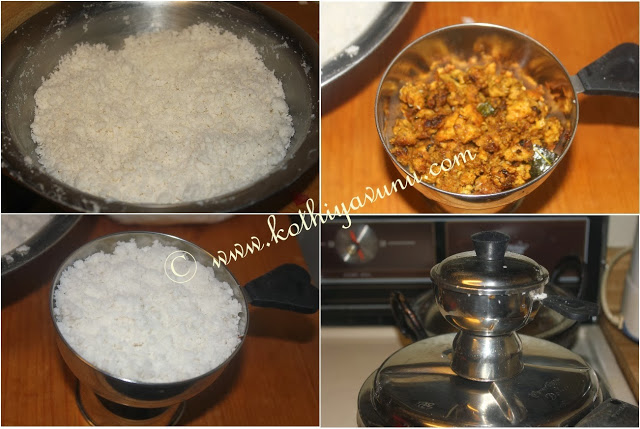 Cooking Erachi Puttu :
1. Fill your pressure cooker or puttu kudam with water till two thirds full. Place on the stove. Take the cylindrical tube part or cherata puttu kutti, insert the flat disk with holes at the bottom of the tube.
2. Make a first layer with a tablespoon of grated coconut, another layer with cup of puttu flour mixture, third layer with meat mixture, one more layer with puttu mixture and sprinkle some grated coconut on top. (Note : You should not stack the mixture, must be loosely filled and not packed.)
3. Cover the cylinder tube or chiratta puttu kutti and place on the cooker spout or on puttu kudam once the steam starts coming out.
4. Steam for 6-8 minutes; when the puttu is cooked, steam will start coming through the holes on the lid. Remove the tube from the pot and open the lid. Using the handle of a large spoon, slowly push the puttu, and slide it onto a plate or if cheratta puttu then remove and invert the cheratta puttu maker on to a plate and slowly lift. If it is cooked well, then the will come off of very easily, in the shape of the coconut shell itself.
5. Serve hot with Pappadam and yellow small bananas and Enjoy!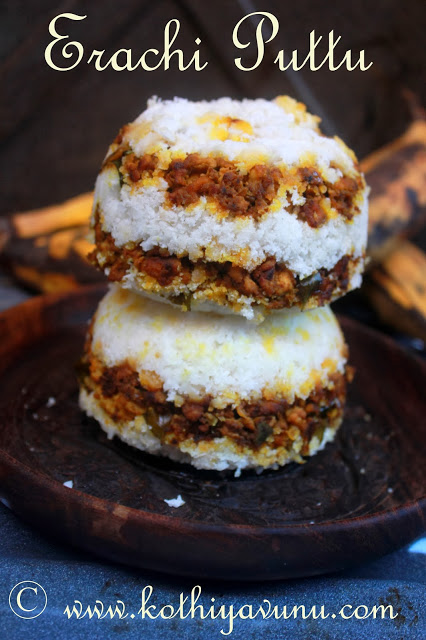 Related Posts: