Yes I know, I have been missing in action lately… Well! what can I say? Just wanted a short break, which became a little longer than intended, but glad I'm back in action! Seems like i have taken too much a break, now that I'm having a hard time to write a new post…lazy me! So what's news with you all?
Today's recipe is a special fish pickle/meen achar preparation from my mom, which I love to have with rice.We as a family love pickles. Me and my husband savor pickles with every meal. I had always watched my amma make mathi-chala achar/sardine pickle and it always seemed tedious to me. Though I have relished this pickle many times ready stuff, I had never tried it out myself. I always wanted to try mathi achar,but the place we were live we don't get fresh mathi-chala(sardine). Recently our family friend visited us and to surprise us they brought us a packet full of fresh mathi(sardine) and ayala(mackerel)…unfortunately past one month my husband was on fasting and he shouldn't have it…so I pickled the sardine for him 🙂 today he tasted and he loved it. Thank you Majo & family for getting that yummy fish for us 🙂
I have posted chemmeen-shrimp pickle here before, this is not much different from a konju-chemmeen pickle, in procedure wise but quiet different in the sense of fish used. I can guarantee that this is a keeper recipe and trust me, you want to make this recipe, because the final product will blow you away! Thats how delicious it is… Maybe you should just try them and decide for yourselves what the taste is instead of letting me ramble on forever, sound like a plan? Do try and let me know your valuable feedback! Enjoy!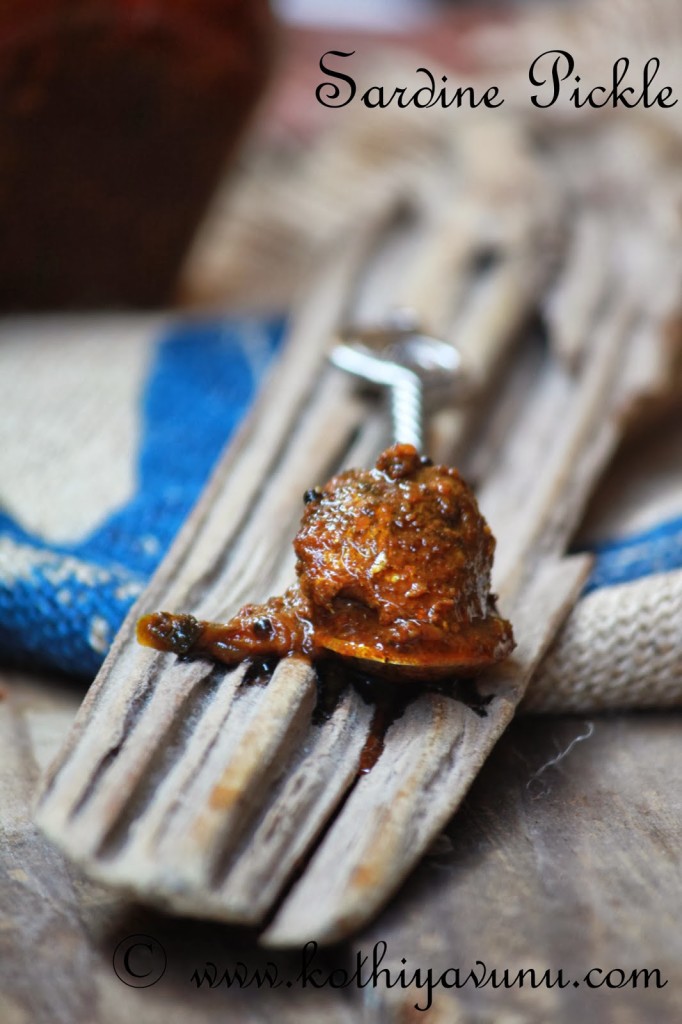 Mathi Achar Recipe – Chala Achar Recipe | Kerala Pickled Sardine
Preparation Time : 30 minutes
Cooking Time : 20 minutes
Makes : One big bottle
Ingredients :
To Marinate :
Mathi/Chala/Sardine : 1.1 lb /1/2 kg (you can either whole fish or cut into small pieces)
Turmeric Powder : 1/4 tsp
Kashmiri Red Chilly Powder : 1 tbsp or to your spice level
Fenugreek Powder/Uluva : couple of pinches
Black Pepper Powder : 1/2 tsp
Crushed Dried Curry Leaves : 1/2 tsp (Optional)
Salt to taste
To Make Paste :
Turmeric Powder : 1/4 tsp
Red Chilly Powder : 3 tsp or to your spice level
Vinegar : 2 tbsp
For Sauteing :
Ginger : 1 pod (finely sliced)
Garlic : a big piece (finely sliced)
Green Chillies : 7 (slit lengthwise)
Mustard Seeds : 1 tsp
Fenugreek Seeds : 1/4 tsp
Asafetida /Hing /Kayam : a large pinch
Curry Leaves : 2 sprig
Vinegar : 1 cup or as required
Hot Water : 1 cup
Gingelly Oil /Sesame Oil /Nallenna : 3/4 cup
Salt to taste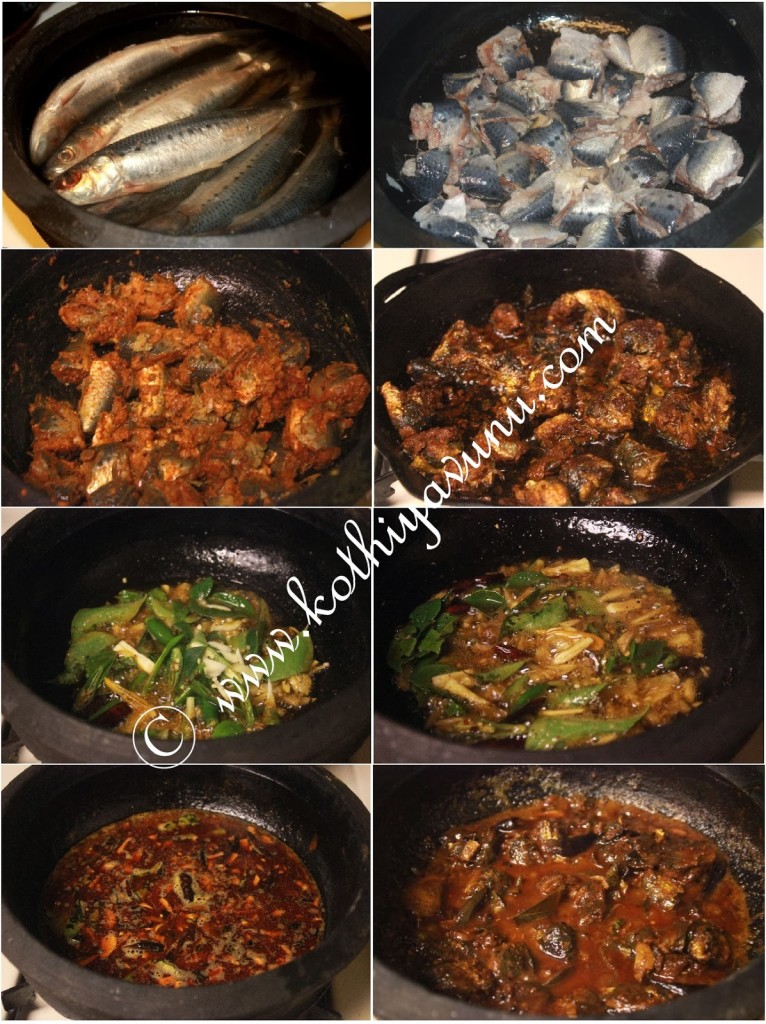 How to make Mathi – Chala Achar | Sardine Pickle – Kerala Style :
1. Clean, wash them properly with salt and vinegar or lemon juice, either cut into small pieces or make 4-5 gashes on each side if you using whole fish.
2. Marinate with all the ingredients listed above "To Marinate' and keep it for 1/2 to 1 hour in a refrigerator.
3. Heat 1/4 cup of oil and fry the sardines-chala in batches till they become crisp.
4. Make a fine paste using the ingredients listed above 'To make a paste'. If needed sprinkle a spoon of water and set it aside.
5. Pour the remaining oil to the pan, add the mustard seed, when it's starts spluttering, add fenugreek seeds, the curry leaves.
6. Add the garlic slices, ginger slices, slit green chilles into it and reduce the fire over medium flame saute for couple of minutes till the raw smell goes.
7. Simmer the flame. Add the above mixed chilli paste and combine well.
8. Add 1 cup of hot water, salt to taste and the vinegar and bring to simmer,when the it turns to thick.
9. Add in the fried sardine-mathi and mix well; saute for couple of minutes,allow it to simmer on a slow fire.Remove from the fire and allow to cool.
10. Add asafetida /hing /kayam and taste after an hour and adjust salt and vinegar as necesary.
11. Transfer it in an air tight glass jar or container and pour couple of tablespoon gingelly/sesame oil/nalenna on the top and keep it in a room temperature for a weeks for the flavor to set in and then refrigerated it for further use.
12. Kerala style Mathi- Chala Achar/ Sardine Pickleis ready.Serve and enjoy with anything as you wish
Pairs well with curd rice!
Be cautious not to get the pickle in contact with water…Use only clean dry spoon to scoop the pickle from the jar. Do not use wet spoon which adds moisture and the pickle very easily get "fungus" and that spoils the whole pickle.Even a small drop of water makes this pickle spoil soon. Even while serving the pickle, make sure the spoon you put in this container is very dry. Better yet, transfer small quantity in a smaller container which can be used to serve.
Best to use small mathi/chala/sardine fish. If you are using big fish then cut it into small pieces.
If you feel the salty and spice is more, not to worry it will subside after few days. The fish pieces will absorb all the flavors will become very soft.
If you wish you can add any other oil, using sesame oil gives authentic & special flavor to the pickle and it helps pickle stay longer.
This pickle stay for more than a months, if they are conserved properly.
If the oil seems to less add boiled and cooled oil to the top of the pickle..This will prevent fungus.
Add or reduce the chilly powder to the pickle.
Avoid using steel container for storing..Always store in dry ceramic jar /bharani or a glass jar and please note to clean the bottle and caps you planning to use for pickle with hot water and wipe and dry well without any water content.
Related Posts :
Cheers!