Do you love gardening? I do…it's one of my favorite hobby. I have a small garden! And I grow my own herbs, flowers and vegetables there.Watching them grow brings me so much pleasure 🙂 and I feel one of the best ways to get excited about what we eat is to plant your own garden; reap the benefit, cook freshly and enjoy. Do you agree with me?:) It doesn't require a lot of room, small patio or just a window box will do, what's most important is take part in every stage of the process. Most herbs are relatively easy to grow, mint in particular grows fast. I love cooking with fresh produce.Here is the picture of mint plant grown in my micro garden 🙂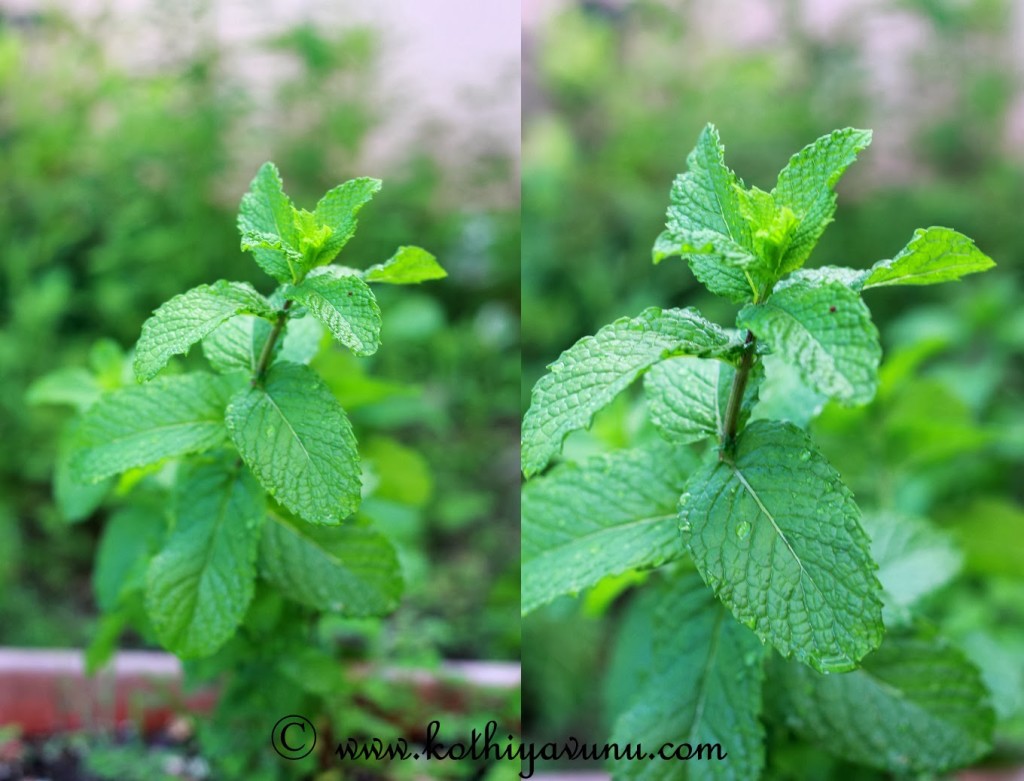 Mint is one of the oldest herb which is widely used in Indian Cooking. Both my husband and I love mint and this mint rice is my quick go-to on lunchbox recipe. If ingredients are handy, then it takes no time to whip this up this aromatic rice recipe. It's extremely kid-friendly because of it's nutritional balance it provide plenty of protein and are packed with vitamin A and magnesium to boot and helps removes toxins from body and reduces irritated bowel syndromes.
The fresh sprigs of mint/pudina leaves are grounded along with coconut and then added to the rice while cooking to impart the delectable minty flavor.They make this rice unique and flavorful. You don't need any side dish with this…If you really want to go something with this, you could make spicy potato roast, raita and /or roasted papad. I used ghee as a base, but you could use oil .
Mint Rice Recipe | Pudina Rice Recipe | Mint-Pudina Pulao Recipe
Prepration Time : 10 mins
Cooking Time : 15 mins
Serves : 2-3
Ingredients:
Basmati Rice /Raw Rice : 1 cup
Ghee : 2 tsp
Onion : 1 medium, (finely chopped)
Bay Leaves : 1
Cloves : 4
Cinnamon : 1/2 inch 2 pieces
Cardamom : 2
Fennel seeds :1/2 tsp (or) If you don't prefer using whole garam masala, then use
Garam masala powder :1 tsp
Cashews for garnishing
For Mint Masala Paste :
Mint leaves : 1 bunch
Ginger : 1 inch piece
Garlic : 4-6 small cloves
Green chillies : 3
Grated coconut : 1/4 cup
Cashews : 2-4
How to make Mint Rice Recipe | Pudina Rice Recipe | Mint-Pudina Pulao Recipe:
1. Wash and soak the basmati rice for 10-15 minutes and cook the rice with enough salt until the rice is done yet firm. If your cooking rice in pressure cooker,cook for 1 whistle and once pressure settles, spread out the rice on a plate and let it cool without clumping.
2. Grind all the ingredients listed above'For Mint Masala Paste' to a fine paste. Set this aside.(Note : Do not add water)
3. Heat ghee in a pan and roast the cashews.Remove it and set it aside.
4. In the same pan, add all whole garam masala or garam masala powder(whichever you are using) and saute it a minute. Add sliced onion and saute it till it become translucent and soft
5. Now add the ground mint masala paste; saute till oil separates. It will take around 5 minutes.
6. Add the cooked rice and gently mix everything well. Adjust the salt. Garnish with cashews.
7. Serve with spicy potato roast and raita. Enjoy!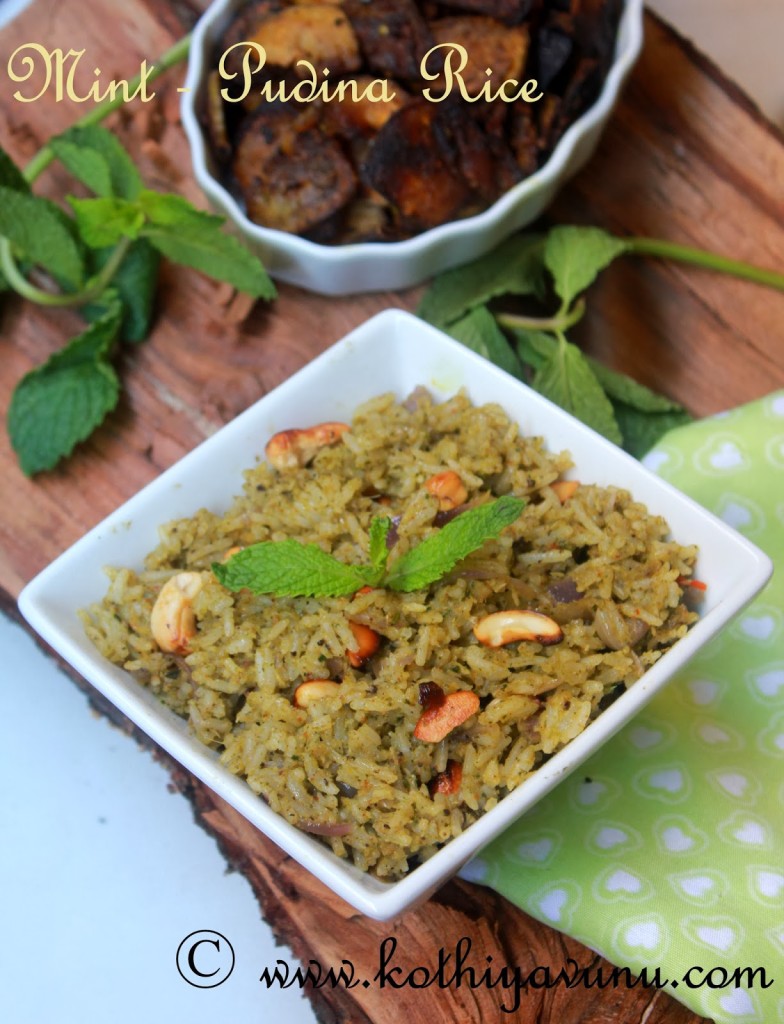 Related Posts :
Lemon Rice /Elumicham Sadam
Kashmiri PulaoVegetable Fried Rice
Tamarind Rice /Puliyodharai
Ney Choru /Ghee Rice
Mango Rice
Microwave Spinach /Palak Pulao
Carrot Rice