Happy New Year Everyone! Hope you all had a great time ringing in 2014.We certainly did and had a blast with our friends. Well, let's kick-start 2014's first post with Chicken Fried Rice.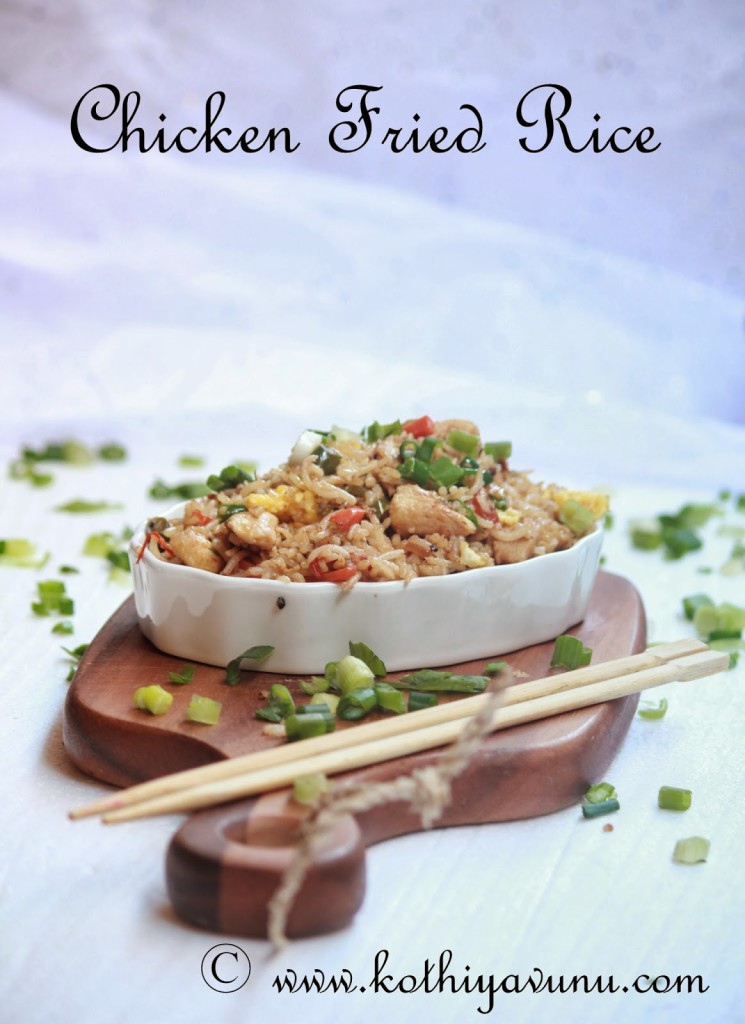 Chicken fried rice is one we eat often, and it amaze me how I slipped this recipe to post it here. This another dish which always come to my rescue! I'd just throw in whatever I have in stock.The best things about this recipe is that it is very quick and easy to make.The secret to good results in fried rice is using leftover rice, or day old rice, it prevents the rice from sticking or becoming soggy.This recipe is a brilliant way of sneaking in veggies and meat into your kids diet.
Every one have their own method of making chicken fried rice. I adapted this recipe from Busy Mom's Cookbook and I made a few simple tweaks to adjust my family taste buds. I receive amazing feedback each time I prepare and share it with family and friends. I hope you get to try it too! Enjoy!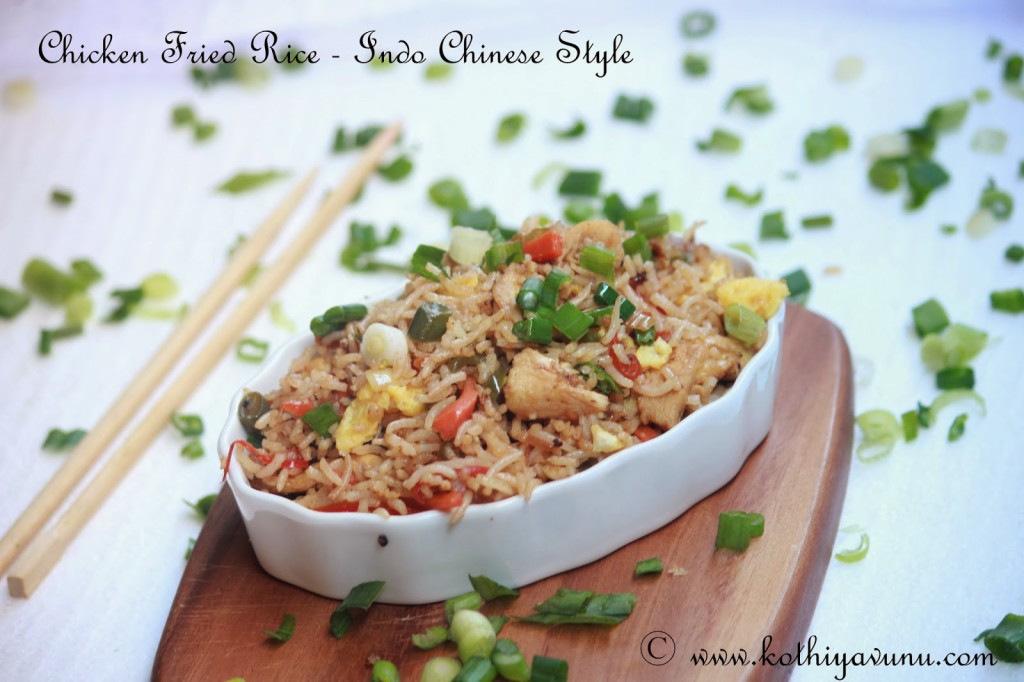 Other Fried Rice recipe You Might Also Like :
Paneer Fried Rice Recipe-Simple Paneer Rice Recipe
Sausage Shrimp Fried Rice Recipe
How to make Chicken Fried Rice Recipe – Indo-Chinese Style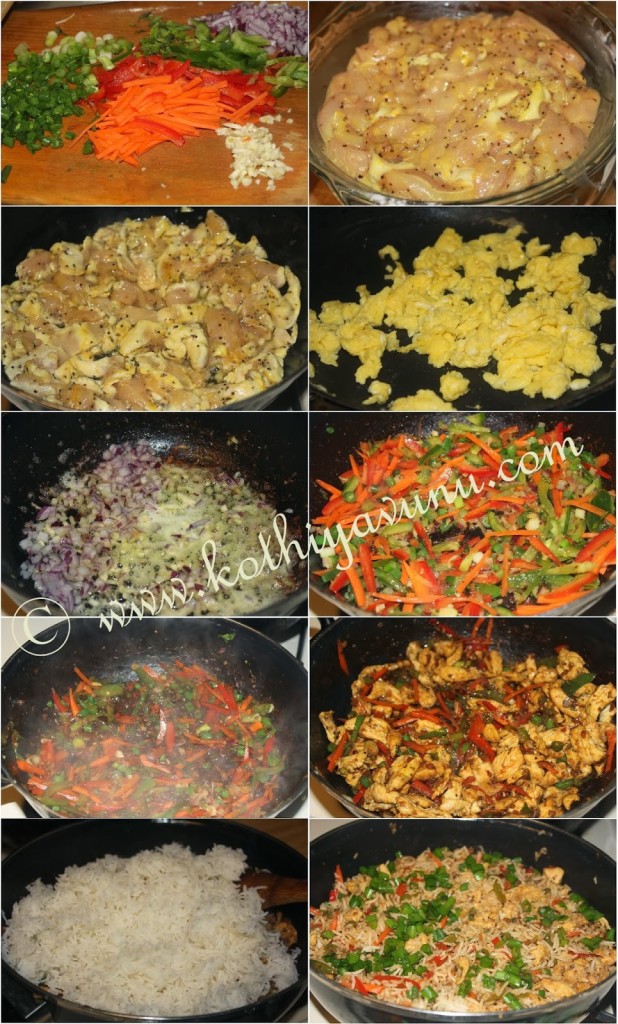 Chicken Fried Rice Recipe
Easy and yummy chicken fried rice.
Ingredients :
Basmati Rice /Long Grain Rice : 2 cups (see notes)
Water : 4 cups
Boneless Chicken Breast pieces : 2 (chopped into tiny pieces)
Eggs (beaten) : 2
Corn Flour : ¼ tsp
Green chillies :1 or 2 (adjust as per spice tolerance)
Carrot : 1 (small, cut into long thin strips)
Green Capsicum/Bell Pepper : ½ (cut into long thin strips)
French Beans : 3 to 4 (finely chopped)
Shallots/Small/Pearl Onion : 6 to 7 (finely chopped)
Spring Onion : 7 ( Chop the base white part of spring onion and the green part separately)
Garlic : 2 cloves (coarsely crushed)
Soy Sauce : ½ tsp
Green Chilli Sauce : ½ tsp
Chilli Garlic Sauce : 1½ tsp
Sugar : ½ tsp
Salt to taste
Olive Oil or Vegetable Oil
How to Make :
Clean and soak the rice for about 20 minutes. Drain the water and boil the rice with water and a pinch of salt and cook until almost done. Rice gets cooked in its own steam when left covered. So it is best to leave it slightly uncooked. When the rice is cooked, drain the water, add some cold water to it. Again drain it and keep aside. (Note : Do not overcook it. Best using leftover rice, or day old rice(or) steam and cook the rice two hours before you cook fried rice)
To the chicken pieces, add few drops of egg, crushed pepper powder,corn flour and salt, combine everything well and shallow fry them in olive oil.
Into the same wok/pan, add beaten egg into it; scramble it and keep aside.
Add some more olive oil or vegetable oil to same pan/wok and saute green chilies till color changes.(Note: By doing this gives you aromatic infused chilli oil which helps enhance the flavor of the dish.)
Add crushed garlic, finely sliced shallots and chopped white part of spring onions and saute till onions turn transparent.
Add the sliced veggies( beans,carrot,and capsicum)in order one by one,frying each for a minute.(Note : Don't over fry the veggies,retain its color and crunchiness.)
Now lower the fire and add all the sauces and saute till a high steam comes. (Note : Saute gently to avoid breaking the rice) When the high steam appears, add the shallow fried chicken pieces and stir well for a minute.
Now add cooked cooled rice and stir fry for a few minutes. Add sugar and add fried/scrambled egg; combine well.
Finally, garnish with chopped spring onion greens(green part), switch off flame and serve hot and Enjoy!
Notes
Try to use freshly ground black pepper.You can substitute black pepper powder with white pepper powder.
Be careful while adding salt because the sauces has salt in it too.
Secret to good results in fried rice is using leftover rice, or day old rice.
I suggest using leftover rice or day old rice (or) steam and cook the rice two hours before you cook fried rice. Using leftover rice prevents the rice from sticking or becoming soggy.
Be generous in adding olive oil.You can add other veggies and meat into the dish too.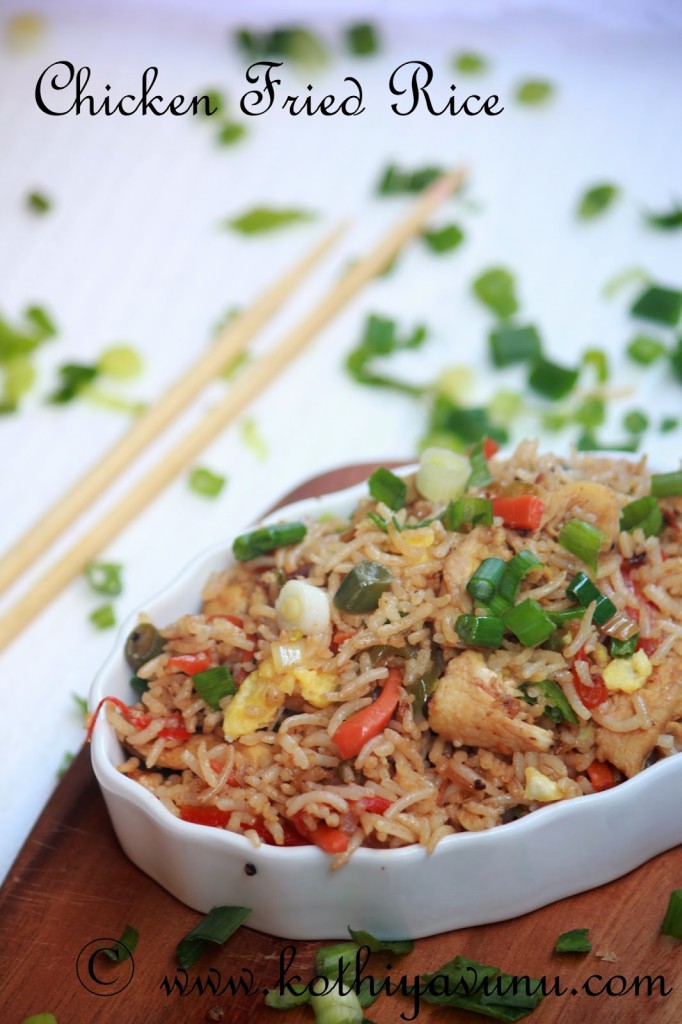 Hope you all will enjoy making this Chicken Fried Rice! Don't forget to let me know your opinion if you try.
Catch you all with more yummy updates!
Sangeetha
Like this Recipe? Sign up, and get more recipes delivered directly to your inbox.