Saying hello after soooooooo long with easy Shrimp Broccoli Creamy Penne Pasta. How are you all?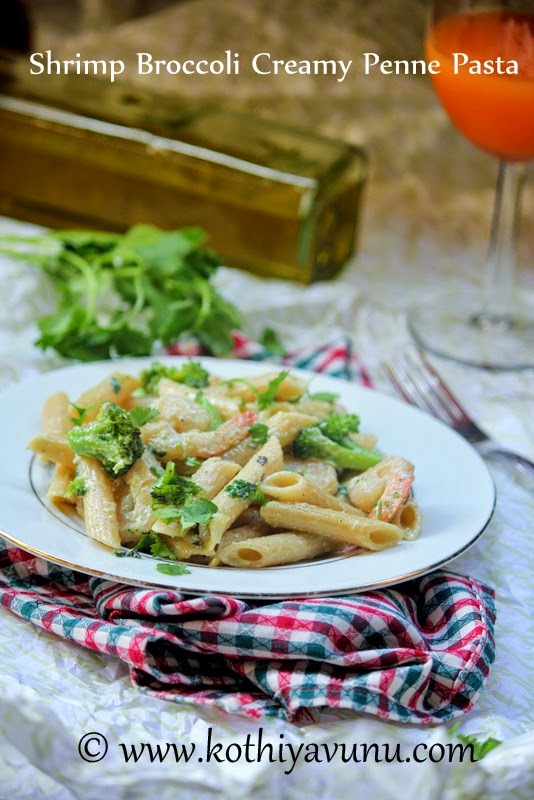 I can't believe I haven't posted on here for almost 5 months! Hope everyone is doing good. Nothing wrong here, I have been unbelievably busy with my work and having lethargic lazy summer days :)… fun,  bbq, trips, are in the menu, I can't complain much though…you just need to take the time to enjoy the moment when you can…Isn't it? but yes I know I ignored updating, which is really bad.:( I promise you all that from now onwards I will try my level best to update on regular basis, Thanks  to everyone who kept this site alive with your valuable feedback in my absence! Much appreciated!
Lets kick-start the wagon once again with a simple creamy pasta with shrimp-prawns and broccoli recipe 🙂 Pasta, shrimp, and broccoli, all cooked in a low-fat cream sauce and the low-fat cream sauce is made with light cream cheese and chicken broth instead of using heaving whipping cream.That is what makes this meal different, healthy and delicious. You can put your own spin on it.You can also make it with chicken and veggies of your choice. This dish always sure to get thumbs up, also sure to please even the pickiest eaters!
Other Noodle & Pasta Recipes You Might Also Like :
Masala Pasta -Indian Style Pasta
Vegetable Hakka Noodles -Chowmein Recipe
Schezuan-Szechuan Vegetable Noodles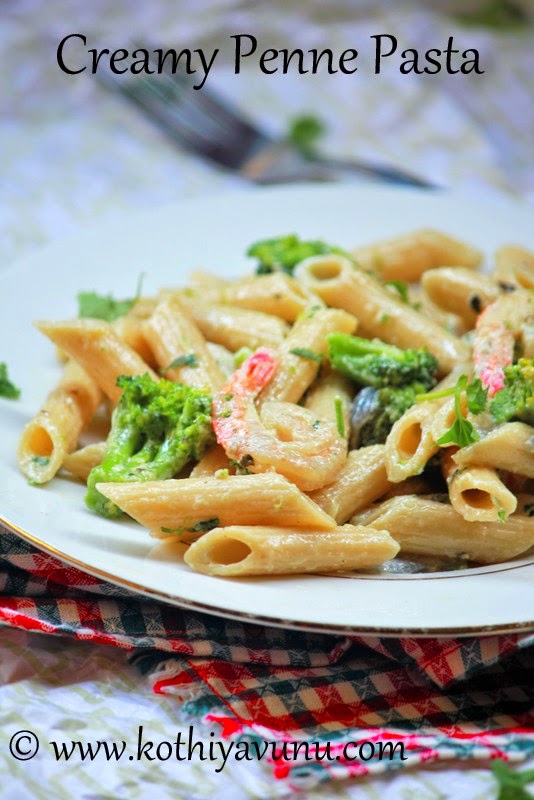 How to Make Shrimp Broccoli Creamy Penne Pasta :
Shrimp Broccoli Creamy Penne Pasta Recipe
An easy peasy Shrimp Brocoli Creamy Penne Pasta that's simple, flavorful and incredibly hearty. And all you need is 20 min to whip this up!
Ingredients :
Uncooked Pasta (I used Penne, you can use any kind of pasta) : 3 cups
Shrimp/Prawns : 1 lb (peeled and deveined)
Fresh Broccoli florest : 2 cups
Garlic cloves : 3 (minced)
Onion : ¼ (chopped)
Olive oil : 2 tbsp
Chicken broth : ½ cup
Fat-free or Low-fat Cream Cheese : ½ cup
Dried Basil : ½ tspParmesan cheese : ¼ cup
Lemon juice : ½ tsp
Freshly grounded Whole Black Pepper : ¼ tsp
Salt to taste
How to Make :
Cook pasta according to package (Or) Bring water to boil in a big pot filled to its half and add salt,and pasta. Cook over medium flame for 10-15 mins until al dente(cooked and tender).Make sure its not over cooked. Drain water and wash it immediately by running it under cold water to remove the excess starch.(Note : This stops the cooking process and prevents the pasta from getting soggy.) Add a tsp of olive oil to the cooled pasta and keep aside.
Heat a large nonstick skillet over medium-high heat. Add olive oil; sauté garlic and onion saute until tender.
Add shrimp to the pan. Cook for 3-5 minutes or until the shrimp is pink and done.
Add broth and broccoli florets and cook for a minute now add cream cheese, stirring until combined, bring to a boil. Reduce the heat and simmer for about 2 minutes.
Stir in cooked pasta and add dried basil; toss to coat. Cook for a minutes or so.
Remove from heat. Sprinkle parmesan cheese, and lemon juice. Season with freshly ground pepper to taste.Serve immediately and enjoy!
Notes
You can replace penne pasta with any of the pasta like spiral, fusili, spaghetti, macaroni , farfelle or any other pasta of your choice.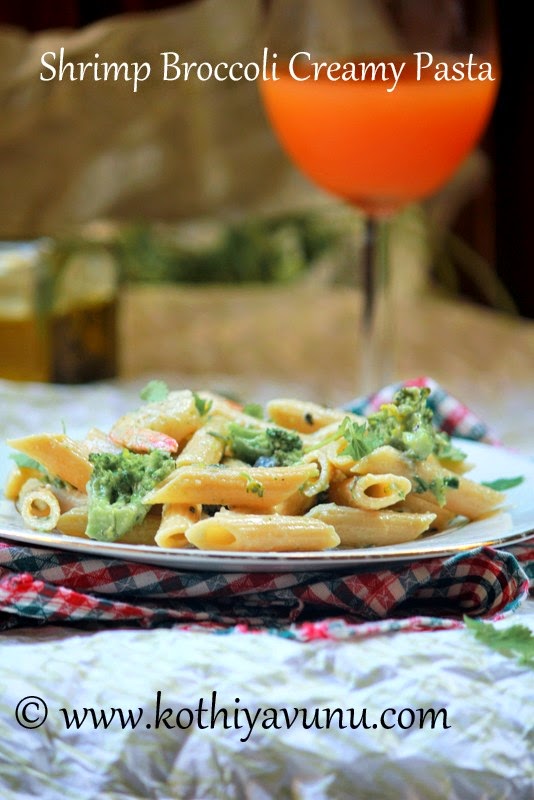 Try this easy peasy Shrimp-Prawns Broccoli Creamy Penne Pasta that's simple, flavorful and incredibly hearty and let me know your opinion…Enjoy!
Happy Cooking!
Sangeetha
Like this Recipe? Sign up, and get more recipes delivered directly to your inbox.