Learn how to make this easy 10-min Eggplant-Brinjal Peanut Masala-Vazhuthananga Peanut-Groundnut Masala Recipe!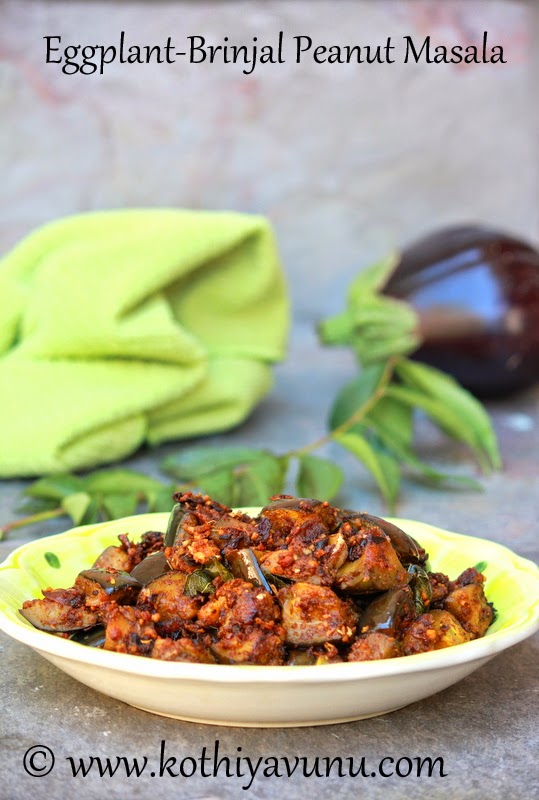 Guess who's getting obsessed with gardening? I can't belive how fast everything from flowers to vegetables is growing in my micro garden. I guess I must have a bit of a green thumb, but still got a long way to go!:)  I grew up with a dad who always had a huge garden…I'm so happy and blessed that my dad's love of gardening is something I have inherited. Today I'm cooking little this and a little that.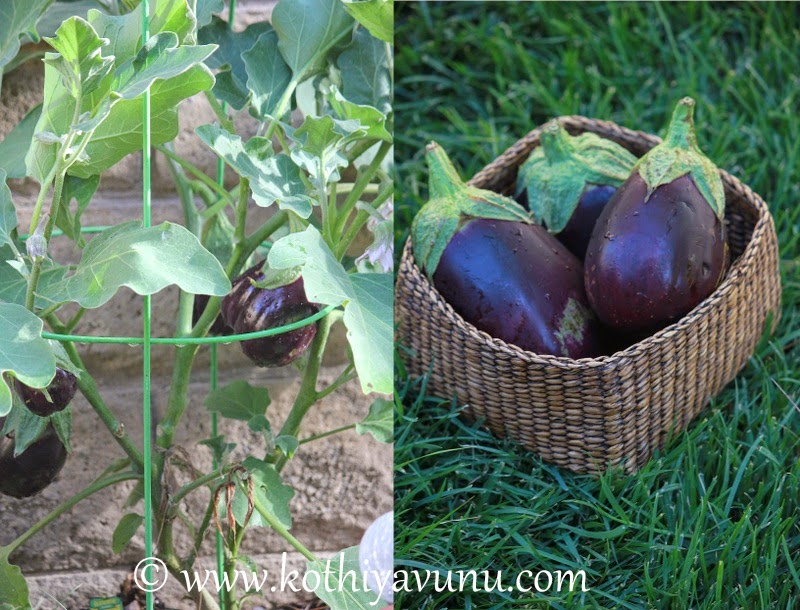 Yes, you got it… I used for today's recipe is straight from my garden. I had such a bounty of eggplant and peppers this season.There are lots of varieties in eggplant-. I have black beauty varieties in my garden.This purple beauty has its unique taste and texture. You can see more yummy recipes using freshly picked veggies and fruit here in the near future 🙂  So stay tuned!
I have already posted Bell pepper-Capsicum Peanut masala here before and this recipe is another take on it. Now lets plunge into easy 10 mins Eggplant-Brinjal Peanut Masala. This simple, delicious stir fry makes a great accompaniment for rice or roti/chapati.
Brinjal Gostu-Eggplant Tomato Gravy
How to make Eggplant-Brinjal Peanut Masala  | Vazhuthananga Peanut Masala-Upperi Recipe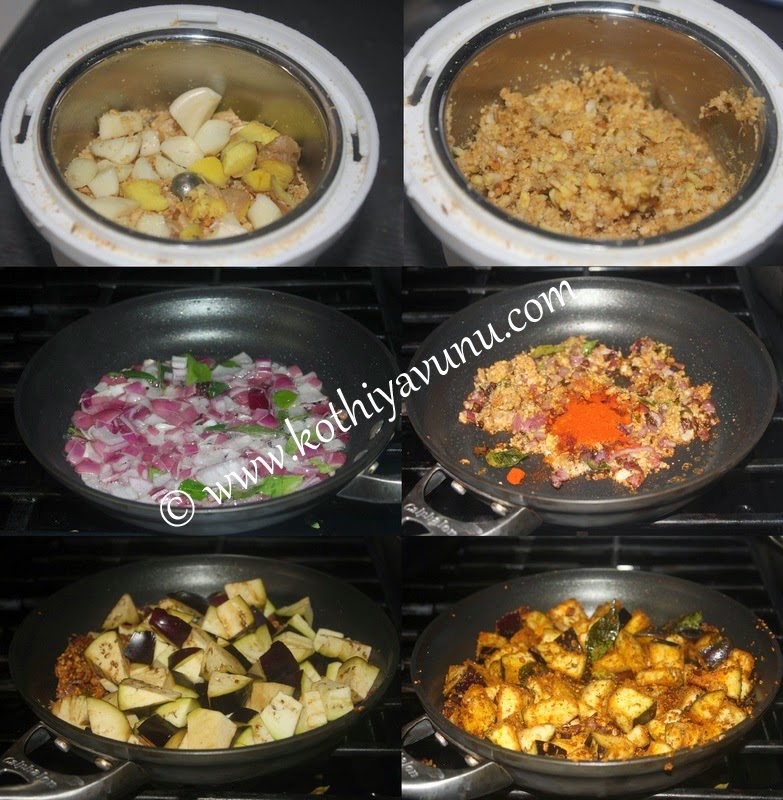 Eggplant -Brinjal Peanut Masala -Vazhuthananga Masala
Learn how to make this easy 10-min Eggplant -Brinjal Peanut Masala Recipe!
Ingredients :
Eggplant/Brinjal/Vazhuthanga : 2 big (cubbed)
Onion : 1 medium (chopped)
Turmeric Powder : ¼ tsp
Red Chilli Powder : 1 tsp or to your spice level
Curry Leaves : few
Oil : 2tbsp
Salt to taste
To Grind :
Garlic : 5 cloves
Ginger : 1" piece
Peanut/Groundnut : ¼ cup
Cumin Seeds/Jeera : ¼ tsp
How to Make :
In mixier or in coffee grinder, add the cumin seeds, peanut; ground them to a powder then add garlic, ginger and pulse to a coarse paste.
Heat a pan or kadai with oil; add the chopped onion, few curry leaves and saute till onions turns soft and pink in color.
Add the grounded peanut-ginger garlic paste and saute it for a mintue. Reduce the flame to low, add turmeric powder, red chilli powder and saute for a min or two. Add salt to taste.
Add the chopped eggplant-brinjal/vazhuthanaga mix well; increase the flame to medium high and sprinkle couple handful of water, close the pan with a lid and allow the brinjals-eggplants to cook for few minutes; stirring often.
Add the remaning curry leaves and combine well.Serve with rice as side dish or with roti/chapathi and Enjoy!
Do let me know if you try this 10mins
Eggplant-Brinjal Peanut Masala -Vazhuthananga Masala
.Enjoy!
Cheers!
Sangeetha
Like this Recipe? Sign up, and get more recipes delivered directly to your inbox