Hello Readers and Friends, Can I still wish you all a very Happy New Year? Is it too late? Better late than never right? I hope you all are having the best of this new year! I'm here with my first post of 2015…Tapioca Fish Cutlet -Kappa Meen Cutlet.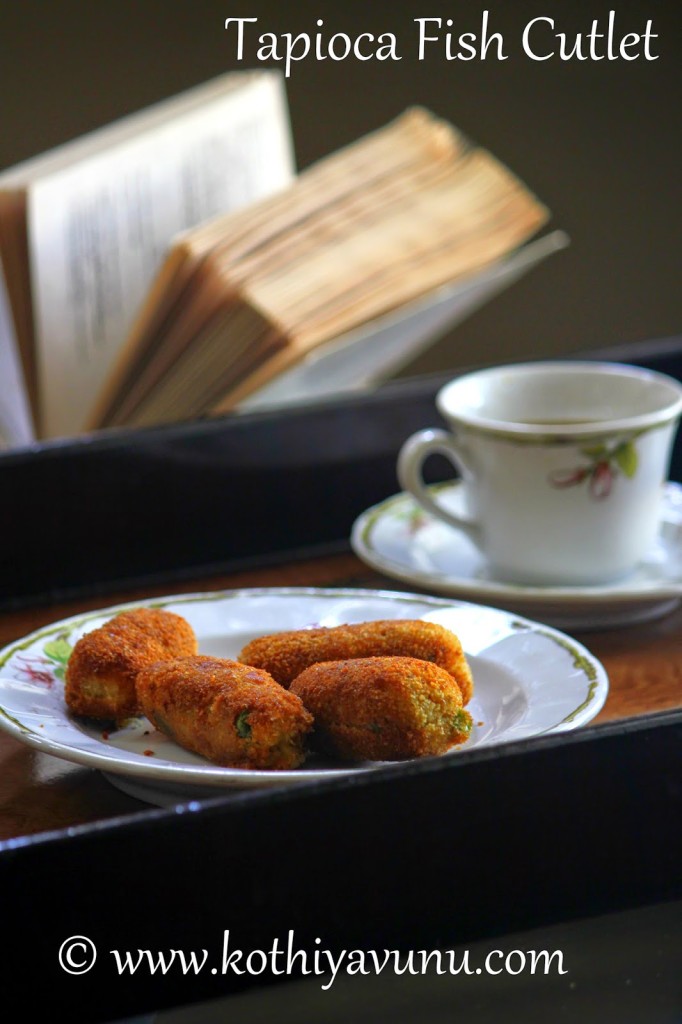 Yes I know! It's been a while since I've posted a recipe on here. I'm not really sure why?
I guess life is a pretty busier with family and work. And then when I'm chatting about a recipes with my friend yesterday inspired me to sneak in a quickly blog post. I'm happy to be back in action. Foremost, To all those who commented, e-mailed me, just to let u know, I am yet to respond many comments and emails from September. I'm really sorry, for sure will reply back as early as possible.Thank all of you for your kind comments,emails and encouragement. I appreciated hearing from every one of you!
Well, let's talk about today's recipe. Cutlet is popular and common snack in India that most of them would know how to make it. But Kerala Tapioca Fish cutlets is so special and unique. what makes this cutlet unique ? Needless to say Fish and Tapioca it's a killer combination agree? I guess at least Keralite can relate to me. It's very easy and delicious-what more could you want? So if haven't tried, I recommend you to give it a try.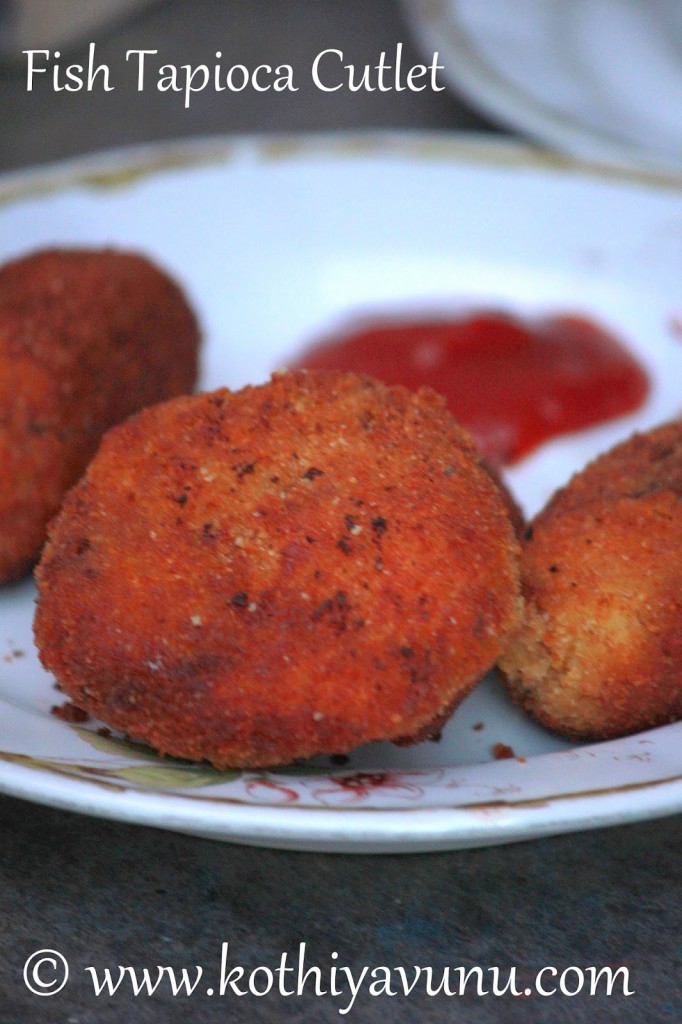 I came across this recipe in a cookery show and from then I've been waiting to make this post. Lately when I wanted to share this recipe with a friend, I decided to blog it for everyone! This recipe is a definitely a keeper. I am sure it will be a wonderful addition to your "to do" list.
Other Cutlet Recipes You Might Like :
Shrimp-Prawns Cutlet -Chemmeen Cutlet
Meat Cutlet (Chicken/Mutton/Beef)
Tapioca Fish Cutlet Recipe – Kappa Meen Cutlet Recipe – Kerala Style Fish Tapioca Cutlet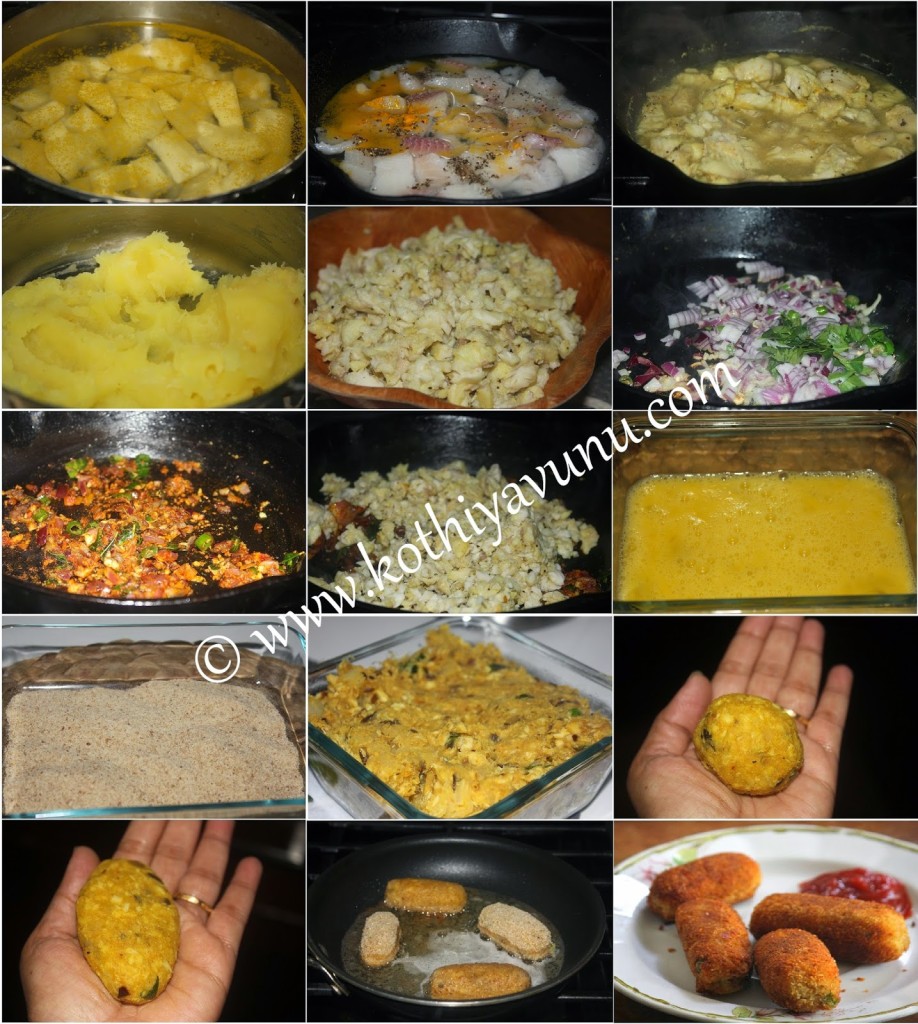 Tapioca Fish Cutlet - Kappa Meen Cutlet Recipe
Fish Tapioca Cutlet - Easy, Quick & Delicious - what more could you want?
Ingredients :
Kappa /Tapioca/Yuca/Cassava : 1 Medium /1.1 lb /500 grms (skin removed and cut into medium size pieces)
Fish /Meen : ½ lb / 220 grms /11/2 cup (shredded) (You can make it with any fish variety but I recommend to use the fishes which bones can be easily removed I used Tilapia.)
Onion : 1 medium /3/4 cup ( finely chopped)
Green Chillies : 2 (finely chopped)
Ginger : 1 small piece ( finely chopped or minced)
Garlic : 2 pods (finely chopped or minced)
Curry Leaves : few (Finely chopped)
Turmeric Powder : ½ tsp
Kashmiri Chilly Powder : ¾ tsp
Coriander Powder : ¾ tsp
Black Pepper Powder : ½ tsp
Garam Masala Powder : ½ tsp
Egg : 1, beaten with a pinch of salt
Corn Flour : a pinch
Bread Crumbs : as required
Salt to taste
Coconut oil /Cooking oil : as required
How to Make :
Clean and cut the fish into samll pieces and boil with pinch of turmeric powder, black pepper powder and salt to taste.When the fish is cooked, drain the water and shred the cooked fish fillets chunks into small pieces and set it aside.
Clean the impurities of tapioca/kappa and peel the skin and dice into small pieces.Pour enough water to the cleaned tapioca, so that all the pieces will be immersed completely, cook uncovered and allow to boil.
When the water boils, remove and drain the water and again add the same amount of water, salt and pinch of turmeric powder and cook for for 10-15 minutes or till it turns to very soft and tender.Remove from the fire. Drain the excess water and mash them well using the back of a large spoon keep it aside.
Heat 2 tbsp of oil in a pan/kadai; saute chopped onions until it turns to translucent. Add chopped ginger, green chillies and saute for couple of minutes.
Add  turmeric powder,kashmiri chilli powder,corainder powder, garam masala, chopped curry leaves and salt to taste.
Add the shredded fish pieces and combine well. Remove from the fire and allow it to cool
Now add mashed tapioca/kappa and mix everything together well with your hands.
Make lemon sized balls out of it and roll into desired shapes.
In a bowl, beat the eggs with pinch of corn flour and salt.
Caot each patties in eggs and coat again with bread crumbs.
Deep or shallow fry in oil until brown.Serve hot with tomato ketchup or any sauce of your choice and Enjoy!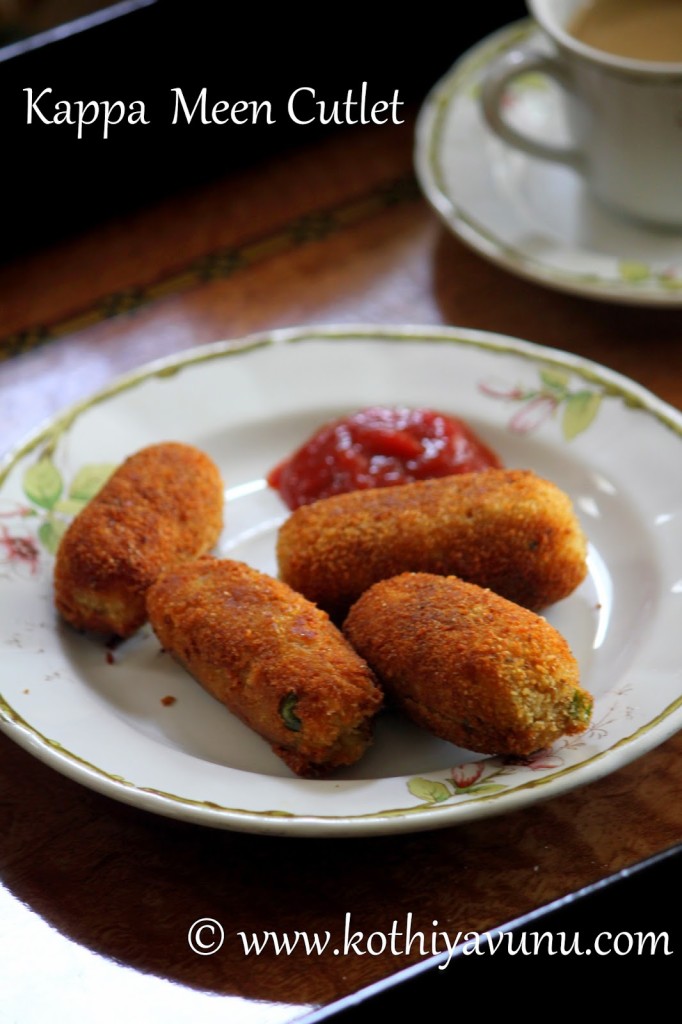 I hope you try this Tasty Kerala Style Tapioca Fish Cutlet –Kappa Meen Cutlet and let me know how it turned out for you. Enjoy!
Happy Cooking!
Sangeetha
Like this Recipe? Sign up, and get more recipes delivered directly to your inbox.