Looking for some quick and simple eggless dessert recipe? Then this Eggless Strawberry White Chocolate Mousse are one such simple recipe that you can easily make.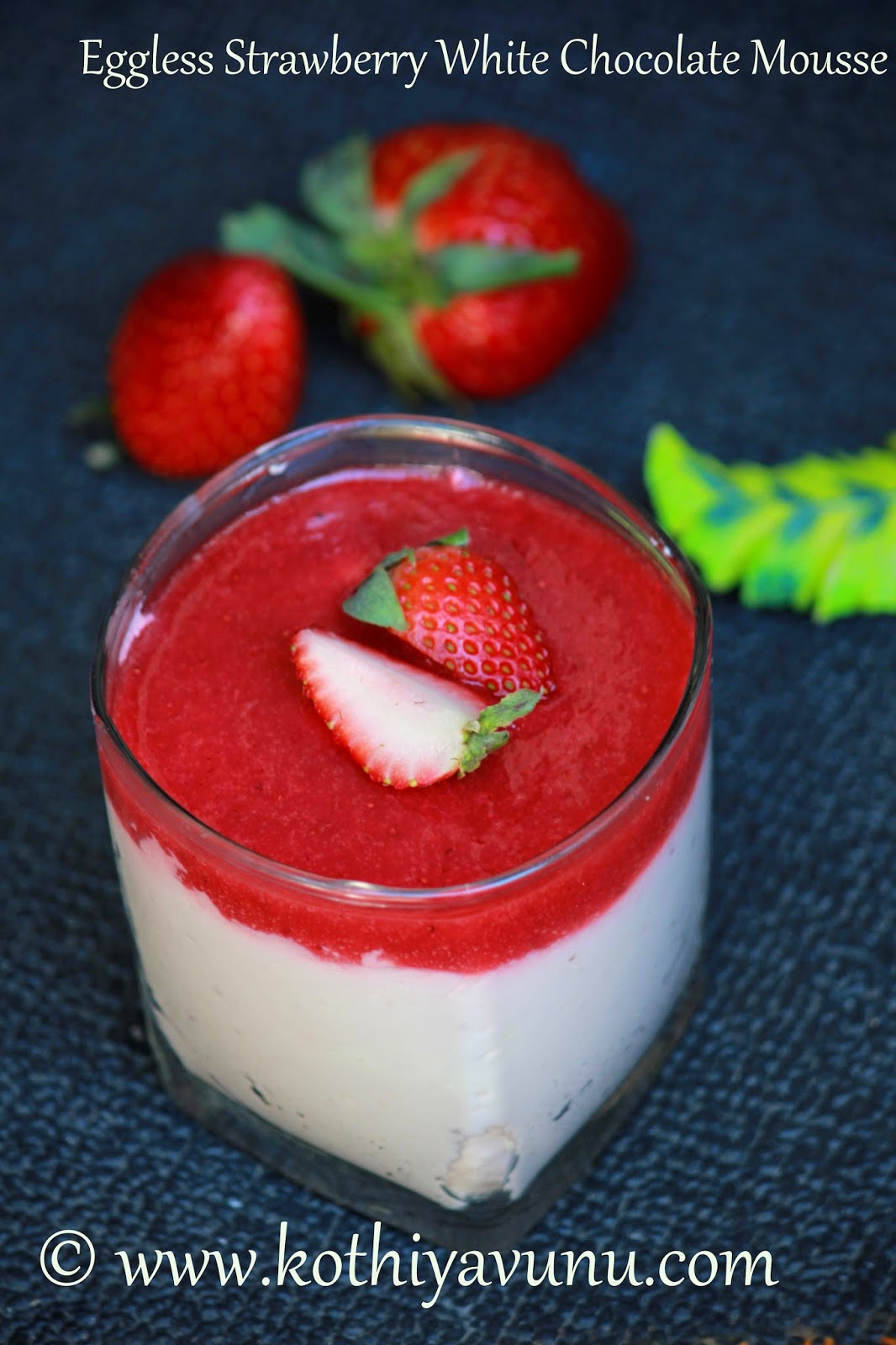 Yes you heard it right, these mousse are eggless and very simple to make, no fancy ingredients needed. Fresh strawberries are pureed, then combined with white chocolate and whipped cream. It has airy, light and creamy texture yet delicious.
I got this recipe from one of my best friend Ms.Ciby. She always makes this Eggless Strawberry White Chocolate Mousse to my cuties when we meet. My kids loves it to the core. Thank you Ciby for sharing this recipe with us. She taught my daughter's how to make this and in no time they learned it.
Yes you guessed it right…. My cuties wanted to try these by themself without any adult's help and finally they made it and surprised me for women's day 🙂 So I decided that this yummy recipe definitely deserved an entry.:) I recommend putting it on your wish list and try.Enjoy!
Now off to the recipe…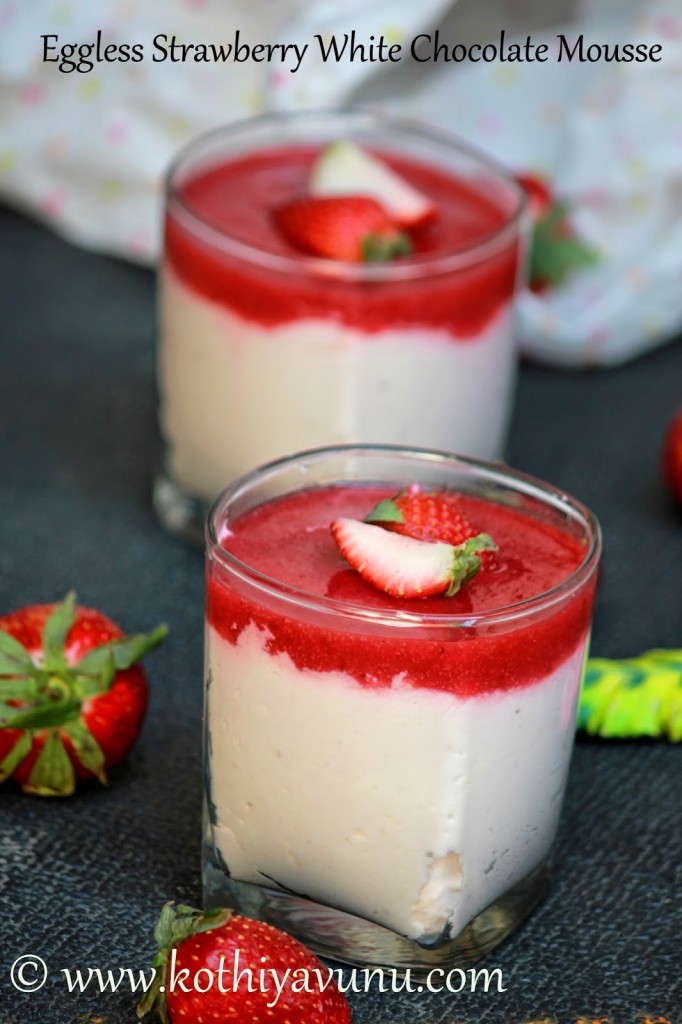 Other Desserts recipes You Might Like :
Nutella Chocolate Vanilla Panna Cotta
How to make Eggless Strawberry White Chocolate Mousse Recipe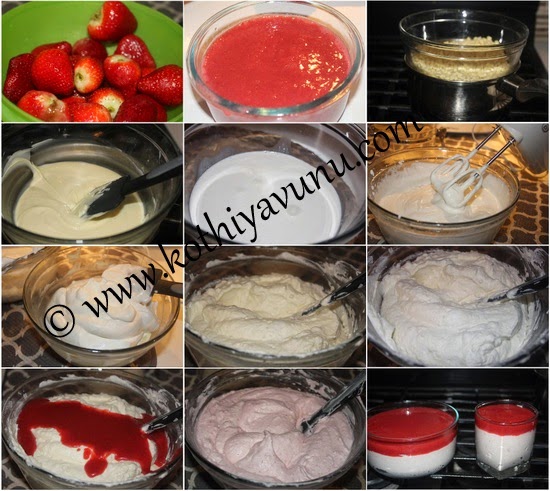 Eggless Strawberry White Chocolate Mousse Recipe
Looking for some quick and simple eggless dessert recipe? Then this Strawberry White Chocolate Mousse are one such simple recipe.
Ingredients :
Strawberries :10-15 nos
White Chocolate Bar or White Chocolate Chips : 4 oz /113 grams ( I used chocolate chip)
Heavy whipping cream : ¾ cups
Sugar : ½ tbsp
How to Make :
Puree the strawberries in a blender without adding water and set it aside. (Note : Leave ¼ cup of puree aside to mix with chocolate-cream mix and rest of the puree to garnish the mousse.)
Using the double boiler method. Melt the chocolate. Place your chopped white chocolate or white chocolate chip in the top of your double boiler. Place the double boiler over low heat. (Note : Don't forget to fill the bottom of your double boiler with half inch of water. If you don't have a double boiler, you can improvise with a saucepan and a heat proof bowl but make sure that water in saucepan is just on simmering not boiling. Water should not touch to the bottom of the chocolate mixture bowl.)
Melt the chocolate over the hot water (not boiling).  Stir the chocolate until completely smooth when  the chocolate turns to shiny. Remove the bowl from the heat and let it cool down completely. You can melt the chocolate in microwave too. Place  the white chocolate it in a microwave safe bowl. Heat the white chocolate for 30 seconds on medium heat, and then take it out of the microwave and give it a stir. Continue heating in 30 second intervals on medium heat, stirring as needed. Once the pieces are mostly melted, remove from the microwave and let the remaining bits melt in the residual heat. (Note : Adjust your  microwave to accordingly. You don't want to melt white chocolate on high, because it may make it burn.)
In medium bowl, add heavy whipping cream and sugar.Whip it till you get soft peaks using hand mixer or stand mixer. (Note : Do not over whisk the cream, it will start to curdle and you will get butter out of it.)
Add half of the whipped cream to cooled melted chocolate. Fold it very gently.Then add remaining whipped cream and fold it again. (Note : Do not  over mix it.Do it gently.)
Add ¼ cup of strawberry puree and mix it again gently.
Now divide the mousse in individual serving glass.Top/Granish with rest strawberry puree as much as you like.
Keep in the refrigerator for at least 2 hour to set and remove from fridge and serve immediately and Enjoy!
Notes
If you are using white chocolate from a bar or from bulk pieces, you will need to cut it into smaller pieces.
Fold whipped cream in chocolate very gently.If  you over mix it, we don't get lose airy texture.
For easy process of whipping cream, keep bowl and whisk in freezer for 15 minutes before whipping and keep whipping cream very cold.
Mousse can  be stored in the fridge for up to 2-3 days.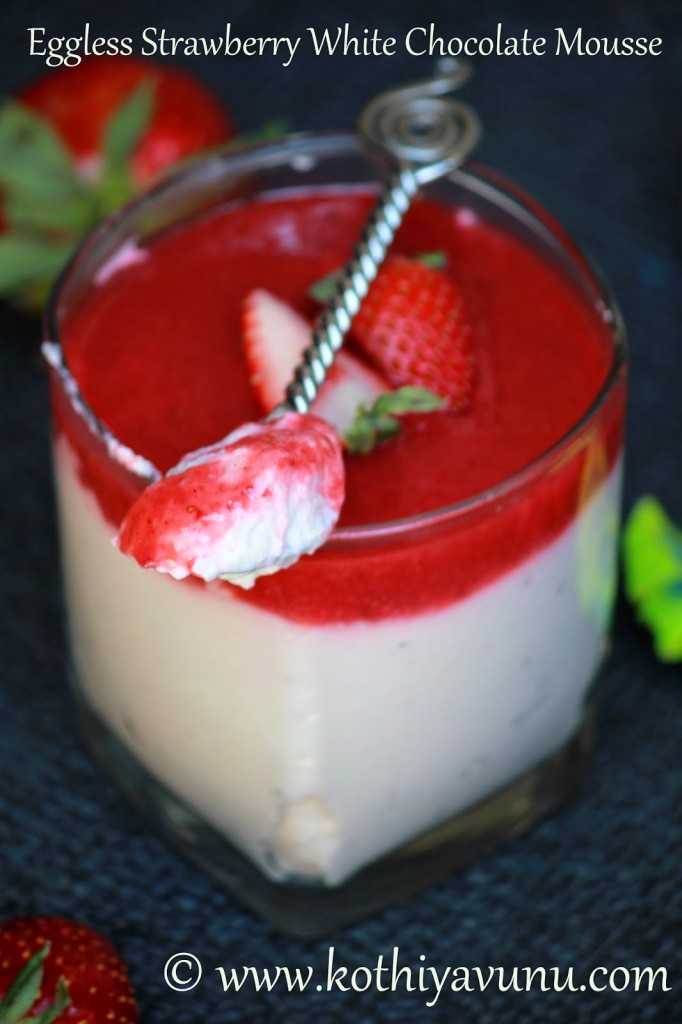 Hope you will try this easy and simple Eggless Strawberry White Chocolate Mousse and like them too. Don't forget to let know your valuable feedback. Would love to hear it.
Catch you with more yummy updates!
Sangeetha
Like this Recipe? Sign up, and get more recipes delivered directly to your inbox.