Gothambu Payasam |Broken-Cracked Wheat Payasam!
Happy Onam! How are your Onam Preparation going? Did you put Pookalam, Are you making Sadya?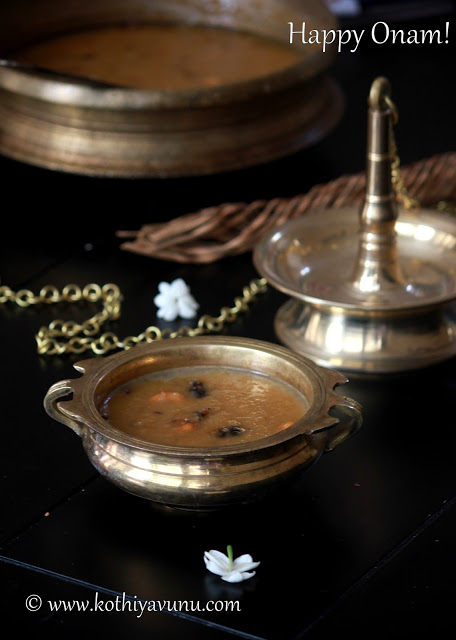 I'm sure you all have kick started for grand onasadya. This time I have no plans to make
Sadya.
We are celebrating our onam in our friends place tomorrow.
Y'day, I got the request for this recipe from my well-wisher and a loyal reader Sheeba Shinoj. She wanted to make Gothambu Payasam tommorrow.She said one thing  she  noticed about my past sadya recipes is that I haven't posted Gothumbu Payasam recipes till date, which is very popular payasam in Kerala Sadya.
Yes I agree…reason behind that is my hubby 🙂 he will never allow me to make this coz he is a die-hard fan of Palada and always looked down at this poor gothambu payasam.:) However this time I decided and made it. So here you go Sheeba. This is for you and for all my lovely readers and friends.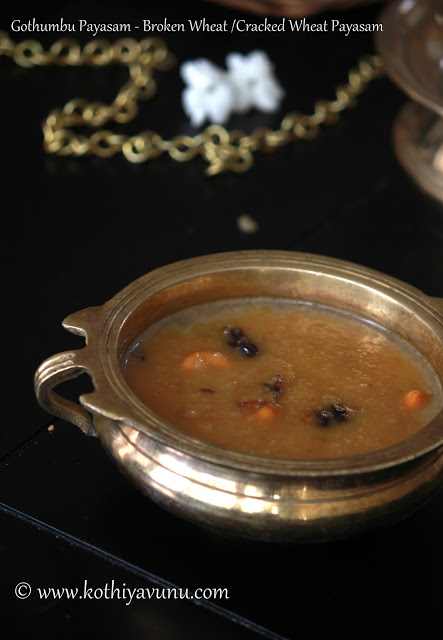 Other Payasam recipes You Might Like :
Parippu Pradhaman/Parippu Payasam
Palada Pradhaman – Easy Version
Palada Payasam – Traditional Way – Version 1
Chakka Pradhaman /Jackfruit with Coconut Milk & Jagerry
Ada Pradhaman /Cooked Rice Flakes with Coconut Milk & Jagerry
Nenthra Pazham Pradhaman /Banana Payasam
Semiya Payasam /Vermicelli Dessert
How to make Gothambu Payasam Recipe – Broken/Cracked Wheat Payasam Recipe  
 To Make Coconut Milk :
Take a 1 1/2 fresh coconut, grate it finely. In a blender or food processor, add the grated coconut with 1 cup of hot water and process for a minute, then squeeze it for milk. This gives you 1 cup thick milk.
Return coconut to processor and add 2 cup hot water and process for couple of minutes and squeeze it for milk in separate bowl. This gives you 1 cup thin milk.
OR
Buy 1 (400ml) can of thick coconut milk, shake well and pour 1/2 contents in a bowl and mix with 1 cup er (i.e. same quantity of water). Remaining milk in can is thick milk.
OR
Mix 25 g instant coconut milk powder with 200 ml water for thin coconut milk.
Mix 25 g instant coconut milk powder with 100 ml water for thick coconut milk.

Gothambu Payasam -Broken/Cracked Wheat Payasam
Kerala Traditional Dessert made of broken/cracked wheat and jaggery.
Ingredients :
Nurukku Gothambu / Cracked Wheat / Broken Wheat : 1 cup
Jaggery : 500 grms/2 cups /if using cubes 15 cubes or according to your taste preference.
Semi  medium Thick Coconut milk - 2nd extract /Randaampal : 1 cup or if you using store bought can : ½ can diluted with 2 cups of water. (see the method given below if you are using fresh coconut milk)
Thick Coconut milk - 1st extract /Onnampaal : ½ cup
Cardamom powder  : ¼ tsp
Dry ginger powder /Chukku Podi : ¼ tsp
Cumin powder /Jeeraka Podi  : ¼ tsp
Coconut Pieces (cut into very small bits) /Thengakothu (preferably copra) : 1 tbsp
Cashew nuts : 10-15 nos
Raisins /Unakka Mundhiri : 1 tbsp
Ghee /Clarified Butter : 2 tbsp or as required
How to Make :
Heat  1 tsp ghee in a pressure cooker. First fry the coconut pieces until brown and drain on to a paper towel and set aside. Fry the raisins until plump and drain. Add in the cashews and fry until golden brown and drain on to a paper towel and set all these aside.
Now add the Nurukku gothumbu and fry for a minutes or so and add 3.5 to 4 cups of water pressure cooker for 2 whistles or until soft. After the pressure settles, open the cooker.
Meanwhile melt the jaggery in 2 cup water in a  pan over medium low heat and keep on stirring till it is fully melted (almost the consistency of honey) It would not take more than 10-15 mins.
Transfer the cooked cracked wheat to an uruli (Kerala style shallow kadai used for making payasam)  or a wide mouthed heavy bottomed pan . Strain the jaggery syrup and add the cooked cracked wheat. Mi x well and cook for a few minutes over medium heat.
Add 2 tbsp of ghee to prevent it from sticking to the bottom of the uruli.
Add the semi thick coconut milk /2nd extract/Randaampal; mix well and boil again stirring continuously over medium-low heat for about 8 - 10 minutes or until the mixture thickens.
Finally add the Thick Coconut milk - 1st extract /Onnampaal and cook for a minute at low heat and switch off the flame. Keep stirring until the milk is incorporated. (Note: Do not boil the coconut milk, boiling will result in separated coconut milk.)
Switch off the stove add cumin powder, dry ginger powder and cardamom powder. Mix well.
Finally add the fried cashews, fried raisins, coconut bits/thengakothu.
Delicious Gothumbu Payasam is ready to serve...Serve warm or cold and Enjoy!
Notes
Adjust the amount of jaggery depending on the sweetness you prefer. The color of the payasam very much depends on the type of jaggery used.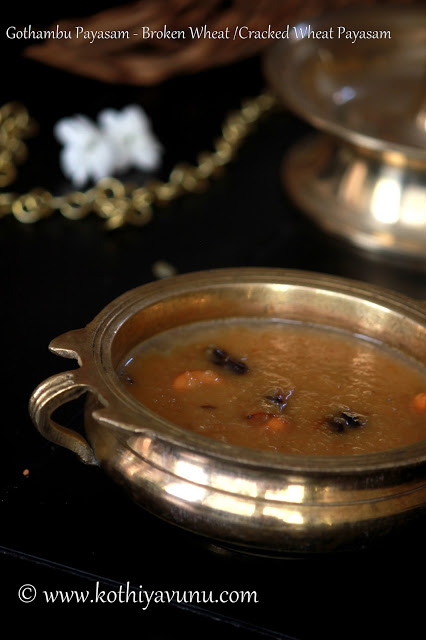 Hope you will all try  this Gothambu Payasam/Broken-Cracked Wheat Payasam, don't forget to share your opinion! Once again wishing all of you Happy and Blessed Onam!
Happy Cooking!
Sangeetha
Like this Recipe? Sign up, and get more recipes delivered directly to your inbox.