Hello everyone, Hope you all had a good weekend. Today on menu Kheema-Keema Biryani!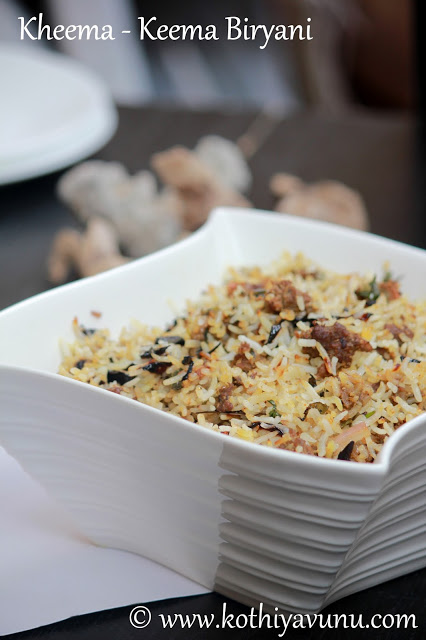 Do you know that this humble blog turns 6 yrs old couple of weeks back, Yes, I even forgot my blog's birthday! 🙁 Blame my busy schedule 😉 I started very casually for a time pass and in no time it took a ride of its own. I look back and feel blessed for all the great things this space have brought me 6 yrs of journey has been very interesting with lots of learning, lots of ups and downs, but overall it's was wonderful!
This humble space introduced me to many wonderful people, many of them I have never met in person but have taken a space in my heart. Last weekend we were on one of the onam celebration where I got introduced to few new friends who are already my happy followers. I was so happy beyond the words can describe! I'm blessed and grateful!
Thank you each and every one for all the support that you have bestowed on me and my humble space. You have allowed me into your homes, I"m so humbled by this gesture. Big "Thank you" from the bottom of heart.:)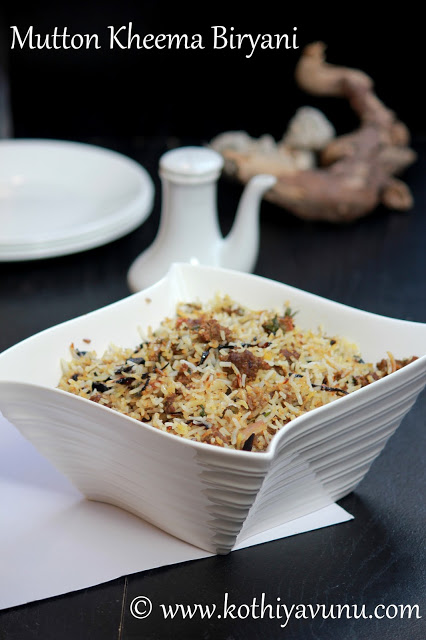 Vote of thanks is all done 😉 Now it's time to get into today's recipe – Let's Move On!
Other Biryani recipes you Might Like:
Crab Dum Biryani/Njandu Biryani
Chicken Biryani-Pakistani-style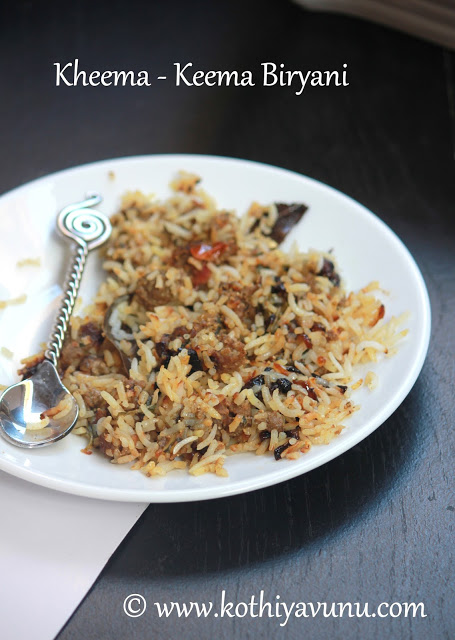 How to make Kheema-Keema Biryani Recipe – Mutton Kheema Biryani -Ground Goat Biryani Recipe
How to make Fried Onion :
Heat oil in a pan over high heat. Add finely thinly sliced onions; cook for 20 to 25 minutes, untill dark brown; stirring occasionally, sprinkle little sugar to caramelize, remove and drain on to the paper towel; set aside.
How to cook the Rice for Kheema-Keema Biryani:
Soak the rice for 20 mins and drain keep it aside. In a thick bottom vessel; Heat required water; add all whole garam masala ingredients listed above "For Rice".Add the ghee or olive oil or 1/2 ghee or 1/2 oil (whichever you prefer), salt to taste and mix well. Add drained rice and 1/2 tsp lemon juice and cook at high; heat till the water starts boil and cover the lid. Now reduce the heat to low and cook till for 5-8 mins depending upon the rice variety your using, so cook accordingly.You have to par cook the rice- 3/4 cooked and rest will get cooked during dum. (Note : Do not over boil the rice.To check if the rice is done you can take a grain of rice out and press in between your thumb and forefinger. If the grain breaks into 3 parts, it means your rice is cooked just right.) Optional – remove the whole garam masala from the rice if you don't prefer. When 3/4th rice cooked; remove from the fire and keep it aside.
How to cook Mutton Kheema-Keema Masala :
Heat a ghee/oil in the frying pan and add finely chopped ginger – garlic and saute till fragrant.Place a mutton mince/kheema in a blow and add 1/4 to 1/2 cup of water and mix well. Now add the mutton mince/kheema to the frying pan. Add turmeric powder, red chilli powders and salt to taste; mix well.Chop the dill leaves and add to the frying pan mix it along with kheema-mutton mince.Add the fenugreek leaves and half the fried onion, 1 tsp of garam masala, yogurt, 1 tsp of ghee, slit green chillies and ginger strips and mint leaves. Combine everything together well and bring it to boil.
Final Cooking and Layering for Kheema-Keema Biryani :
Strain the 3/4 cooked rice with perforated spoon and arrange half of it in a layer over kheema /mutton mince mixture.Sprinkle 1/2 of garam masala, 1/2 of fried onion, few chopped mint leaves. few chopped coriander leaves. Layer the remaining rice over it and repeat the process; sprinkle remaining garam masala, remaining fried onion, rest of the mint leaves and rest of the coriander leaves.Drizzle 1 tbsp of ghee all around. Cover and cook on dum for 6-8 mins on direct flame. once done remove from fire and let it rest unopened on cooking vessel/pot for another 5-10 mins. Serve hot with Raita, Pickle or Boiled egg and Pappadam on the side and Enjoy!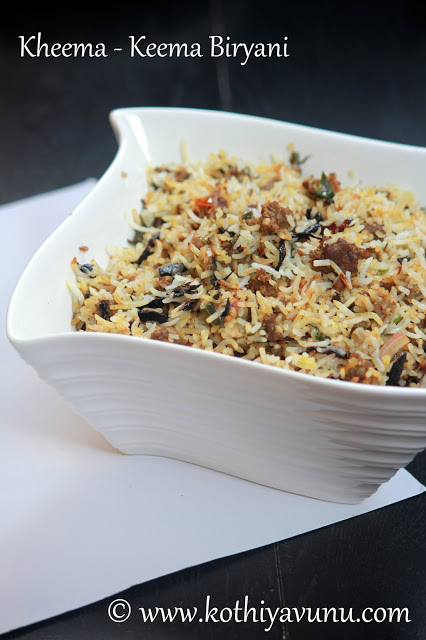 I hope you enjoy making this Kheema-Keema Biryani and eating it too 🙂
Happy Cooking & Happy Eating!
Sangeetha
Like this Recipe? Sign up, and get more recipes delivered directly to your inbox.