How about Chemmeen -Prawns Vada ?
I spend lot time apologizing to you all before for being inactive but once again, it stands all the same. Please accept my humble apologize. Life in all have kept me busy that I don't have much time to post something up here but I am (somehow) back!
I feel really gulity because there's quite a number of recipe requests and questions in my comment inbox which I haven't finished. I promise will be answering each mail and will  post all the recipe request slowly one by one. Thank you all for great support and I hope we can meet more often.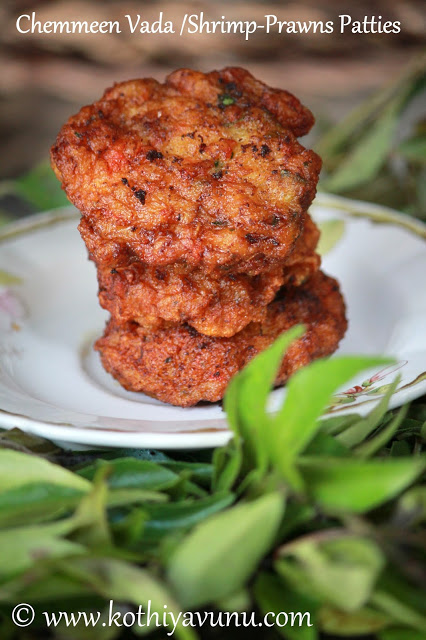 Last week I planned to post this, I typed the recipe, uploaded the pics and about to publish suddenly something went wrong with a single click, everything vanished. I guess some technically errors with blogger.com. Since that day I couldn't get this done.
Finally it's here. Well better late than never. I've posted plenty of shrimp recipes, I've never posted
Chemmeen -Prawns Vada
 which is yet another
Kerala
snack, very easy to make and very tasty.
Wondering how it made? It can be prepared in couple of ways either you can cook the chemmeen -prawns  first or use it as raw; then grind along with all other ingredients and form a patties then deep/shallow fry it. Either way it tastes delicious. Final product will be spiced golden fried patties of freshly or cooked minced prawn meat…Yes as simple as this sounds.
Other Vada Recipe you Might Like:
Uzhunnu Vada/Medu Vada/Urdu Dal Vada
Thayiru Vada/Dahi Vada/Curd vada South Indian Style
Parippu Vada/Channa Dal – Thoor Dal Vada-Fritters
Beetroot Vada /Beets Fritters-Patties
How to make Chemmeen -Prawns Vada  | Kerala Style Prawn-Shrimp Cutlet-Patties Recipe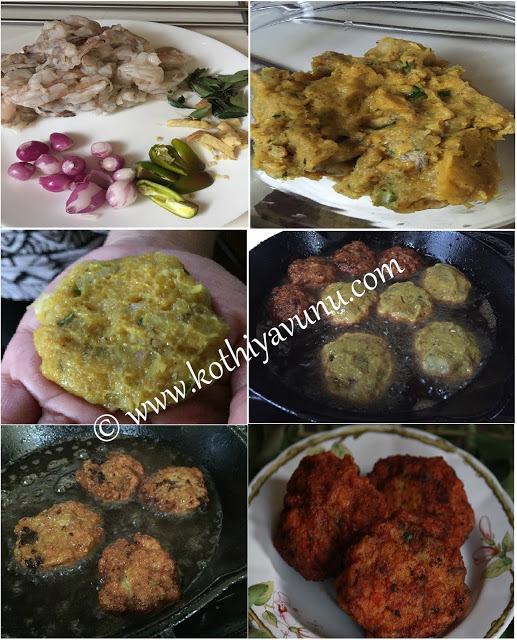 Chemmeen -Prawns Vada |Kerala Shrimp Cutlet Recipe
This Kerala Shrimp Patties-Cutlet recipe is very easy to prepare and mouth-watering tantalizing if you love Shrimp-Prawns.
Ingredients :
Prawns/Shrimp/Chemmeen :1.1 lb /1/2 kg or around 15-20 large ones
Small Red Onions/Pearl Onions : 4-6 (chopped)
Ginger :1" piece (finely chopped)
Garlic : 2 cloves (finely chopped)
Green chilly : 4 nos or as per (finely chopped)
Grated Cococnut : ¾ cup (optional)
Turmeric powder :1/4 tsp
Red Chilly powder :1/2 tsp
Black Pepper Powder : ½ tsp
Garam Masala or Meat Masala : ¼ tsp
Rice flour : 1 tsp (optional)
Curry leaves : 1 sprig (finely chopped)
Salt to taste
Oil : as required for deep/shallow fry
How to Make :
If you prefer uncooked version, chop the raw prawns; transfer to mixer and grind it along with all the ingredients listed above except oil to a coarse mixture. (OR) If you prefer cooked version then clean prawns, add turmeric powder and salt; cook covered in a low flame for about 2-3 mins. (Note: No need to add water as the shrimp will get cooked in its own water). Allow to cool.
Transfer the cooked prawns to a mixer and grind it along with all ingredients listed above except oil to a coarse mixture.
Now transfer the grounded mixture to a bowl; Optional : add rice flour and combine well.Check and adjust the salt.
Heat oil in frying pan; When the oil becomes hot, the flame to medium.
Grease your palms with little oil and make a small round balls from the dough; flatten into thin patties using your hands and deep fry in oil one by one, after 2 minutes go on turning the vada's both sides and fry till its crispy (OR) If you to pan fry then fry at medium-low heat and cover with a lid for a 3-4 minutes in between so that the inside part is also cooked well.
Drain and place on plate towel. Serve warm with rice or enjoy as a snack!
Notes
The flame should always be medium, if it's too low then it will observe oil and if it's very hot then vada will not cook properly inside and will get burnt.make small balls from the mixture.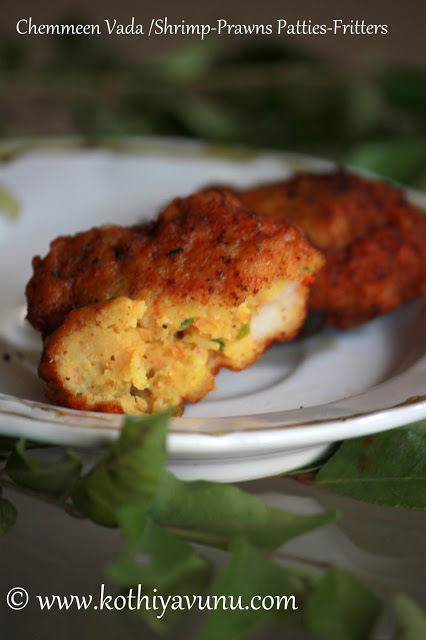 I hope you give this Chemmeen -Prawns Vada a try, and like it, that you add it to your regular recipe rotation. Don't forget to leave your opinion if you try. Enjoy!
Happy Cooking!
Sangeetha
Like this Recipe? Sign up, and get more recipes delivered directly to your inbox.