Today on menu Kerala Chicken Stew.
Ho Ho Ho!!! Hope you all had a wonderful Christmas! I very much enjoyed mine with my family and friends. Every year we will set christmas trees and I will  try to make Kerala Plum Cake and my cuties will look forward for santa to come 🙂 and  we go for a long road trips there ends our christmas celebrations. For a change this year we stayed at home and enjoyed the christmas eve with our friends and on christmas day I cooked Kerala traditional christmas breakfast Appam and Chicken Stew Kerala Style.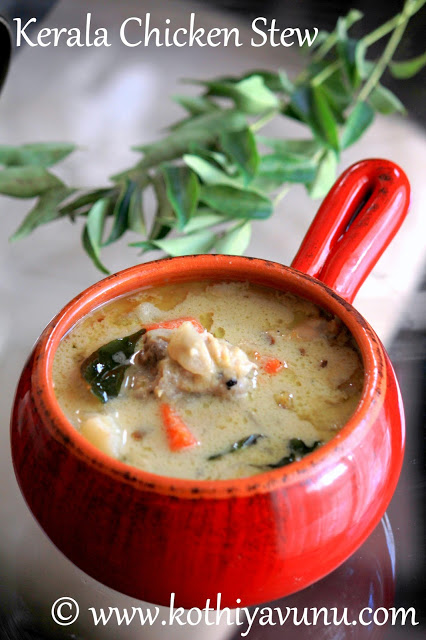 How was it for you all? How did you all celebrate and what was your special menu? Did you prepare that special dish you always want to prepare for Christmas? Do let me know…I'd love to hear all your christmas celebrations too.
About this recipe…its nothing fancy, just an  easy simple stew. As you know chicken stew is famous all around the world. Everyone has their own version. Yes it's dish that defines Kerala, Appam/Hooper and Chicken stew is a very popular traditional breakfast and it is one must have recipe on Christmas day. Chunks of chicken are slowly cooked in coconut milk, with carrots, potato and special spices and herbs. If you looking for interesting version other than Indian style stew then check this Italian Style Chicken Stew. So lets move on to check how Kerala Chicken Stew is made.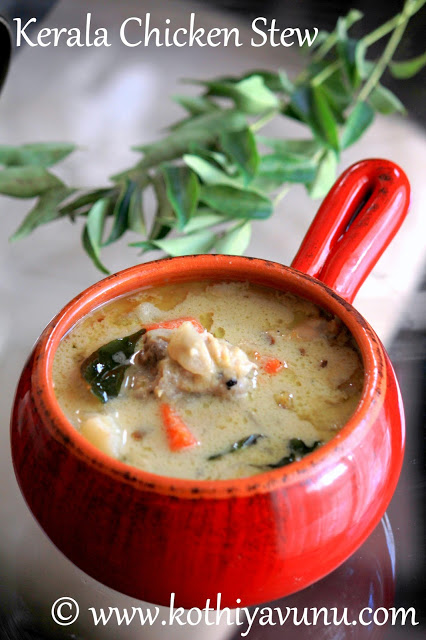 How to make Kerala Chicken Stew – Nadan Kozhi Ishtu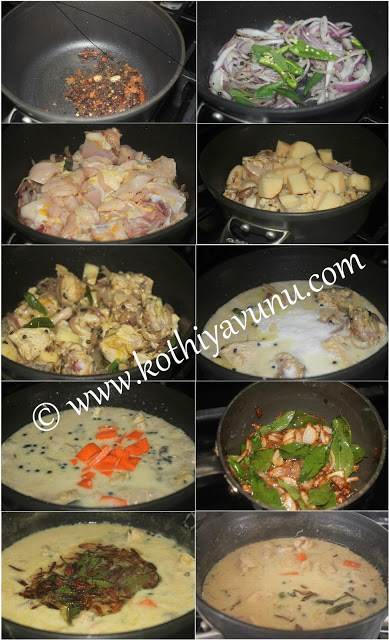 Other Stew Recipes You Might Like :
Kerala Chicken Stew Recipe | Kozhi Ishtu Recipe
Chicken Stew - Kerala Style-Very popular traditional and much-favored dish of Kerala
Ingredients :
Chicken with bones : 1.65 lb /750 grms /3/4 kg (cut into medium size pieces)
Onion : 1 medium, thinly sliced
Potato : 1 medium, cubed
Carrot :1 small-medium, cubed
Ginger : 1 tbsp (thinly julienned)
Garlic : 1 tbsp (thinly sliced)
Green Chillies : 2-3 (slit lengthwise, remove seeds if you don't like spicy)
Whole Black Peppercorns : ½ tsp
Cardamom : 3
Cloves : 3
Cinnamon :1" piece
Bay Leaves : 3
Star Anise : 2
Curry leaves : 2 sprig
Shallots /Red Small Onion : 4-5 (thinly sliced)
Thick Coconut Milk (First extract) : 1 cup or The milk of one grated coconut
Semi- Thin Coconut Milk (Second & Third extract) : 21/2 cup
Cashew : 6-8 (Soak in hot water and grind it along with water to smooth paste - it's purely optional step)
Black Pepper Powder : 1 tsp or to taste (Optional)
Coconut Oil : 1 tbsp
Salt to taste
How to Make :
Coconut Milk from the scratch :
First milk to be extracted by squeezing the milk with your hands, or mixing in a blender for a minute, after adding ¼ cup of warm water, The second and third milk are to be extracted by adding 1 cup of warm water in a similar way and kept aside.
Chicken Stew :
In a large pressure cooker or in a pan, heat coconut oil; add the cardamom, cloves, whole pepper corn, cinnamon, star anise and bay leaves and sauté for a minute.
Add the sliced onions, ginger, garlic, slitted green chilies and curry leaves; sauté till it turns to soft and pink in color. (Note : Onions need not be browned for the stew)
Add chicken pieces, cubed carrots, potatoes and salt. Combine everything well. Add semi thin coconut milk.Cover, cook till the chicken is fully cooked.
If you're using cashew paste then add the grounded cashew paste to thick coconut milk.
When chicken is cooked; add the cashew-thick coconut milk and reduce the flame and cook for 5 minutes or until you get the required thickness.
In a small frying pan, heat coconut oil and add sliced small red onion/shallots and curry leaves and fry till become light brown color. Remove and add to the stew and sprinkle pepper powder if needed.
Delicious chicken stew is ready to serve.Serve hot with Appam or Bread and enjoy!
Notes
Chicken may be substituted with mutton and vegetarian can replace with vegetables. carrots, potatoes, whole small onions, peas, mushrooms or just plain potato and onion.
Note that if the stew is too thin you can thicken it by soaking 6-8 cashews in hot whelps the flavors to blend well.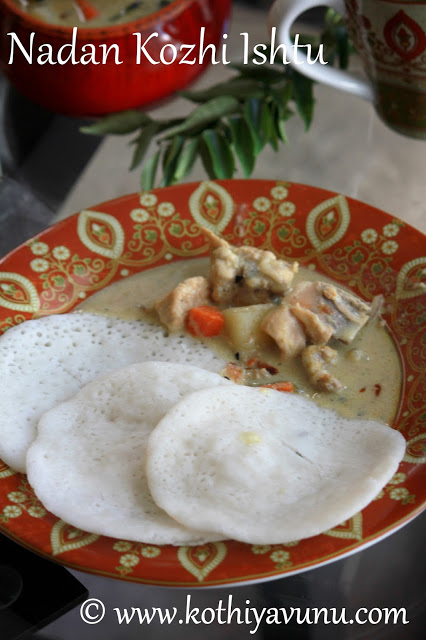 Try this Kerala
 style Chicken Stew
 with
Appam.
I'm sure you will love it. Enjoy! Don't forget let me know your opinion.
Cheers!
Sangeetha
Like this Recipe? Sign up, and get more recipes delivered directly to your inbox.