For all spicy lover here comes Kerala Mutton Roast -Nadan Erachi Ularthiyathu.
It's that time of year again! Christmas is just sparkling around the corner which means it's time to start planning your Christmas menu folks! Be it a traditional spread or a fusion dishes, Christmas always involves a rich, decadent and indulgent food.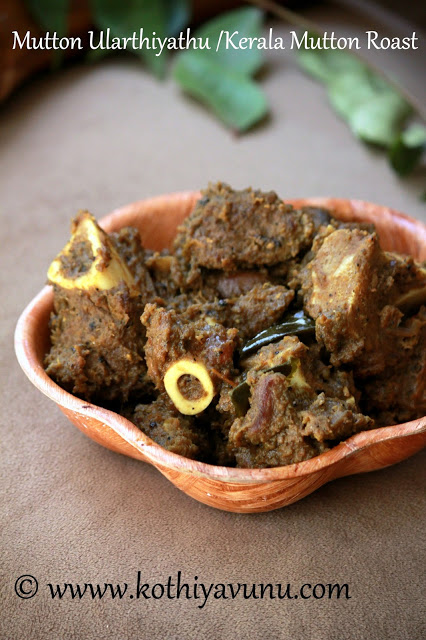 Back home in Kerala, South India, Christmas Day menu is filled with classic dishes like
Christmas special Plum Cake
, Homemade wine, a
ppterizers

,
for breakfast 
Appam
 and curries like 
Stew/Fish-Molee Chicken Mappas
, main course rice,
Biryani
,
Kerala Fish,
Chicken Curries
,
Beaf/Chicken/Mutton Roast
and finally
desserts
 etc… will all make an appearance? It wouldn't be Christmas without them.
To spice up more, I'm sharing yet another classic signature dish Kerala Mutton Roast -Erachi Ularthiyathu-Varattiyathu. Commonly beef is used to make this dish you can use the same recipe for pork too. As beef and pork is not visitor in my kitchen, so I made it with Mutton/Goat/Lamb.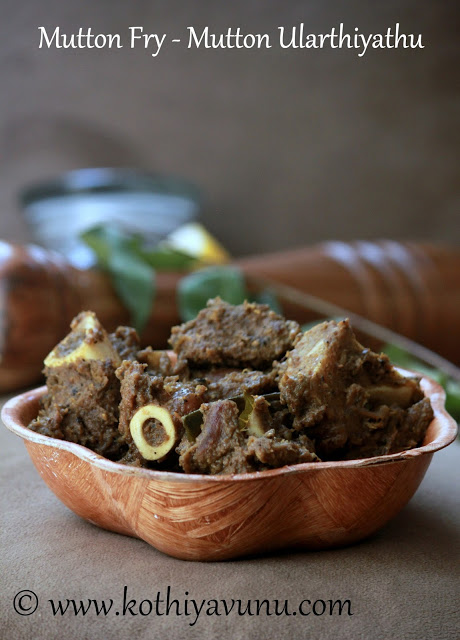 Erachi Ularthiyathu is a Malayalam words means roasted. Mutton or Beef pieces cooked in freshly ground spices and sautéed with onions and coconut slices and slowly roasted to get dark brown color and gives it a rich and aromatic flavor. This is yet another famous Thattukada (Kerala's version of a street side fast food) and Kallushap/Toddy Shop dish. This Kerala Style Mutton Roast pairs well with kuthari choru(Kerala Red Rice) or with almost anything you can think of  Parotta, Appam, or any Roti/ Paratha.
How to make Kerala Mutton Roast Recipe | Nadan Erachi-Ularthiyathu Recipe :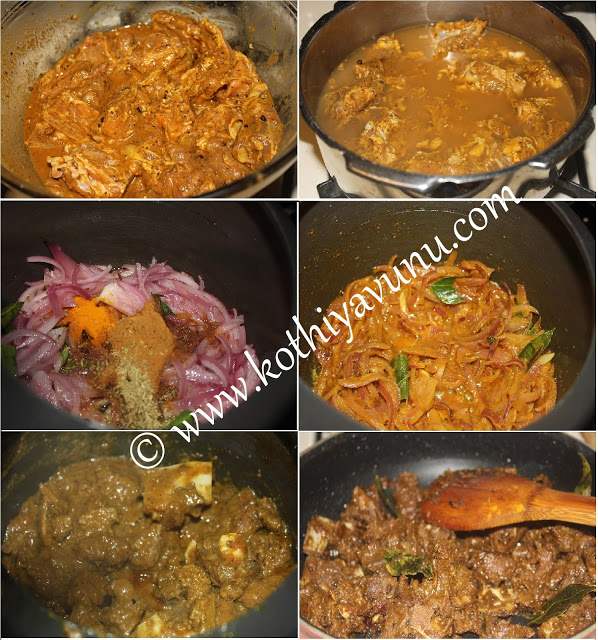 Other Kerala Roast Recipes You Might Like :
Kerala Mutton Roast - Nadan Erachi Ularthiyathu
Another classic signature dish "Kerala Mutton Roast -Erachi Ularthiyathu-Varattiyathu.
Ingredients :
To Marinate:
Meat with Bones (Beef or Mutton or Pork) : 2.2 lb /1 kg ((cut into cubes)
Ginger : 1" piece
Garlic : 4-6 cloves
Green Chiles : 2-3 (optional)
Shallots/Small/Pearl Onion : 6-8 nos (minced)
Vinegar or Fresh Lemon Juice : 1 tsp
coriander Powder : 3 tsp
Red Chilli powder : 1 tsp (adjust as per spice tolerance)
Turmeric powder : ¾ tsp
Meat Masala or Home made Garammasala : 1 tsp
Freshly grounded Black Pepper Powder : 1 tbsp (or adjust as per spice tolerance)
Hot Water : ½ cup (or as needed)
To Saute :
Red Small Onion /Shallots/Pearl Onion : 25-30 nos /1 cup or Onion : 2 (medium)/1cup (thinly sliced)
Fennel seeds /Perunjeerakam : 11/2 tsp (dry roast and pound coarsely)
Thin Coconut Slices (Thenga Kothu) - 3 tbsps
Curry Leaves : 1-2 sprig
Oil : 3 tbsp (preferably coconut oil)
Salt to taste
How to Make :
Wash and clean the meat (mutton/beef/pork) pieces well. Keep aside.
Blend ginger,garlic,small red onion/pearl onion to coarse paste.
Marinate the meat (mutton/beef/pork) with coarsely blended ginger- garlic- small onion paste along with ½ of all spice powders (leaving ½ behind for sauteing) and vinegar or fresh lemon juice and set it aside for ½ to hour.
Transfer meat to a pressure cooker and add ½ cup of hot water. (Note: Do not add more water. The meat lets out water) Cook for about 8-10 minutes after the first whistle after it comes to full pressure reduce the fire to medium and then switch of the flame and let it cool naturally. Alternatively, mutton can be cooked in a regular pan; In a pan; cover and cook the meat with ½ cup of hot water for about 20 to 30 minutes or till the mutton is soft.This water will help cook the meat as well as make sure that it does not get charred.
While the mutton is getting cooked; heat 2 tbsp of coconut oil in a kadai, add sliced onion or small red onions till it turns to translucent and brown in color.
Add the remaining ½ of the all spice powders (Note: We had used ½ earlier and had reserved the rest half to add at this point).
Now add the coarsely pounded fennel seed powder, curry leaves,thin coconut slices /thenga kothu and saute for couple of minutes.
Add cooked meat (mutton/beef/pork) along with its gravy. Mix well and keep sauteing till the mutton pieces are well coated with masala. The gravy thickens and the masala gets coated within 3-5 minutes
Check and adjust salt; drizzle a little more coconut oil, add fresh curry leaves and dry roast it in medium heat till it becomes dry and starts taking a light blackish/dark brown color. (Note : Stir in between to avoid burning and it takes 20 minutes approximately. Do not close the lid after adding oil to roast the meat (mutton/beef/pork). This dish traditionally has no gravy at all and is dry so if water is present, make sure to roast well without burning.) The dish will get a darker shade once it rests.Serve and Enjoy!
Notes
I recommend using small red onions and freshly ground pepper for the more flavor and taste. Also using coconut oil will enhance the authentic taste and flavor.
This is a very spicy dish. Increase or decrease chilli powder and pepper powder as per your tolerance.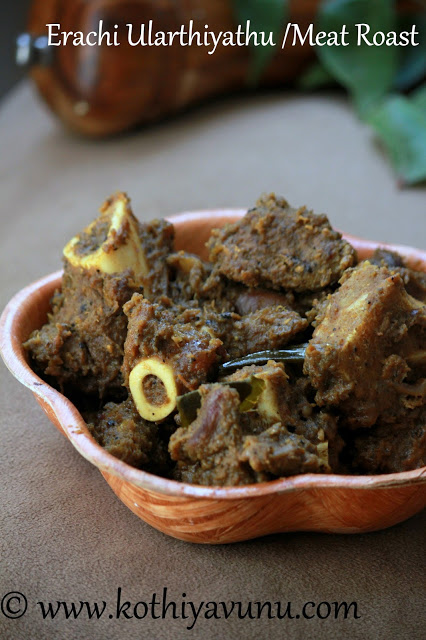 Hope you get to try this Spice rich Kerala Mutton Roast  sometimes and  it helps you bring back the taste of home. Don't forget to share your opinion. I'd love to hear what you think!
Happy Christmas!
Sangeetha
Like this Recipe? Sign up, and get more recipes delivered directly to your inbox.