Eggnog French Toast – Holiday Breakfast!
Here comes the first post of year with sweet easy, yummy classic holiday breakfast. I know I'm wishing all my dearie bit late. The year is new, the hopes are new, the aspirations are new, but my warm wishes for happiness and prosperity remains the same for you and your family. May you achieve whatever you wish!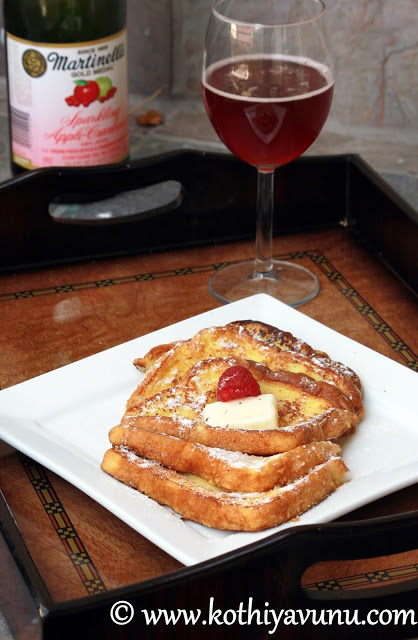 Is everyone familiar with 
 Eggnog? If you are in India, I guess it might not be available, but don't worry you can prepare it in the home. It 's very easy, you can check my homemade eggnog recipe or you can buy from here  for those not familiar with what eggnog is?
It's a delicious and popular traditional holiday beverage in US, Canada, Europe, etc. Wondering why I'm still posting holiday recipes. I wanted to post this during holidays but I couldn't find time to update though it pretty easy recipe to draft… Poor Me! I totally understand what you're murmuring. Finally I got sometime today to post. My family loves it especially my lil one.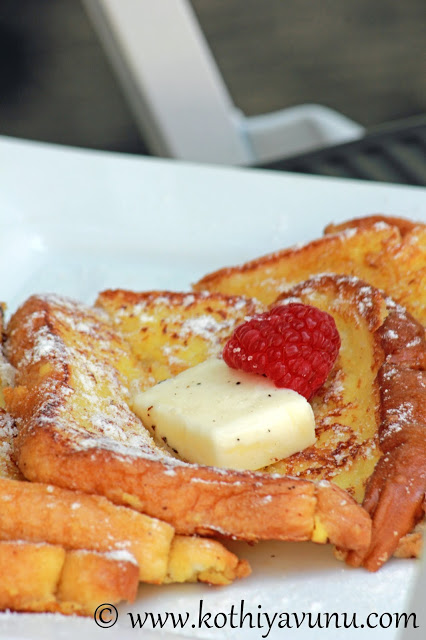 Every year I make different recipes using
eggnog
…yeah you know that well. Last year I made
cherry eggnog tea bread.
This year honestly speaking I didn't bake anything seriously but my cuties tried
eggnog french toast.
 My older one prepares it almost all the days and that was their holiday cooking fun.
There is nothing special to explain about this dish. Just whip the egg, eggnog, cinnamon and dip the bread and grill or toast it. That's it…Sounds simple and easy right? If you haven't tried yet give a try, they'll be sure to be a hit with both kids and adults alike. Enjoy!
Other Eggnog & Toast recipes You Might like:
Eggnog French Toast Recipe – How to make holiday breakfast Eggnog French Toast :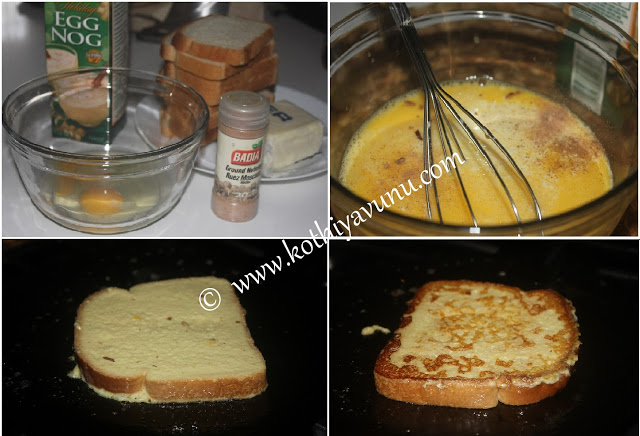 Eggnog French Toast Recipe - How to make Eggnog Toast
Eggnog French Toast - Easy, yummy classic holiday breakfast or brunch!
Cuisine:
American, German, Mexican
Ingredients :
Sandwich bread : 1 loaf (about 12-14 slices)
Eggs : 4 (beaten)
Eggnog : 1 cup
Milk : ½ cup (optional)
Cinnamon : 1 tsp
Nutmeg : ½ tsp
Butter : 4 tbsp
How to Make :
In a shallow bowl, mix the whisk eggs with eggnog, milk, cinnamon and nutmeg together.
Heat griddle/skillet on medium-low heat. Grease griddle with butter.
Dip bread in eggnog mixture and place on griddle. Cook for 4-5 minutes, flipping both sides.
Serve immediately with powdered sugar and enjoy!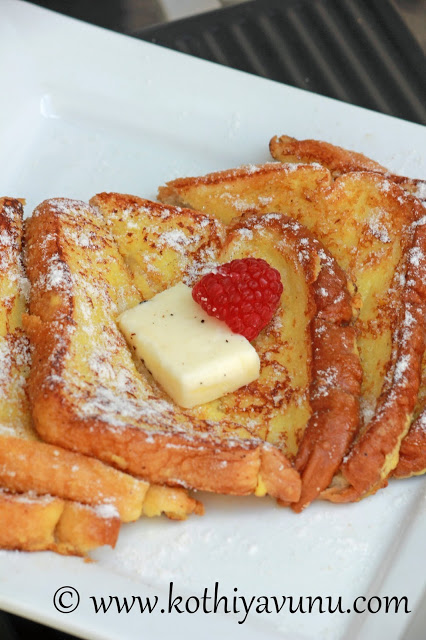 Try this easy french toast using eggnog and let me know how it turned out buddies
Love to hear your valuable feedback! Enjoy!
Catch u with more yummy updates!
Sangeetha
Like this Recipe? Sign up, and get more recipes delivered directly to your inbox.