Yet another famous one Vazha Koombu – Vazha Chundu Thoran-Banana Blossom Stir Fry.
It long time I updated some thoran/stir fry recipe here. I know I don't have to say more to a Keralite or even to other people from South India what Vazha Koombu-Vazhaipoo is most of them know but to all those who not familiar with it, let me quickly brief you in. Back in Kerala, banana-plantain plants is very common you see at backyards of many houses.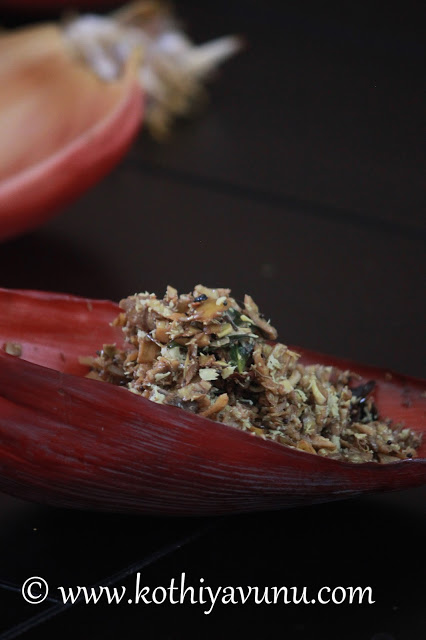 Having said that I too have one here in US in our backyard.  Are you aware? Almost all parts of the Banana-Plantain plant from the bottom to top, stem to fruit has wonderful uses. Yes I said it correctly. The stem (Vazha Pindi-Thandu) and blossoms (Vazha Koombu-Vazhaipoo) of the tree is used for consumption and has a lot of medicinal values, the fruit-plantains-banana needless to say you all know it's wonder are consumed all over the world, leaves of banana plant (vazhayila) are used in many auspicious and used religiously in many Hindu festivals as a food plate and used for wrapping food we keralities call it pothichoru, and the list goes on!
Food packed with banana leaves has a lot of special flavor. In Kerala there are a lot of recipes calls for cooking with banana leaves. Have you tried any of those recipe? If not, I recommend you to give a try. I can hear you 🙂 Where will I get the recipe? I have posted some here if you wish you can check and try these recipes. I'm sure you will love it or if you looking some new recipes to try then highly recommend this cookbook Banana Leaf Temptations.
 I've tried a few recipes, most of which have been very good.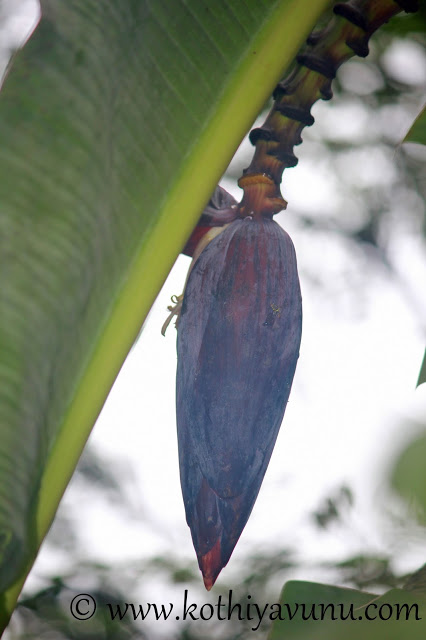 Well, let's talk about today's  recipe Banana Blossom Stir Fry. We Keralite call banana flowers as Vazha Koombu or Vaazha Chundu  in malayalam. They are loaded with many health benefit, like vitamins, protein, minerals and fiber. Want to know more? It's anti-inflammatory and lower cholesterol, diabetes, blood pressure, and  aid weight loss. Banana flowers are especially good for women as it keeps the uterus healthy.
This is one of recipe I dared to try…why? Very Simple I really don't how the peel, clean  them. I'm taught that if it's not properly peeled and cooked. Then it taste bad and goes straight to trash.;( Couple of months back my MIL visited us and she used to prepare this often, so when I saw this in stores, without second thought it went straight to my kitchen. Now I learned how to peel and chop. Though work involved in cleaning the flower, but it is worth the effort…kicking myself for not trying before. I always believe better late than never. So here it is for all who are like me.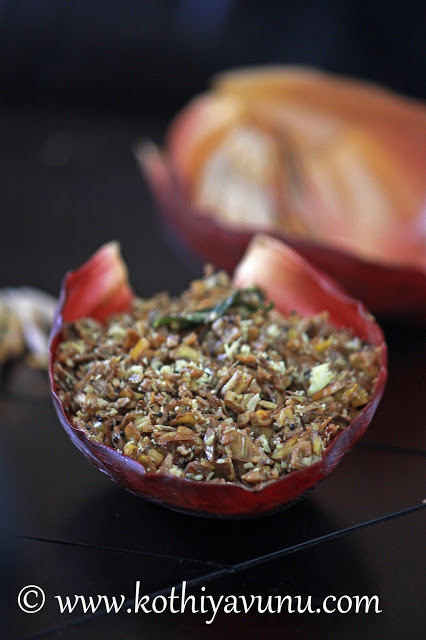 Have you Tried these Healthy Stir Fry?
Vazha Koombu-Vazha Chundu Thoran - Banana Flower Stir Fry :
Vazha Koombu Thoran Recipe | Banana Blossom Stir Fry
Simple, Healthy yet Tasty Stir Fry!
Ingredients :
Banana Flower/ Vazha Koombu/Vazha Chundu -1 (medium)
Grated Coconut : ¼ cup
Small Red Onion/Pearl Onion/Shallots : 2-3
Green Chillies : 2 nos
Turmeric Powder : ½ tsp
Red Chilly Powder : ¼ tsp
Raw Rice : 2 tsp
Mustard seeds : ½ tsp
Dried Red Chillies : 2
Urad dal : ½ tsp (optional)
Cury leaves : 1 sprig
Coconut Oil : 1-2 tbsp
Salt to taste
How to Make :
How to clean Banana Flower -Vazha Koombu-Vazha Chundu :
Oil your hands to prevent discoloration and then remove the red petals one by one. You will see a bunch of white florets inside each petal, now take each floret and open it using the hands.
You will find a transparent, reddish part remove it along with the thick stamen, do this for each floret. Continue peeling the petals and cleaning the florets like mentioned above till you reach the middle inner white part.
Now cut the cleaned up florets and immerse it in buttermilk mixed with water till use. You can also cut the white middle part finely and add it to the buttermilk. (Note :This might take from 20-30 minutes depending on the size of the flower you are using.)
Once cleaned, cut and immersed in thin buttermilk, it can be stored for about a week in the refrigerator. Just change the buttermilk alone once in 2 days

How to make Banana Flower Stir Fry-Vazha Koombu-Vazha Chundu Thoran :
Rinse well the chopped banana flower soaked in buttermilk or with turmeric water and drain the water as much as possible mix it little oil, turmeric, salt and keep aside. (Note : This is done in order that the vegetable does not oxidise and turn black immediately, and also to remove the sticky texture.)
Using your hands mix grated coconut with turmeric powder, shallots, cumin seeds,garlic or you can just pulse 1 time everything together coarsely in blender..
Heat coconut oil in a pan, add rice and mix well until golden brown, add mustard seeds,urad dal (optional)- dried red chilly and curry leaves.
Add chopped banana flower-vazha koombu, red chilly powder,salt to taste and then sprinkle little water into it and cover it with a lid and cook for couple of minutes on low flame.
Spread out the banana flowers to the side of the pan and make a well in the middle, add the coconut mixture and combine everything together.
Uncover the pan and cook on low flame for 3-5 minutes, stirring occasionally till all the water evaporates, adjust the salt.
Stir fry carefully for another couple of minutes so that all water evaporates and the flowers is not soggy.
Finally pour ½ tbsp of coconut oil over the thoran. Switch off the flame, and keep it at least 5 minutes before serving, so that the thoran absorbs all flavors....Serve and Enjoy!
Notes
This is important always oil your hands to prevent discoloration and soak it either in buttermilk or in turmeric water.
If you wish you can add any other oil, using coconut oil gives authentic and special flavor to the dish.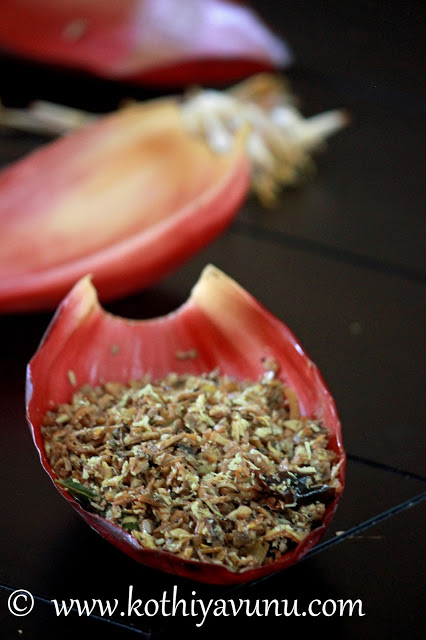 Do try to see how easy  and healthy Banana flower Thoran -Vazhakoombu Thoran -Stir Fry is and don't forget to share your opinion. Enjoy!
Have a Good Day!
Sangeetha
Like this Recipe? Sign up, and get more recipes delivered directly to your inbox.