Happy Valentines Day everyone! Just popping this Happy Sunday  with Valentine's love by this visual treat Broken Glass Jello .
I made these little cuties to my friends daughter's b'day. They all loved it So I thought I'll dedicate this broken glass jello to for all those are celebrating valentines day and if you're not into celebrating, just make these as a sweet treat to yourself or your loved ones.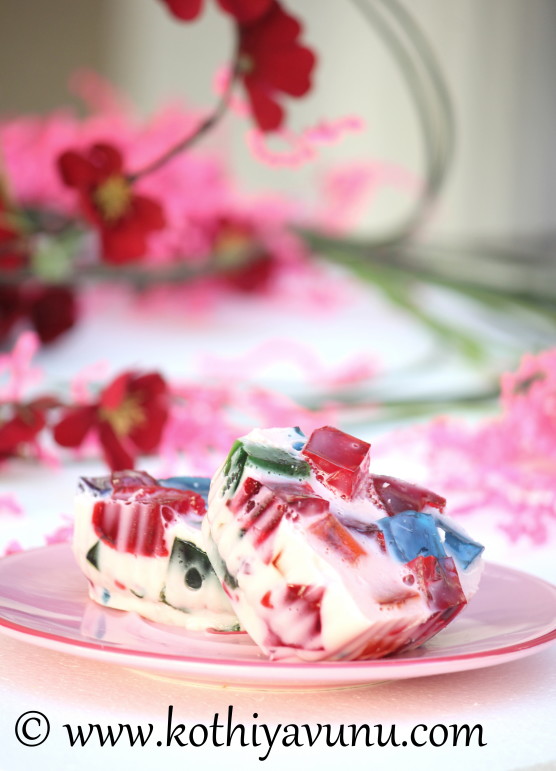 Long back I bookmarked this recipe from here and I made this couple of time but never got time to post it, coz as soon it comes out of fridge it goes straight to tummy 🙂 It's a fun and simple recipe where you take multiple colors of jello, mix them with hot water and some unflavored  gelatin mixed with sweetened condensed milk, freeze them,cut them in desired shape, when it comes out it is beautiful colorful Jello. That's it…very easy and very kid's friendly. You could use any colors of Jello to suit your taste and purpose.
Sometimes the best Valentine's Day treats are the ones you can make with your kids. This is fun recipe that kids can make. Yes, My kids made this recipe and had fun mixing the colorful jello. So why are you waiting for try these adorable Broken Glass Jello cuties with your kids or by yourself. Perfect for Valentines Day or parties and potlucks and it's kid friendly.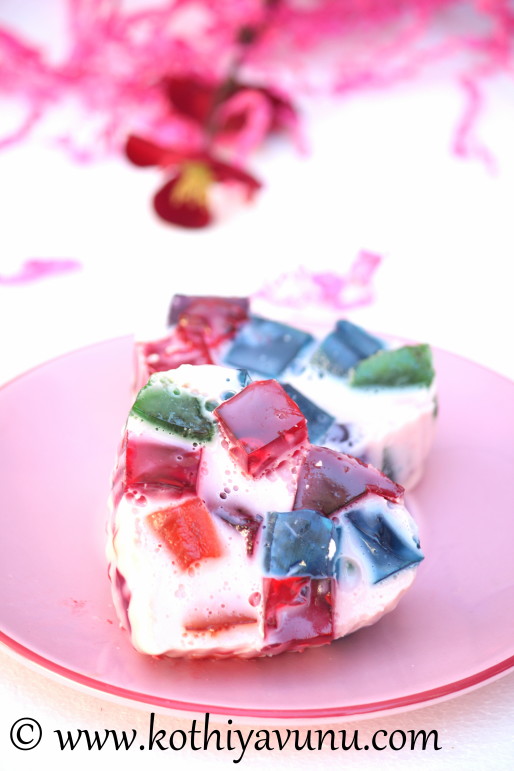 Other Valentines Day Recipe You Might Like…
Broken Glass Jello Recipe – How to make Broken Glass Jello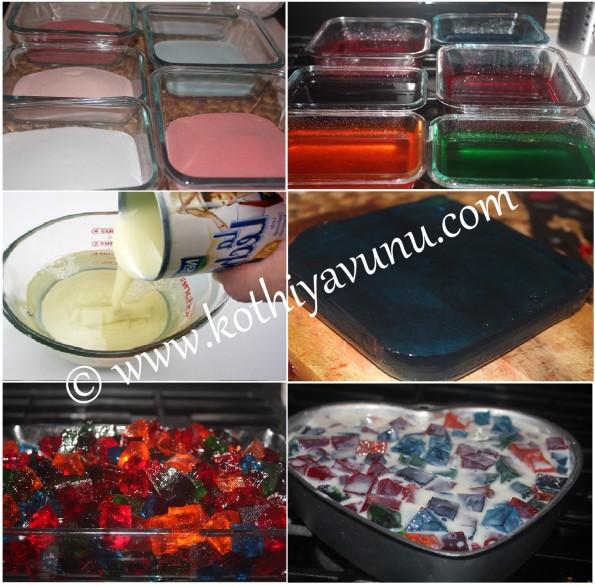 Broken Glass Jello Recipe
Broken Glass Jello is always a crowd pleaser and perfect for parties and potlucks and it's kid friendly.
Ingredients :
Jello (3 oz), different colors : 6 small boxes
Sweetened condensed milk : 1 can
Unflavored gelatin : 2 envelopes
Hot Water
How to Make :
Dissolve each box of jello separately, using just one cup of boiling water per flavor.
Pour into each container and chill it for 4-6 hrs or overnight works better.
Once solid, cut the flavors of jello into small blocks and mix carefully in a glass or pan.
In a separate bowl, dissolve 2 envelopes unflavored gelatin in 2 cups hot water. Let cool a bit
Pour in the condensed milk and stir well. Let it cool.
Pour cooled milk mixture over jello and chill for 4-6 hrs or overnight. Cut into desired shape; serve and enjoy!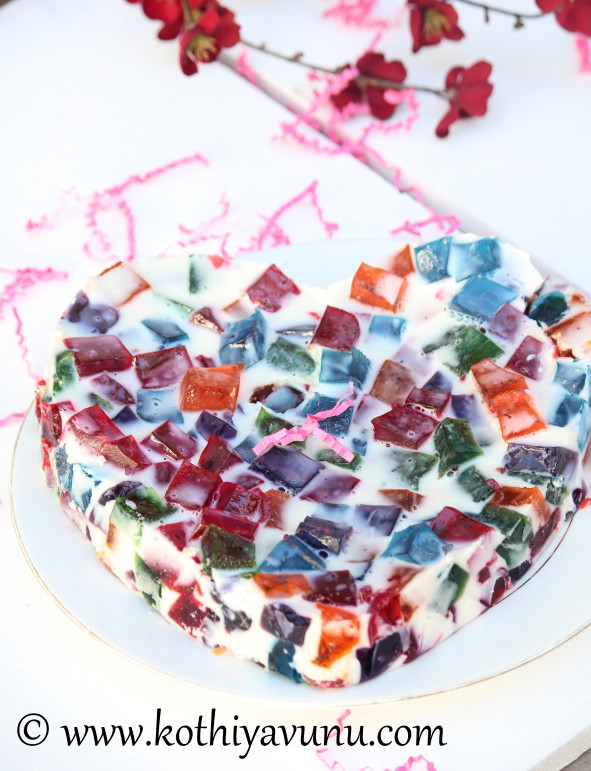 I hope you will try this Broken Glass Jello – Rainbow Jello recipe soon and you'll love it just as much as we do.
Happy Valentines Day!
Sangeetha
Like this Recipe? Sign up, and get more recipes delivered directly to your inbox.