Ragi Puttu -Kerala Style Ragi-Finger Millet Puttu…Healthy Breakfast, Easy & Delicious – what more could you want!
Puttu-Kerala Puttu is my husband's favourite breakfast. I know I have already talked about that here so many times 🙂  so no more story about puttu…Ever time when I call back home my niece convey a message from one of our aunty who is regular reader and great fan of this site (Much gratitude + thank you for supporting this humble site.) wanted me to post more diabetic friendly recipes.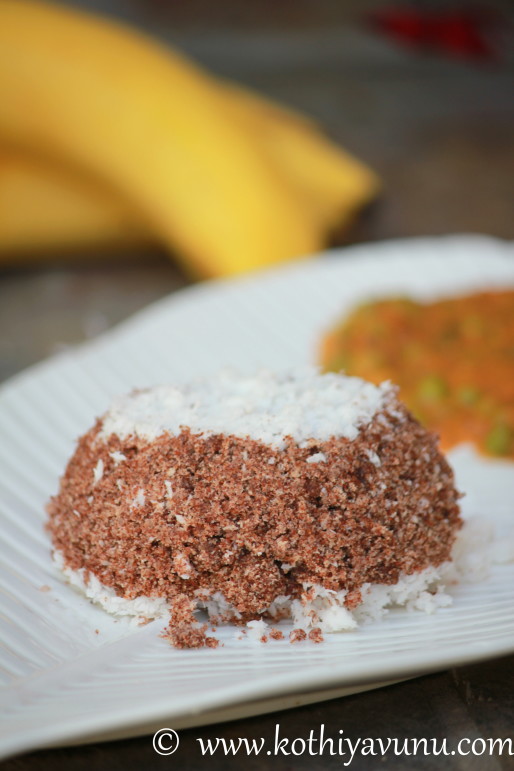 It's been so long, I wanted to post diabetic specific delicious recipes, but some how it kept on getting delayed. Lately someone got diagnosed pre-diabetic in my family, so we started healthy diet incorporating lot of veggies and whole grain into our daily diet. So stay tuned for more diabetic friendly recipes.
To kick-start here comes Ragi Puttu. Ragi-Finger millet has high protein content,rich in minerals and controls diabetic, health list goes on… But most part of my life Ragi foods have been a hate-hate. During my child-hood days often before going to school my mom makes Kora Kanji-Ragi Greul (in malayalam we call Panjapullu/Kora/Kooravu) and she make sure that me and sis are eating that at any cost. My sis enjoyed it but I pretty much hated it. Sorry to say that. I wouldn't dare myself to cook anything with ragi but it slowly changed to being a love-hate note when I started cooking myself…Yes, you guessed it right…finally reading all its health benefits I started liking it.
Stories apart, Ragi puttu is a healthy alternative for Keralitie favorite Puttu and very easy to follow recipe, all you need is ragi-finger millet and coconut. The method is the same like Kerala Puttu, instead of rice flour ragi flour is used.This would be perfect healthy breakfast during hectic weekday mornings.

Have you tried these Puttu?
How to Make Ragi Puttu – Kerala Style Ragi/Kora/Finger Millet Puttu:

Ragi Puttu Recipe - Kerala Style Finger Millet-Ragi Puttu
Ragi Puttu - Healthy Breakfast, Diabetic friendly, Easy & Delicious – what more could you want!
Ingredients :
Ragi flour/Kora/Finger Millet : 2 cups
Freshly Grated Coconut : 1 cup
Sugar : 2 tsp (optional)
Salt : ½ tsp
Water : 1 cup or enough to moisten the flour
How to Make :
In a heavy skillet, dry roast the ragi flour over medium heat, stirring continuously for couple of minutes, remove from the stove, and let it cool.
Add salt to 1 cup of water and wet the ragi puttu podi/powder, a little at a time, and mix well till you reach breadcrumbs consistency. (Note : The ragi flour mixture should be wet but not lumpy. The right consistency is reached when you press little flour in your fist and it forms a shape and not crumble off.)
Now pulse it couple of times in a mixer or in food processor.This will remove the lumps and you get very soft puttu.
Now fill your pressure cooker or puttu kudam with water till two thirds full. Place on the stove. Take the puttum kutti-cylindrical tube part or chiratta puttu kutti (coconut shell shaped puttu maker), insert the flat disk with holes at the bottom of the tube or puttu maker.
If you preparing with traditional puttu kutti (cylindrical tube-funnel kind) fill half of the tube-funnel with a fistful full of grated coconut and then add the prepared ragi flour till half and sprinkle grated coconut and continue to fill the rest of the tube with more prepared ragi flour; sprinkle grated coconut on the top. (or) with if preparing with chiratta puttu kutti (coconut shell shaped puttu maker) sprinkle some grated coconut on the bottom of puttu kutti-pot and then fill the prepared ragi flour, again sprinkle grated coconut on the top. (Note: The ragi flour must be loosely filled and not packed.)
Cover the puttu kutti-cylinder tube or chiratta puttu kutti-pot and place on the cooker spout or on puttu kudam once the steam starts coming out.
Steam for 6 to 8 minutes; when the puttu is cooked, steam will start coming through the holes on the lid. Remove the from the pot and open the lid. Using the handle of a large spoon, slowly push the puttu, and slide it onto a plate.
Serve hot with Spicy Fish Curryor Kadala Curry or pappadam and yellow small bananas and Enjoy!
Notes
If you don't have traditional puttu kutti- cylindrical tube-funnel or chiratta puttu kutti (coconut shell shaped puttu maker pot) you can use steamer to make puttu. Follow till step 3 and mix coconut into the puttu mixture. Take a clean cloth and pour the puttu mixture in it and cover it. Place this inside a steamer and steam it.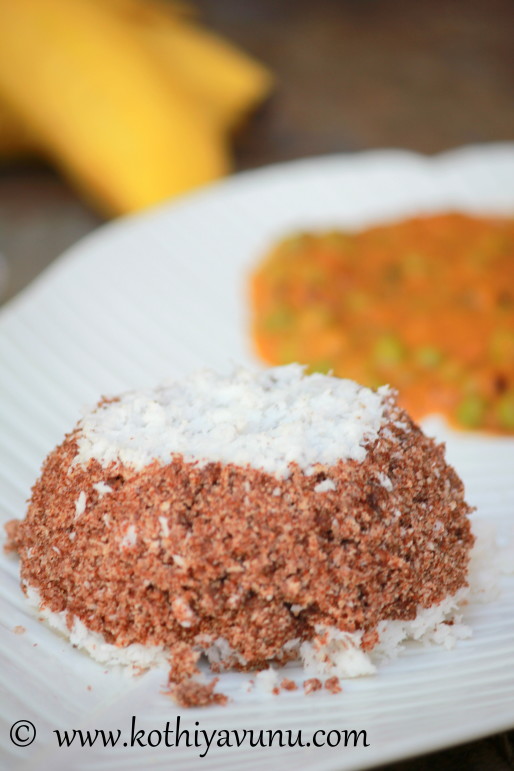 Try this tested and tasted easy, healthy Kerala Style Ragi Puttu without any fuss. Don't forget to share your opinion if you try! Enjoy!
Happy Cooking!
Sangeetha
Like this Recipe? Sign up, and get more recipes delivered directly to your inbox.