Hi there…Hope everyone had a great weekend. Mine was filled with lots of get-together, family, good friends, loads of food and am still in the hang over of it…Nothing special in my kitchen this week as I was more tempted to make quick fix meals. Yes, I adore how some dishes can be made in a breeze yet it tastes absolutely delicious. Here is one such dish Mushroom Butter Masala, I had made a few days ago, this is vegan version and very easy to make.
Both my girls are huge mushroom lovers. I always have mushroom in my fridge and keep adding it to random dishes or make it look more enticing to girls. Few weeks before we went  to one of our friends place. We had this amazing Mushroom Makhani-Mushroom butter masala with pulao at their place. It was so delicious that I could not get enough of it and kept on eating over and over.  Immediately I got the recipe from her. The very next day I tried and I'm happy it turned out well.
I loved the colour, the flavour from then I was waiting to update this recipe here. I never tried makhani with mushroom and I usually make chicken, paneer or veg makhani. Hearty mushrooms give makhani masala a wonderful meaty flavor. Must try if you are mushroom lover!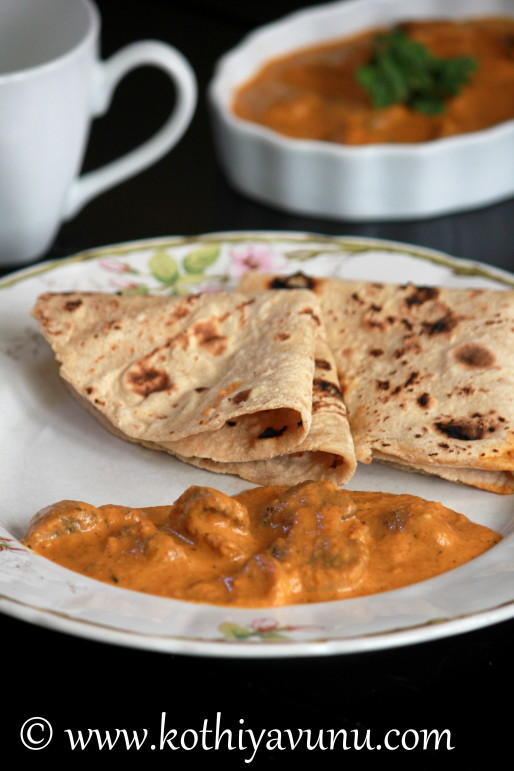 How to Make Mushroom Butter Masala – Mushroom Makhani Recipe :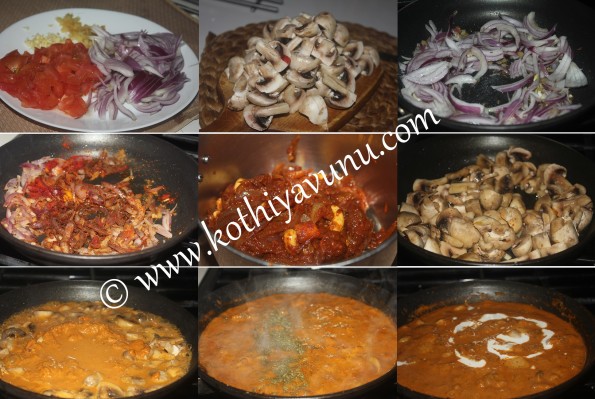 Have you tried these Makhani Recipes?
Mushroom Butter Masala -Mushroom Makhani
Most popular delicious and creamy butter masala or makhani recipe made with Mushroom. Must try if you are mushroom lover!
Ingredients :
Mushroom : 2 cup /500 grms (sliced)
Onion : 1 large (sliced)
Tomato : 2 large (chopped) or Tomato Puree : 1 cup
Ginger : 2 tsp (finely chopped)
Garlic : 2 tsp (finely chopped)
Green Chillies : 2 (julienned)
Cashews or Almonds ; 2 tbsp or 10-12
Kashmiri Chili Powder/Paprika /Cayenne : 1 tbsp
Turmeric Powder ; ½ tsp
Coriander Powder : 2 tsp
Garam Masala : 1 tsp
Kasuri Methi/ Dry Fenugreek Leaves : 2 tsp
Butter : 4 tbsp (vegan option -use vegan butter)
Oil : 4 tbps
Salt to taste
How to Make :
Soak the cashew or almonds in the warm water for 10 minutes and peel the skin, dry on kitchen towel and keep it aside.
Heat 2 tbsp of oil and 2 tbsp of butter, add chopped tomatoes or tomato puree,and saute for a minute, now add chopped onions and almonds or cashews and cook until it turns soft and pulpy.
Add kashmiri chili powder,turmeric powder,coriander powder.Cook for about couple of minutes,stirring continuously til the masala leaves the sides of the pan.
Remove from the fire, cool for sometimes and ground them into fine paste and set it aside.
Now for the gravy heat the same pan on medium heat, melt 2 tbsp butter and 2 tbsp of oil
Add chopped garlic, gingr and green chilles julienne, saute it till the raw smell goes. (Note : Take care not burn the spices)
Add sliced mushrooms and cook,stirring occasionally until the mushrooms have released their water and are golden brown.(Note : Don't add the salt intially when cooking mushroom, it turns soggy)
Strain and pour the grounded tomato pase/tomato puree with required amount of water, I used about 1 cups of water). Now add the salt to taste.
Mix well and cook for about 8-10 minutes over medium low flame,stirring well in between.
Now add gram masala, bring to a boil and then lower the heat and cook for 3-5 minutes till the juice from the tomatoes evaporates.
Meanwhile dry roast the kasuri methi for a minute and remove from the fire.
Crush the kasuri methi in between your palms and add it to the gravy and mix well and cook for 2 more minutes and remove from the heat.
Garnish with chopped coriander leaves and ginger juliennes. Add a tsp of butter, just before serving (This is purely optional) Serve with jeera rice or Roti, Naan ,any Indian Bread and enjoy!
Notes
For a better flavor, add couple of tbsp of fresh cream while adding kasuri methi.
Butter and cream were used to cook this basic sauce. If you do not want to indulge the butter/ghee may be replaced with cooking oil and the cream may be substituted with half & half, or even regular whole milk.
To get nice red color to mushroom makhani-mushroom butter masala in natural way. Use kashmiri chilli powder or paprika. It gives nice red color and low in heat.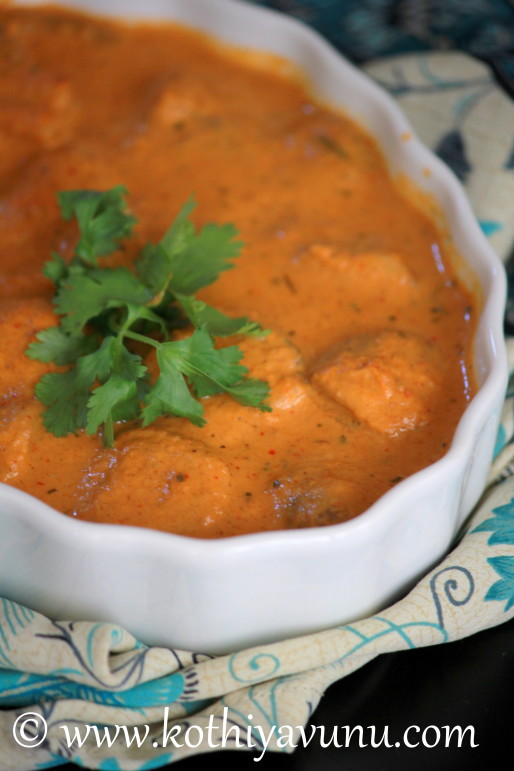 Hope you all will try and enjoy this classic Mushroom Makhani -Mushroom Butter Masala! Do share your opinon if get chance to try. Would love to hear it.
Happy Cooking!
Sangeetha
Like this Recipe? Sign up, and get more recipes delivered directly to your inbox.