Tasty and Healthy Tuna Ularthiyathu -Choora Meen Ularthiyathu -Kerala Style Tuna Roast all in one neat little package!
Lately, vegetarianism has grown in popularity. Have you ever thought about becoming vegetarian? I've thought about it several times and I took a resolution to become a vegetarian but then like everything else, some resolutions are just meant to be broken. No matter how hard I tried…The moment I see Mutton Biryani  I can't resist my temptation 😉 my mind is always ready to jump in and take away my oath…poor me 🙁 However, I still hope that I will be able to turn to pure vegetarian someday.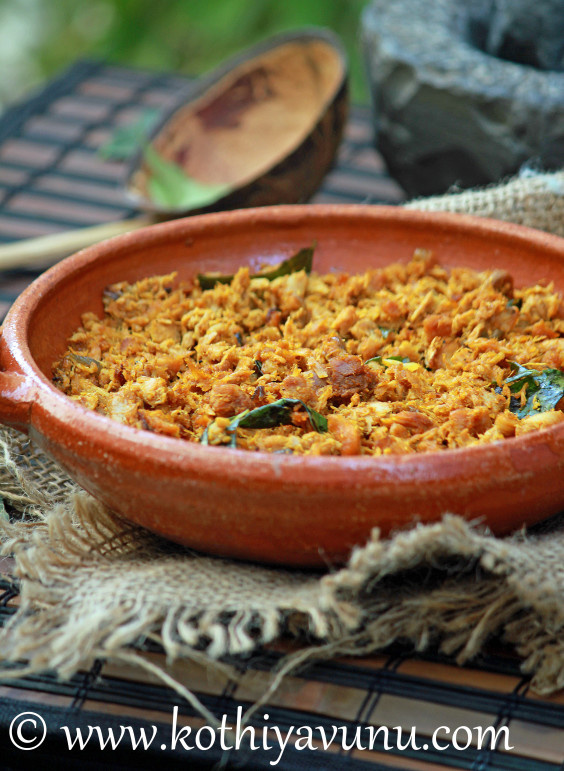 Well, talking about today recipe if you are familiar with Kerala cuisine, then you might be aware that Kerala is known for its seafood delicacies. I must have told this story a hundred times… Yes I repeat, Fish has always been a staple diet for the non-vegetarian people of Kerala. Each household will have their own version of course. Tuna Fish-Choora meen is a super food. No doubt about it. They are great source of lean protein and packed with Omega-3 fatty acids and vitamins B.
You can prepare this Kerala Style sautéed Tuna with Spices -Choora Meen Ularthiyathu using fresh fish or canned tuna. For this recipe, I used fresh tuna and this is my MIL method of making Tuna ularthu-roast. I have already shared my mom's version of Tuna Thoran-Stir Fry which is almost like this. Both recipes are easy to make and tastes as good as it looks.Lately we started eating balanced healthy variety to the diet which includes fish weekly twice, No points for guessing what I am about to say now. As you might have expected, yes, you will see many fish recipes in future updates. Hmmm, I hear you my veggie friends… don't worry I have vegetarian dishes lined up too.:)
Stories apart, let's get into today Tuna Ularthiyathu-Tuna Fish Roast Stir fry recipe. It goes well with rice or chapati or even you can make tuna stuffed sandwich. Enjoy!
Other Tuna Recipes You Might Also Like…
How to Make Tuna Ularthiyathu -Choora Meenu Ularthiyathu -Kerala Style Tuna Sauteed with Spices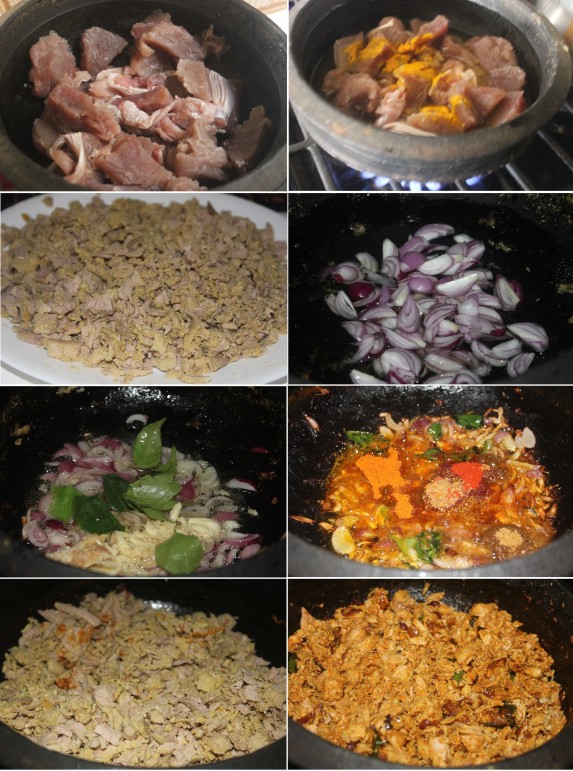 Tuna Fish-Choora Meen Ularthiyathu - Kerala Style Tuna Roast
Tasty and Healthy Tuna-Choora Meen Ularthiyathu -Kerala Style Sauteed Tuna with spices all in one neat little package!
Ingredients :
Fresh Tuna fillet : ½ kg /1.1 lb (or) Canned Tuna : 1
Shallots/Small Red onions : 5-7 (sliced) or Onion : ½ of small sized one (finely chopped
Green chillies : 2-3 (slit lengthwise)
Garlic : 1 tsp (crushed)
Ginger : 1 tsp (crushed)
Turmeric powder : ¼ tsp
Red Chilly powder : 1 tsp
Coriander powder : 2 tsp (or) Substitute with Garam masala or Chicken masala : ¼ tsp
Fennel powder : ¼ tsp
Fenugreek powder ; ⅛ tsp
Black pepper powder : ¼ tsp
Mustard seeds : ½ tsp
Curry leaves :1 sprig
Coconut Oil or Cooking Oil : 2 tbsp
Salt to taste
How to Make :
Squeeze out all the water or oil from the canned tuna or if your using fresh fish, cook the fish with turmeric powder, salt and water. Cool and shred fish meat finely, remove the bones and keep it aside.
In a pan heat oil and splutter mustard and few curry leaves.
Add sliced pearl onion-shallots, crushed garlic, ginger, green chilly, few curry leaves and saute well till the shallots become translucent.
Reduce the fire to low and add turmeric powder, coriander powder, red chilli powder or with chicken masala or garam masala powder,fennel powder and fenugreek powder and saut'e for a minute.
Add cooked shredded tuna or canned tuna along with enough salt and mix well (Note: Canned tuna is already cooked, so we don't have to cook it before.)
Add little more coconut oil and let it cook covered in medium-low flame for 5 minutes.
Finally add black pepper powder and remaining curry leaves, cook uncovered in a medium flame for another 5 minutes. Keep stirring and drizzle little oil, if its sticking to the bottom remove from the fire. Serve with steamed Rice or Roti /Chapati, or with any Indian Bread
Notes
Prepare the tuna ularthiyathu-stir fry using coconut oil, if you want the authentic Kerala taste.
You can use any fresh or frozen fish fillets like King fish, Indian Mackerel, Shark, Seer fish, Sardines or Anchovies.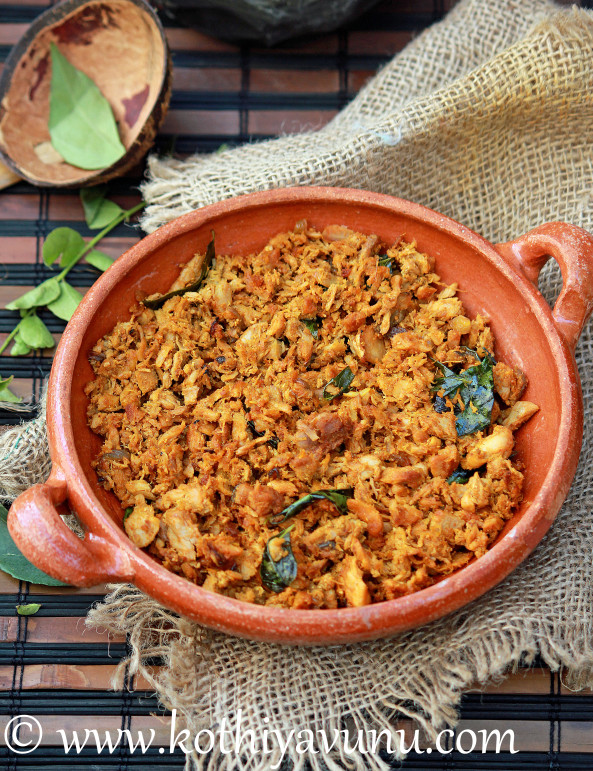 Try this super easy yet healthy and  delicious Kerala style sautéed Tuna recipe. Hope you will like it. If you get chance to try don't forget to let me know your opinion. Would love to hear it!
Happy Cooking & Eating!
Sangeetha
Like this Recipe? Sign up, and get more recipes delivered directly to your inbox.