Hello and Welcome to Kothiyavunu.com – Flavors reminds 'Gods Own Country'. A cooking and recipe website, featuring over 500 easy to follow, healthy and authentic Kerala recipes, Indian foods and dishes around the world that works. All recipes posted here are easy and can be made by everyday home cooks without any special equipments or gourmet ingredients.Learn to cook!.
Kothiyavunu (കൊതിയാവുന്നു) is a malayalam word, it means 'Craving' (Malayalam is a language spoken in Kerala, South India.) This Kerala food blog blossomed in 2009 and taken on a life of its own, created and maintained by Sangeetha Subhash Menon.

Meet Sangeetha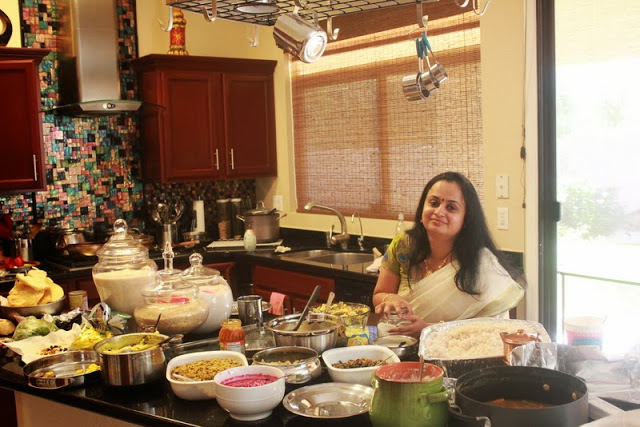 "Food is symbolic of love when words are inadequate." – Alan D. Wolfelt.
I'm  Sangeetha, a daughter, sister, wife and a mother with a passion to cook.  I hail from Kerala one of the beautiful southern state in India widely called as 'God's Own Country'. My life always been about love, family, friends and sharing. I live in US with my husband and children. Well, I love being in the kitchen, whipping up tasty meals for my family and friends. I inherited my passion of cooking from my mom and I'm so proud to say that I was always been around with gifted cooks. I learnt cooking only after my marriage. When I was left alone in the kitchen when I came to US.  Yes, It took several years for me to learn the art of cooking. It was my hobby to collect the recipes of foods, I tasted and tried and in no time the list grew. One evening on our usual family get-together, my friends suggested of sharing and connecting with people through food, and learning new culinary ideas with people across the world…Isn't it amazing? and that inspiration gave birth to this little space kothiyavunu.com. Thank you my friends.
Recipes I share here come from various sources, some are my family recipes, some hail from my recipe collection, cookery shows, cookbooks, and some recipes are adapted or inspired from another food blogs and web sites, while others are my personal creations. I have mentioned the credit where it's due. All recipes posted in this website are tried and tested in my kitchen and I have tried my best to give the correct measurements and the details for easy understanding. Since I hail from Kerala  the land of spices, my  taste buds are always in love with spicy dishes and my cooking palette are very much influenced from Kerala – South India, though I have expanded to cover all International recipes rather than just Indian cooking.  My love for food continued to grow…Happy Cooking!
Though I started blogging about recipes, after a year my love towards food photography and food styling grew. This humble space has become a platform for all my learnings. Today I'm a recipe developer and food stylist and a photographer. My works are featured by the best international and domestic media brands you can find more here. Lot of effort is put into developing and photographing the food I share. So I request you to please give credit where due and link back to the post. If you want to use my work I request you to e-mail me at kothiyavunu@gmail.com.
I love hearing from all of you but with the flood of emails that I get on a daily basis, due to my work and other deadlines, I'm unable to read and respond to most emails and comments right away. Please know that I will read and try my best to respond ASAP. So please don't take it personally when I don't get back to you myself. If it's a recipe related question, please ask it on the comment section of the post so that all other readers can benefit from the information. Thank you for understanding! Also Please don't forget to subscribe.
You can also keep in touch with me through Facebook or come and follow  @kothiyavunu on twitter, Google plus or on Pinterest
If you are interested in any of my works or want to work with me, please get in touch with me using the contact form. Alternatively you can email me at kothiyavunu@gmail.com.I try my best to respond ASAP.
Thanks for stopping by and looking around. Have a great day!
Cheers!
Sangeetha Subhash