Looking for Kerala Sadya Recipes ? I'm glad to say, the search ends here.
In Kerala, a state in India. For lunch we serve grand Feast/Sadya for festivals and on special occasions. There is saying, serving the Sadya is an art in itself. And eating the Sadya is an even bigger art. Sadya is served on banana leaves and it is laid on the table or ground and the narrow part of the leaf should always be on the left side.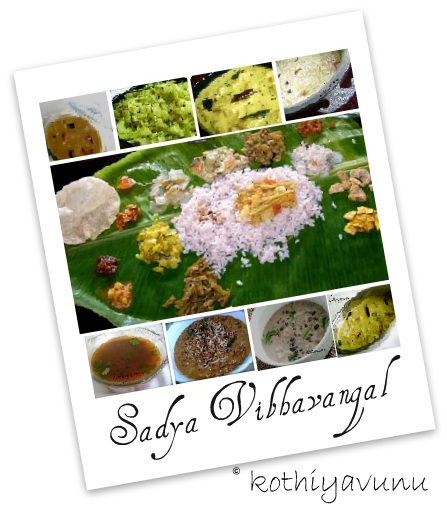 Here is a quick index to all the Kerala Sadya recipes in the most authentic style from me to you all.  I thought sadya recipes all in one place, will be helpful for those who are newbies and for all those who love to try from this humble space…
How to make and serve Kerala Sadya Recipes :
Breakfast
Sadya serving begins from the bottom left half of the leaf. In some areas a pinch of salt is kept on the leaf but some people avoid it.
On the bottom left half of the leaf a small banana is placed, next pappadam
Then sarkara varatti /jaggery coated banana chips and upperi/banana chips
Next from the top left half of the banana leaf
Thoran /Mezhupuratti (vegetable stir fry with coconut) (I have posted many different kinds of thoran but usually we prepare and serve these thorans for sadya.)
Next Pachadi's and Khichadi's
Next comes different kinds of Side Dishes
Now banana leaf is filled with all the side dishes and most people will have dipped their fingers in some of the delicacies to have a taste.
The rice is served at the bottom center of the banana leaf.
Then parippu curry is served along with ghee
Next  Sambhar is served (Some part Theeyal is also served)
Next Kalan, Kurukku Kalan, Puliserry, Moru Curry
Next served is Rasam
Then comes the most anticipated part the Desserts /Payasam's. 
Normally 2-3 varieties of payasam from the below list will be served to make sadhya delicious.
oops! tried Is't? 🙂 🙂 The traditional sadya is not over yet….
Then Sambaram /Curd /Buttermik is served at the end to complete the meal and to help digestion.
Most people stop with the dessert…This is the way we serve in our place. The ways of serving differs from region to region. Hope you all enjoyed this tradtional virtual  Kerala Sadya /Feast 🙂
Happy Cooking!
Sangeetha