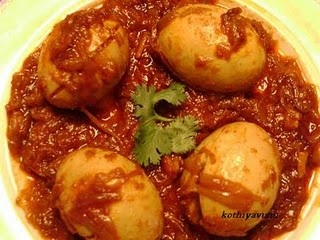 Egg Masala Recipe – Kerala Style Egg Masala Recipe
Ingredients:
Egg : 4 nos
Onion : 2 nos (medium sized, thinly sliced)
Tomato : 1 big or Tomato paste : 3 tsp
Kashmiri Chili Powder or Red Chili Powder : 2 tsp (to your spice level)
Turmeric Powder : 1/4 tsp
Tamarind Paste : 1/4 tsp
Ginger : 1 inch piece (grated)
Curry leaves : 1 sprig
Sugar : pinch
Coconut Oil or Cooking Oil: 2 tbsp
Salt to taste
How to make Egg Masala Recipe – Kerala Egg Masala :
1. Boil the egg with salt, deshell; make some slits over the eggs or cut it into halves and keep it aside. (Note : Adding salt prevents the egg from breaking)
2. Heat a pan with oil when its hot,add sliced onions and saute until it turns to brown color and translucent on medium flame.
3. Add the chopped tomato or the tomato paste and saute until the tomatoes are done.
4. Add red chili powder, turmeric powder, grated ginger,curry leaves, saute continuously till all combines well.
5. Sprinkle pinch of sugar to speed up the process,now add the tamarind juice, salt and 1/4 cup of water.
6. Cover and cook on low flame for 10 mins, when its done open add boiled eggs and cook until the entire water is evaporated now add curry leaves.
7. Keep the dish covered for 10-15 mins before serving for better taste.Serve hot with steamed rice, Appams, Noolappam /String Hopper, Kerala Parotta, Roti/Chapati, Puttu…Enjoy!
Check here for more Egg recipes
Good Day All!
Sangeetha