I know I don't have to explain to a Indian, what Idli (steamed puffed rice dumplings) is. I guess most of us from South Indian love this simple and delicious breakfast. But for those not familiar with this term Idli, let me brief.
Idli is a typical South Indian savory steamed dumplings, found across India. Idli made of combination of rice and black gram (lentil), which soaked in water; ground separately to different consistencies and mixed together to form a thick batter and then batter ferments overnight. After the fermenting process, the batter is steamed in disks to create idlis.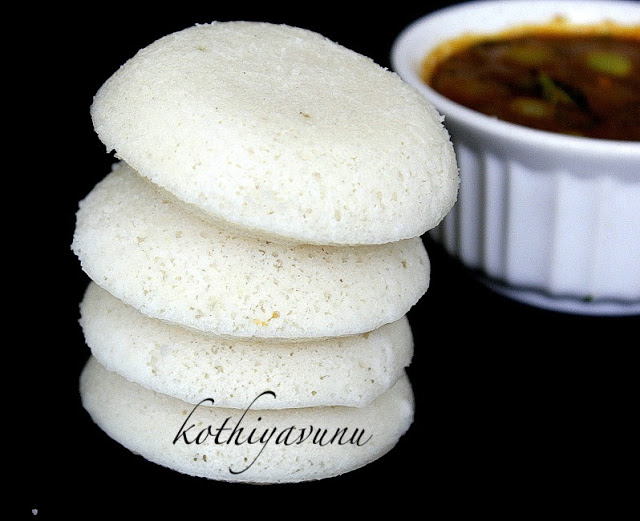 This is eaten at breakfast or as a snack and is considered to be healthier breakfast tiffin item as it is just cooked under steam without oil or ghee and therefore free from fat.Each state has its own variations. No matter what variation, however, they are generally served alongside a liquid base such as ulli sambar,(Recipe given below)
chutney
, or
ghee
.

Recipe for Idli /Steamed Rice Dumplings /South Indian Idli
Preparation time : 15 mins (Soaking time : 6 hrs + Ferment time : 8-12 hrs
Cooking time : 15 minutes
Makes : 20-25 idli's (depending upon the size of Idli mould)


Ingredients:
Par Boiled Rice /Pulungal Ari /Idli Rice : 3 cups
Cooked Rice or Beaten rice /Aval /Poha : 1/2 cup
Urad Dal /Uzhnnu parippu : 1 cup
Fenugreek Seeds/Uluva : 1 tsp
Salt to taste
How to make Idli – South Indian Idli :


1. Wash and soak the rice for about 6-8 hrs or overnight.
2. Wash and soak the urad dal along with the fenugreek seeds for 2-4 hrs.
3. Drain the water from the urad daal and grind to a smooth paste until fluffy, adding ice cold water little by little when needed. It usually takes about 20 mins to half an hour. Transfer it to a big container.
4. Now grind the soaked rice adding water. When it is half way done, add the cooked rice or aval ( soaked for a minute ).
5. Add the rice batter to the urad dal batter in the vessel. Mix it well with hands.
6. Cover and allow the batter to ferment in a warm place overnight.
7. The next day, add salt and give it a good mix. The batter is ready for use.
8. Take idli plates and place a drop of oil in each idli mould and spread it over the entire mould.
9. Heat 1 cups of water in idli stock-pot or a pressure cooker,place the filled idli plates and cover with lid. 10. Heat in high for about 20 mins and remove the idlis from the plates.
11. Serve hot with Sambar or Ghee or with any Chutney
Notes :
The quality of rice and dal is important to make spongy idlis.
Its usually best for idli in the first two days & for dosa in the remaining days.
The rate of fermentation depends on the temperature of the surrounding. I usually keep it in the oven ( unheated, switched off and oven lights on ).You may also leave it near the stove.
If you are living in cold country add a pinch of baking soda to the batter then place the batter bowl inside the oven so that it ferments well.
Store the batter in a large container which gives it room to ferment and rise up.
The batter can be kept in fridge and used for about 4-5 days. If the batter is refrigerated, keep it outside for 20 mins before using.
If the idly is hard some reasons are the consistency of the batter might be thick or the quality of the dal might be poor.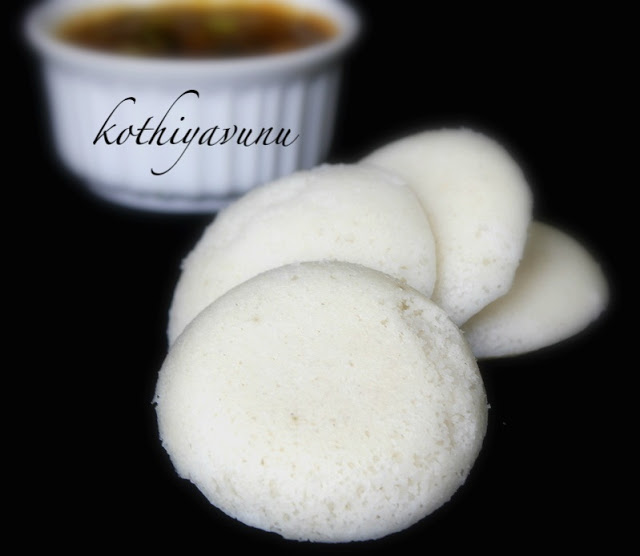 Ulli Sambar Recipe | Shallot-Small Onion Sambar Recipe :
Sambar is a most common dish in South India. It is normally made from Toor dal /Yellow Pigeon Pea, and may also include onion, and vegetables which is seasoned with spices. It is served as an side dish, or the main course of a meal. Today I am sharing the every famous and delicious Sambar with Small Onion which is the best combo with Idli /Dosa or with a steaming rice. In Kerala it's called Ulli Sambar; Ulli refer to Small Onion/Shallots.
My Mom used to make sambar with cocount (Varutharacha Sambar) but here I am sharing sambar without coconut which is my MIL staple recipe and one of her masterpieces. After marriage I too popped up her recipe and now its my family's favorite sambar.. Give a try and Enjoy!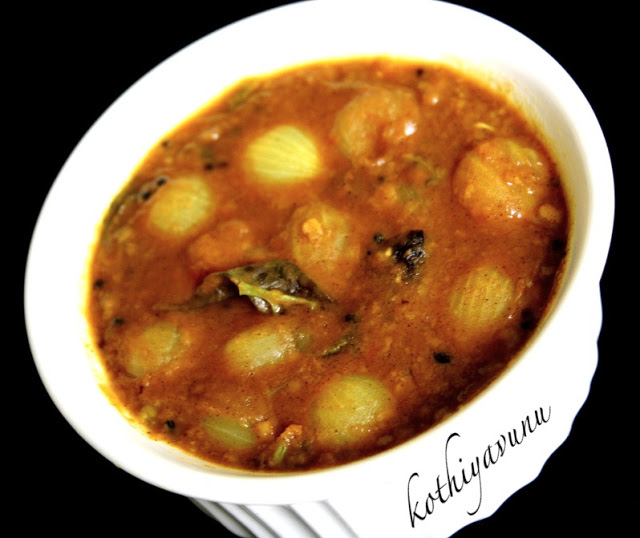 Recipe for Ulli Sambar /Kerala Style Ulli Sambar/Vengaya Sambar/Small Onion/Shallot Sambar

Ingredients :
Shallots /Small Onion /Ulli : 1 cup
Tomatoes : 1 (medium, chopped into big pieces)
Tuvara, Sambar Parippu / Toor Dal /Yellow Pigeon Pea : 1/2 cup
Green chilies : 2-3 (slit)
Turmeric Powder : 1/2 tsp
Tamarind /Puli : gooseberry sized ball
Asafoetida (Kayam) : A pinch
Red Chilly powder : 1 tsp
Coriander Powder : 2 tsp
Sambar Powder : 3 tsp
Mustard Seeds : 1/2 tsp
Dry Whole Red Chillies : 3
Curry Leaves : A sprig
Coconut Oil : 3 tbsp + 1/4 tsp
Water as needed
Chopped Coriander Leaves – 2 tsp
Salt to taste
How to make Ulli Sambar – Vengaya Sambar – Red Small Onion Sambar:
1. Pressure cook toor daal with water, 1/4 tsp of tumeric powder and salt for 4-5whistle. After the pressure settles open the cooker and keep it aside.
2. Soak tamarind in 1/2 cup of warm water for sometime, squeeze and take the extract from it. Keep aside.
3. Heat 1 tbsp of oil in a pan and add small onions and green chillies and saute for 2 minutes now
add 1/4 tsp turmeric powder, chopped tomatoes and enough water and cover the pan and allow to boil.
4. When small onions are cooked and done, remove the lid of the pan and add in the tamarind juice and cooked dal. Stir and simmer on low flame for some more time and add more salt if needed.
5. Add chopped coriander leaves and and sprinkle asafoetida powder and simmer for 2 more minutes. Remove from flame and keep aside.
6. Heat oil in a wok and allow mustard seeds to splutter, throw the dried red chillies and curry leaves and fry for a minute.
7. Mix in the sambar powder, coriander powder and chilly powder and saute for 2 minutes on low flame.
8. Pour the sambar to the wok and mix well for a few minutes. Remove from flame and sprinkle 1/4 tsp coconut oil and keep covered till served. Serve with Idli or Dosa or with rice and Enjoy!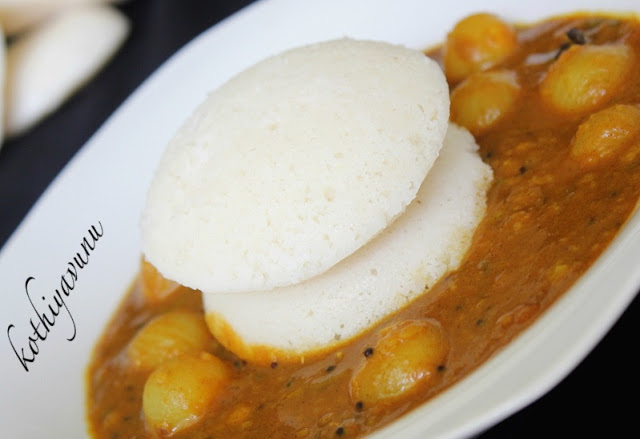 Click here for more Breakfast Recipes.
Happy Cooking!
Sangeetha