I think of all the dishes made out of chicken, chicken curry is the easiest and simplest to deal with. Everyone has their own way of making it. I make chicken curry in many different ways and every time it turns out delicious and mouth-watering, Here goes the recipe for my style chicken curry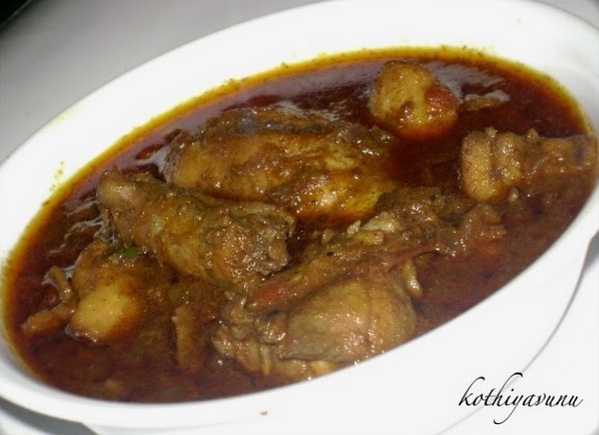 Spicy Chicken Curry Recipe – My Version
Preparation Time : 15 min
Cooking Time : 20-25 mins
Serves : 4


Ingredients :

For Marinating :
Skinless Chicken with bones : 500 grms/1.1 lb
Turmeric Powder :¼ tsp
Chicken Masala Powder :1 tsp (I used skathi chicken masala)
Red Chilly Powder :1/2 tsp
Salt to taste
To Grind :
Fennel Seeds : 1 tsp
Black Pepper Corns: 1/4 tsp
Cardamon : 2 pods
Cloves : 2
Bay Leaves : 1
Cinnamon Sticks : 1/2 inch
Ginger : 1/2″ piece
Garlic : 4 cloves
Green Chillies : 2-3
For Sauteing :
Onion :2 large (finely chopped)
Tomato :1 large (finely chopped)
Green Chillies : 2 (slit open lengthwise)
Ginger : 1/2 tsp (crushed)
Garlic : 1/2 tsp (crushed)
Corainder Powder : 2 tsp
Red Chilly Powder :1 tsp (for more color add 1/2 tsp kashmiri chilli powder)
Cumin Powder :1/2 tsp
Freshly grounded Black Pepper Powder :1 tsp
Coconut Oil/Cooking Oil : 2 tbsp
Curry Leaves : 1 sprig
Cilantro/ Coriander Leaves :1 sprig
Salt for taste


How to make Spicy Chicken Curry :
1. Clean and cut the chicken into medium pieces and wash with little turmeric powder and drain the excess water.
2. Marinate the cleaned chicken pieces with above given marinate ingredients and keep it aside for 1/2 to 1 hrs.
3. In a blender, add the listed ingredients " To Grind" to coarse paste and set it aside.
3. Heat oil in a pan; add the grounded spice paste, crushed ginger garlic and saute until the raw smell goes. Add the coriander powder, red chilli powder, cumin powder and pepper powder and saute for 2 mins in medium heat.(Note : Make sure not to burn the spices.)
4. Add chopped onions, chopped tomatoes and green chillies, saute well till onions turns to translucent. Add salt as needed.
5. Add marinated chicken and curry leaves and mix well so that gravy combines well with chicken; add enough water (I added 1/4 cup water) close and cook for 5 min's in high flame, then to medium fire till chicken is done (Note : Approximately 20-30 mins) or if your cooking in pressure cooker cook till 2 whistles.
6. When the gravy gets thicken, open the lid, combine well and cook for 2-3 min's.
7. Sprinkle coconut oil (optional ); garnish with cilantro/corainder leaves and serve hot with rice and enjoy!
Click here for more Non-Vegetarian Gravies & Curries
Happy Cooking!
Sangeetha