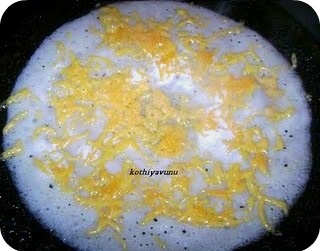 Cheese Dosa Recipe – Indian Style Crepes with Cheese
Ingredients :
For Dosa Batter :
Par Boiled Rice /Pulungal Ari /Idli Rice : 3 cups
Cooked Rice or Beaten rice /Aval /Poha : 1/2 cup
Urad Dal /Uzhnnu parippu : 1 cup
Fenugreek Seeds/Uluva : 1 tsp
Salt to taste
For Cheese Dosa :
Dosa Batter
Grated cheese
Oil
How to make Dosa Batter:
1. Wash and soak the rice for about 6-8 hrs or overnight.
2. Wash and soak the urad dal along with the fenugreek seeds for 2-4 hrs.
3. Drain the water from the urad daal and grind to a smooth paste until fluffy, adding ice cold water little by little when needed. It usually takes about 20 mins to half an hour. Transfer it to a big container.
4. Now grind the soaked rice adding water. When it is half way done, add the cooked rice or aval ( soaked for a minute ).
5. Add the rice batter to the urad dal batter in the vessel. Mix it well with hands.
6. Cover and allow the batter to ferment in a warm place overnight.
7. The next day, add salt and give it a good mix. The batter is ready for use. (
Note :
This batter usually best for idli in the first two days and for dosa in the remaining days.)
How to make Cheese Dosa :
1. Pour the batter on the griddle with a ladle and spread in a circular motion immediately with the help of ladle back.
2. Sprinkle with oil on the sides and then cover it with a lid for few seconds.
3. Remove the cover and add spread over the grated cheese all over the dosa and cook on very low flame.
4. Don't turn over, as cheese will get burnt. If you like burnt cheese, then go ahead that way,
5. When dosa is done remove and serve hot with chutneys or sambar.
Notes:
The varieties are so many. The recipe of mine makes a great one for kids.
If you wish you can add chopped green chilles, onion and coriander leaves too.
Click here for more Dosa recipes.
Cheers!
Sangeetha