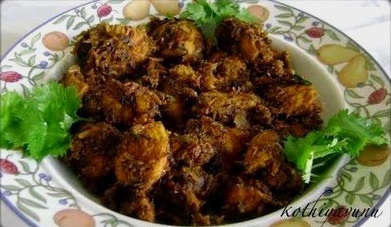 Recipe for Chettinad Pepper Chicken /Pepper Chicken
Ingredients :
Chicken : 1/2 kg
Onion : 2 (large,finely chopped)
Tomatoes : 2 (medium,finely,chopped)
Ginger garlic paste : 2 tsp
Chili powder : 21/2 tsp
Turmeric powder : 1 tsp
Coriander powder : 1 tbsp
Whole Pepper corns (crushed) : 2 tbsp or to tolerance level
Cinnamon : 2 sticks
Cardamom : 2 pods
Clove : 2 nos
Bay leaf : 1
Fennel seeds : 1 tsp
Curry leaf : 1 sprig
Lemon Juice : 1/2 tsp (optional)
Oil : 3 tbsp
Method of Preparation:
1. Clean and wash the chicken pieces with turmeric powder and drain it.
2. Marinate the chicken for 1 hour with chili powder,1/2tsp turmeric powder, 1tsp ginger garlic paste and salt as required.
3. Heat a kadai with oil and add cinnamon, cardamom, cloves, fennel seeds and bay leaves and saute for a minute.
4. Add finely chopped onion and sauté till onion turns to translucent,then add ginger garlic paste. saute well so that the pastes don't get burnt.
5. Add chopped tomato pieces and smash it using the ladle, now add the coriander powder and mix well.
6. Add ¼ cup of water into the masala and reduce the flame to medium.
7. Close the kadai and let the masal get cooked for 5 minutes until the oil separates.
8. Add the marinated chicken pieces and sauté nicely till the moisture in the chicken comes out, now there will be enough water in the chicken to get cooked.
9. Adjust the salt and close the kadai in medium flame and cook for 8to10 minutes. (Note : Check that the chicken pieces are cooked well, if not cook for some more time.)
10. When the chicken is cooked,add the crushed pepper corns on top and mix well.
11. Add the lemon juice after switching off the stove. Garnish with coriander leaves. Serve with rice and enjoy!
Click here for more Chicken recipes.
Happy Cooking!
Sangeetha