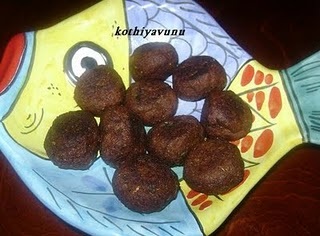 Ingredients :
Tilapia Fish : 3 fillets (cleaned and washed)
Onions : 1/2 cup (finely chopped)
Green chillies : 3-5 nos
Grated Coconut : 1/4 cup
Roasted Chana daal /Dhalia : 2 tbsp
Dry red chillies : 3-4 or to taste
Garlic : 5-8 pods
Ginger : 1″ piece (chopped)
Coriander leaves : 1/2 cup (chopped)
Coriander seeds : 3 tsp
Cumin seeds : 1 tsp
Cinnamon stick : 1/2″ stick
Green cardamoms : 2 pods
Cloves : 2-3 nos
Cashewnuts : 10-15
Salt to taste
Oil for deep frying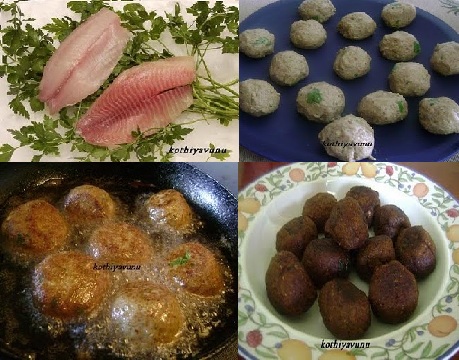 How to make Fish Masala Balls :


1. Clean and cut the tilapia fish fillets into small pieces and keep it aside.
2. Heat oil in pan,add the cumin seeds,coriander seeds,cardamom,cloves,cinnamom,red chillies and cashew nuts, and saute for a minute.
3. Grind ginger,garlic and green chillies with the roasted ingredients to a coarse paste.
4. Add the chopped raw onions, puttukadala/dhalia, grated coconut and salt and grind further to form a smooth paste
5. Now add fish tilapia and just pulse it once and transfer the ground mixture to a bowl.
6. Add chopped coriander leaves and oil,mix thoroughly and shape into small balls.
7. Heat oil in pan, once its hot, reduce flame to medium and shallow fry the fish masala balls fry until it turns to golden brown color and crisp.
8. Serve as appetizers or side dish to rice and enjoy!
Notes :
Frying should be done in medium heat; if not the masala will not be cooked properly.
For more Fish recipe check here
Happy Cooking!
Sangeetha