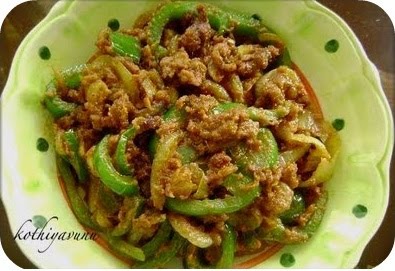 Capsicum – Bell Pepper Peanut Masala Recipe
Preparation Time : 10 mins
Cooking Time : 10 mins
Serves : 4


Ingredients :
Green Capsicum : 2 (medium)
Onion : 2 (medium)
Tomato puree : 1/2 cup
Green chillies : 3-4
Peanut : 1 cup
Turmeric powder : 1/4 tsp
Red chilli powder : 1/4 tsp
Salt to taste
Oil : 3tsp
How to make Capsicum-Bell pepper Peanut Masala :


1. Chop the capsicum and onions in round shape.
2. Roast the peanuts until it turns brown color, grind to fine powder.
3. Heat oil in the pan, add onions and saute well till turns to translucent and brown in color.
4. Add capsicum,chopped green chilli,turmeric,red chili powder,salt,saute for minute and mix well.
5. Add roasted peanut powder,and tomato puree into it;mix well and cook for 2mins.
6. Remove and serve hot with any Indian bread or rice.
Check here for more Vegetarian Side Dishes.
Cheers!
Sangeetha