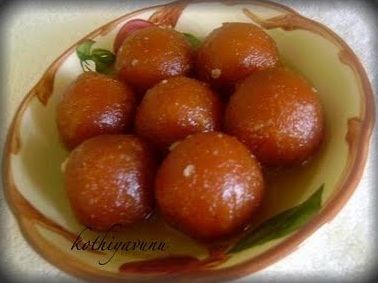 Recipe for Gulab Jamun


Makes 15 Gulab Jamuns.
Ingredients:
Instant Dry Milk (Milk Powder) : 1/2 cup
All Purpose Flour : 2 tbsp
Yogurt : 2 tbsp
Ghee : 1 tbsp
Baking Soda : 1/4 tsp
For Syrup:
Water : 2 cups
Sugar : 2 cups
Cardamom Powder : 1/4 tsp
Saffron few strands
Oil for deep frying
Method of Preparation :
1. In a mixing bowl, add milk powder, all purpose flour, baking soda and mix well.
2. Add ghee, slowly start mixing in the yogurt and make a dough; cover and keep aside for 10 minutes and make desired size balls.
3. Heat up the oil on low-to-medium heat, drop a small piece of dough, if it sits at the bottom of the pan for a minute before coming to the surface then the oil is ready. (Note : The oil should not not be too hot or they will brown too quickly)
4. Drop dumplings in the oil and keep rotating them for an even color.
5. Once the dumplings are a dark golden brown, take them out into a paper towel.
6. Make the syrup in a pan by adding water, sugar, cardamom powder and saffron bring to boil; when it starts boiling, reduce the heat and simmer for 10 mins.
7. Turn off the flame and cover the gulab jamuns and let them soak in the syrup for an hour.
8. Yummy Gulab jamuns are ready! Serve hot or cold and Enjoy!
Check here for more Sweet recipes.
Cheers!
Sangeetha