For a long time I have been wanting to make Kerala Parotta /Porotta, as it is more popular in the southern part of India. It is a common layered flat Indian bread usually available in restaurants and Thattukada /Road side shops across Kerala and other states of South India. Kerala Parotta with
Chilly Beef Fry
is hot favorite among Keralites.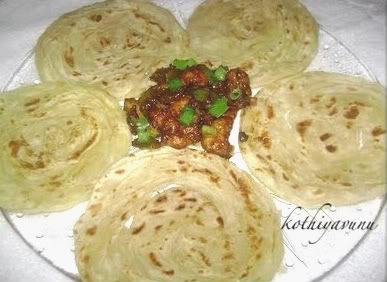 When talking about parotta/porotta, my mind always rush to a thattukada /roadside restaurants. I was always fascinated while watching the chefs making these parotta's, they wave flattened dough on the air and do tapping on the dough, so that the parotta is formed of many layers, it is then grilled on a tava or a griddle and finally they pat the fried parottas and stack them together while it is still hot.
Needless to say, the aroma that fills the air and I love that smell while walking down the street…even the thought makes me drool..:-) I always thought it was a very difficult to try in house, but was surprised to see that it was not the case.Though it does take some time to prepare, but worth the efforts ! I adapted this recipe from various internet sites and by seeing couple of cooking videos.It pairs well with spicy dishes (vegetarian or non-vegetarian).
Here is how it is made in my kitchen . Enjoy!
Kerala Parotta – Porotta Recipe | How to make Kerala Parotta from Scratch | Layered Flat Indian Bread
Preparation Time : 1hr 10 minutes
Cooking Time : 30 minutes
Makes
:
8-10 small sized parotta
Ingredients :
All purpose flour/Maida : 2cups
Luke warm water as required
Veg oil :1tbsp
Salt to taste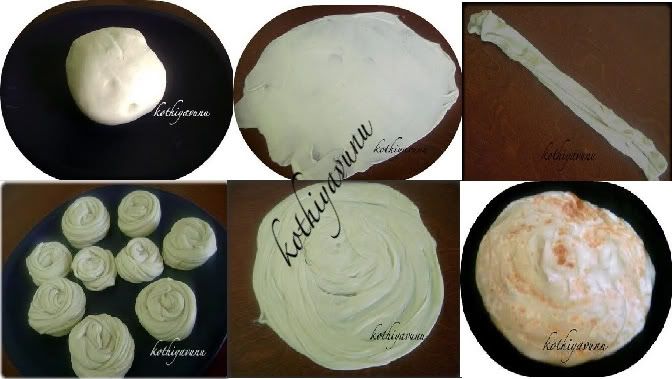 How to make Kerala Parotta-Porotta | Homemade Porotta | Malabar Porotta :
1. Mix all the ingredients in a bowl and knead well to make a dough by adding water little by little, like chappathi dough consistency.
2. Knead the dough for 10-minutes to get a nice layered parotta. Cover it with a wet towel, keep it aside for 1 hour.
3. Divide the dough into balls in size of your closed palm. Keep the balls under the wet cloth so that it won't get dry.
4. Take a portion and apply some oil on it and roll the ball as thin as possible;apply a little more oil over the rolled dough.(Note: While spreading the dough use enough oil on the surface, so that it wont stick together when you folds).
5. Hold the two ends of the dough straight and make pleates layers on the rolled dough starting from one end.
6. Holding at one end of the layered dough ,rotate it round and keep aside,again cover with wet towel.
7. Place the folded dough on the table, use your hand to spread it.Parotta should be a medium thick round.
8. Heat a nonstick pan on medium heat,pour a spoon oil and fry the parotta turning frequently,until speckled brown and firm.
9. Keep the cooked porotta in a air tight container.
10. When 4-5 parottas are done,place them in a flat surface and tap from the both sides.This is to help the layers to separate.(Note: Do not beat them soo hard,this tapping has to be done when the parotta is hot if not it will break).
11. Yummy Kerala Parotta is ready serve with Chiili Chicken,Chicken Curry or Vegetable Kurma and Enjoy!
Now comes the award
My blogger friend Priya,Sree,Divya,Babli have passed this awards.Thanks a lot Priya,Sree,Divya and Babli for remembering me and sharing the award with me.I am so happy to receive this award from u all dears.
I would love to share this awards to all my blogger friends because I love every one's blog.I request all my lovely friends to feel free to accept it and post it in your blog.
Happy blogging!
Sangeetha