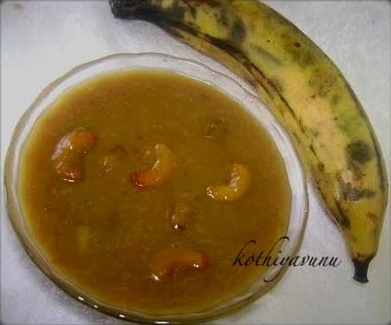 Pazham Pradhaman Recipe | Nenthra Pazham Pradhaman | Banana Payasam Recipe | Kerala Banana Pudding
Preparation Time : 20 minutes
Cooking time : 30 minutes
Serves : 4-6
Ingredients :
Ripe Banana /Nenthrapazham : 2 (big)
Jagerry/Sharkkara : 1/2 cup (crushed)
Semi Medium Thick Coconut milk – 2nd extract /Randaampal : 1 cup or if you using store bought can : 1/2 can diluted with 2 cups of water. (see the method given below if you are using fresh coconut milk)
Thick Coconut milk – 1st extract /Onnampaal : 1/2 cup
Cashews nut : 2 tsp
Raisins : 2 tsp
Coconut pieces/Thengakothu : 1 tbsp
Ghee : 4 tbsp
Cardamom powder : 1/2 tsp
How to make Coconut Milk :


Take a 1 1/2 fresh coconut, grate it finely. In a blender or food processor, add the grated coconut with1 cup of hot water and process for a minute, then squeeze it for milk. This gives you 1cup thick milk.
Return coconut to processor and add 2 cup hot water and process for couple of minutes and squeeze it for milk in separate bowl. This gives you 1cup thin milk.
OR
Buy 1 (400ml) can of thick coconut milk, shake well and pour 1/2 contents in a bowl and mix with 1 cup er (i.e. same quantity of water). Remaining milk in can is thick milk.
OR
Mix 25 g instant coconut milk powder with 200 ml water for thin coconut milk.
Mix 25 g instant coconut milk powder with 100 ml water for thick coconut milk.

How to make Pazham Pradhaman |Nenthra Pazham Pradhaman :
1. Cut plantains into 3-4 pieces and place them in a steamer and steam till banana is well cooked or pressure cook the bananas until soft or you can microwave the banana, in microwave safe plate and cook until it is soft.
2. Remove the outer skin and de-seed, remove the black layer inside and mash the bananas to a paste using hand so that there aren't any lumps.
3. Heat ghee in a thick bottomed vessel and fry the mashed banana paste for 5 mintues.
4. Add the crushed jaggery and cook in medium heat until the mixture thickens.
5.Pour the thin diluted coconut milk and allow it to boil.
6.When it thickens; reduce the flame and add thick coconut milk and cardamom powder, cook it for couple of minutes and remove from fire.
7.Heat ghee in a small pan fry cashews,raisins and thengakothu/coconut pieces and add this to the pradhaman.
8.Yummy Pazha Pradhaman is ready,Serve hot or chilled & enjoy!


Related Posts :
Parippu Pradhaman
Palada Pradhaman – Easy Version
Palada Payasam – Traditional Way – Version 1
Chakka Pradhaman /Jackfruit with Coconut Milk & Jagerry
Ada Pradhaman /Cooked Rice Flakes with Coconut Milk & Jagerry
Nenthra Pazham Pradhaman /Banana Payasam
Semiya Payasam /Vermicelli Dessert
Aval Payasam /Poha /Beaten Rice Flakes with Milk
Pal Payasam /Rice Kheer
Happy Cooking!
Sangeetha