Delicious, Flavorful Ney Choru-Ghee Rice-Kerala Style Ghee Rice Anyone?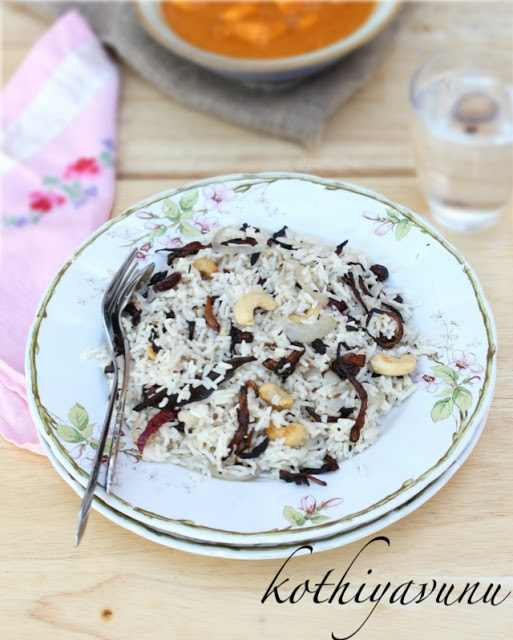 Kerala, the God's Own Country, is also referred to as the, 'Land of Spices'. Each region has a delectable culinary repertory of it own. Today I am sharing a delicious Malabar special Ney Choru/Ghee Rice. Rice infused with flavor of spices, dry fruits and ghee give a unique taste. This pairs well with any spicy mutton or chicken curry or any vegetable curry. This ghee rice preparation is very simple and easy to make and every common preparation for special occasions like family gatherings or parties. If your looking for a variation from Briyani and Pulav, don't hesitate. This recipe is exactly what you ought to try…Enjoy!
You Might Also Like These Biryani's?
How to Make Ney Choru-Ghee Rice Recipe – Malabar Special | Kerala Style Ghee Rice-Nei Choru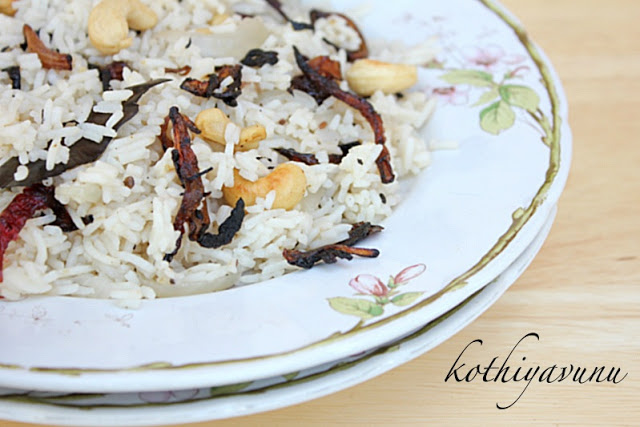 Ney Choru-Ghee Rice Recipe-Malabar Special | Kerala Style Ghee Rice
Ney Choru-Ghee Rice,infused with flavor of spices,dry fruits and ghee.This pairs well with any spicy mutton,chicken curry or any vegetable curry.
Author:
Sangeetha Subhash
Ingredients :
Basmati rice /Jeerakasala rice : 2 cups
Ghee : 3 tbsp
Onion : 1 (medium, sliced)
Water : 4 cups
Cardamom /Ellaka : 4 nos
Cinnamon /Patta /Karugapatta : 2 pieces of 1" stick
Cloves /Grambu : 4 nos
Bay Leaves /Karuvaela : 2 leaves
Crushed Pepper Corns : few
Cumin Seeds /Jeerakam : a pinch
Salt to taste
For Garnishing :
Ghee :1 tbsp
Cashews : handfull
Raisins /Unakka Munthiri : ½ handful
Onion : 1 (small, sliced)
How to Make :
Wash the rice well and soak it for for half an hour.
Heat 1tbsp ghee in a pan ,fry the sliced onions until golden brown,drain and remove it, in the remaining ghee, fry cashews and raisins, drain and remove it and keep it aside.
In a same pan heat 3 tbsp of ghee, add all the spices (cinnamon, cloves, cardamom, bay leaves, cumin, pepper corns) saute for 2 minutes now add sliced onions and saute the onion until translucent.
Drain water from the rice and add the rice to the pan. Fry in medium heat for about 5 minutes, stirring continuously.
Add water and salt and cover the pan with a lid, cook until the rice is done and all the water is absorbed.Occasionally check the rice in between and stir to prevent rice sticking to the bottom..
Garnish with fried onions, cashews & raisins.
Serve with Malabar Chicken Curry or any curry of your choice and enjoy!
Notes
Actual this recipe calls for jeerakasala rice (special short varitey rice used in Kerala), but I made it with basmati rice because, I couldn't get that kind of rice anywhere here.If you have access to get jeerakasala rice, then use them more traditional delicious taste.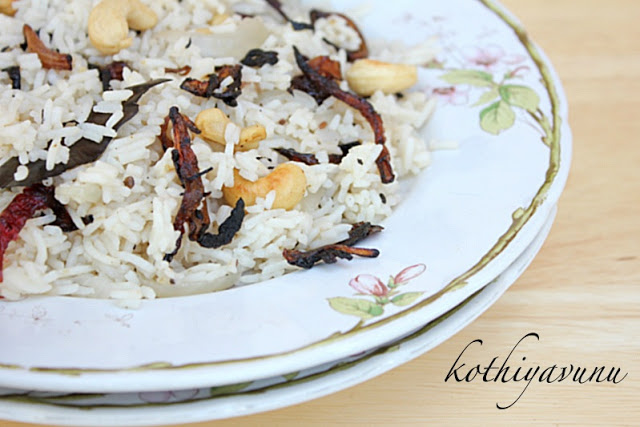 Hope you will try this Ney Choru-Ghee Rice/Malabar Ghee Rice-Nei Choru and enjoy as much we did. Serve with Spicy chicken or Mutton Curry or with any vegetable curries as you like and Enjoy! Kindly do revert back to me if you try…would love to hear your opinion.
Happy Cooking!
Sangeetha
Like this Recipe? Sign up, and get more recipes delivered directly to your inbox.