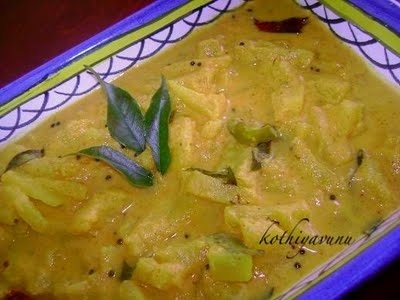 Kaithachakka Pachadi Recipe | Pineapple Pachadi Recipe – Kerala Sadya Recipe
Preparation Time : 10mins
Cooking Time :15 mins
Serves : 4


Ingredients :
Ripe Pineapple : 1/2 (cut into 1″piece or u can finely chop)
Red Chilly Powder : 1/2 tsp
Turmeric Powder : 1/4 tsp
Yogurt/Curd : 4 tbsp
Mustard seeds : 1/4 tsp
Grated Coconut : 1/2 cup
Green Chillies : 2 small (slits)
Cumin/Jeera seeds : 1/4 tsp
Dry Red Chillies : 2
Curry Leaves : a sprig
Sugar : 1 tsp
Coconut oil : 1 tbsp
Salt to taste
How to make Pineapple Pachadi – Kaithachakka Pachadi :
1. Peel the pineapple and remove the skin and its pines thoroughly.
2. Cut into 1″inch slices; cook the pineapple in little water along with salt,turmeric red chilly powder,green chilly until soft and tender.
3. Add sugar and mix well and cook for 5 minutes.(If u want to make it sweet add more sugar to pachadi, i have used only 1tsp)
4. Grind the coconut along with 1/4tsp of mustard and cumin seeds to a fine paste.(adjust the consistency of your Pachadi by increasing or decreasing the water content in the coconut paste)
5. When the pinneapples are done,add the coconut paste and mix well and reduce the flame and cook for 10 minutes till it becomes thick.
6. Remove from the fire and add the yogurt and mix well adjust the salt.
7. Heat coconut oil in a pan,add mustard seeds when it starts to pop, add dry red chilly and curry leaves saute it for few seconds.
8. Pour seasoning over the Pineapple Pachadi. Yummy pinneapple pachadi is ready and serve with hot rice and enjoy!
Now Comes the Award :
Shabs of Shabscuisine has given me sets of Awards and has meme. I have been tagged before as well, So please view them here.Thank u so much for thinking of me shabs and passing to me.. that's so kind of u dear..i'm truly touched!!
Rohini of curriesandspiceshas given this beautiful awards.Thank u so much for thinking of me and sharing with me that's so kind of u dear..i'm truly touched!!
I would like to share all these awards with all My Fellow Bloggers!!
I think by this time all would have received this….any way I am passing it to people who has not yet received.
Tulip,Angie,Collaborative curry,Lena rashmin raj,Abhilash,Usha Nandhini,Astra Libris,Simply life,Viji,Nima,Vidhya and Lakshmi,Latha,San's Kitchen
Happy blogging!
Sangeetha