Hello everyone, Today, I am sharing something different. Chicken Franks- Sausage Masala???…. Hope it may sound different, but it tastes good and incredibly easy to make. The recipe I have given here is the one I commonly use at home for all my curries.If you are looking something really different and in search of a chicken franks fusion recipe,I can suggest this one ! On to the recipe…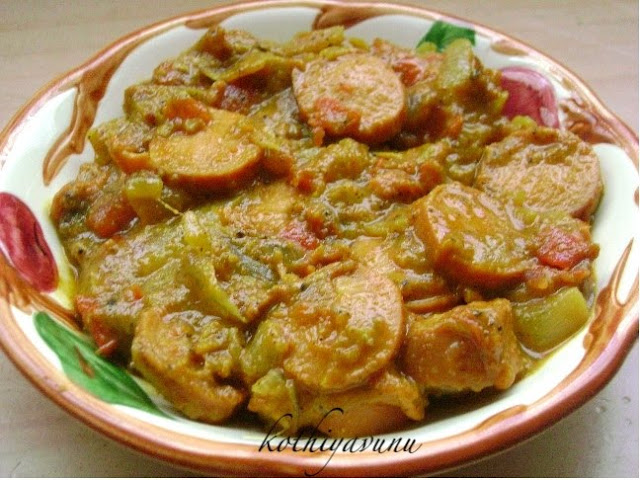 Recipe for Microwave Chicken Franks – Sausage Masala | Hot Dog Gravy
Ingredients :
Chicken Franks /Sausages /Hot Dogs : 6
Onion : 1 big (sliced)
Tomato : 1 medium (chopped)
Shallots/Pearl onion : 3-4 nos
Green chillies : 2 nos
Garlic : 5-7 cloves
Ginger : 1″inch piece
Fennel seeds : 1/2 tsp
Cloves : 2 nos
Cinnamon : 1/2″ stick
Cardamom : 2 pods
Kashmiri chilly powder : 1 tsp
Coriander powder : 1 tsp
Cumin powder : 1/2 tsp
Pepper Powder : 1/2 tsp
Hot Water : 1/2 cup
Curry leaves : a sprig
Olive Oil : 2 tbsp
Salt to taste


How to make Microwave Chicken Sausage |Hot Dog Masala:


1. Grind and make a paste of green chillies,garlic,ginger,fennel seeds,cinnamon cloves,cardamom and shallots/pearl onion.
2. In a microwave-safe dish,add olive oil and heat for 1 minute in high.
4. Add sliced onions, combine well and microwave for 5 minute, uncovered and give a stir in between..
5. Add the grounded paste mix everything well uncover the dish and microwave it for 2 mins in high.
6. Add kashmiri red chilly powder, coriander powder, garam masala powder,cumin powder pepper powder and salt mix everything well and cook again for 3 mins in high. Now add the tomatoes and cook again for couple of minutes.
7. Add 1/2 cup hot water and mix well to form a gravy.
8. Add the chicken sausage slices and mix well. Cover and microwave it for around 5 mins so that the gravy is coated on the chicken franks.
9. Serve hot with any Indian Bread or rice.
Check here for more Sausage recipes.
Cheers!
Sangeetha