Naan, is traditionally a leavened Indian flatbread baked in a tandoor, or clay oven with high temperature and served hot and brushed with
ghee
or butter. It is very popular in most Indian restaurants in the country and all over the world. Naan may be made in different flavors like garlic, herbs and spices, or it can also be stuffed with vegetable or meat.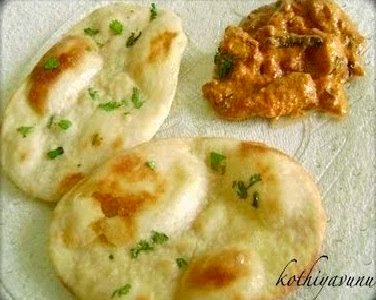 Traditionally naan recipe calls for it to be baked in a tandoori oven; it is unlikely that you will have one in your kitchen so we have to improvise. This is an easy naan recipe that anyone can make at home with oven or in tava/skillet and it's perfect for any skill level..The tops and bottoms of naan are slightly crispy and the insides are nice and light, flaky and moist and best of all ! Fluffy and soft naan that paris great with Butter Chicken, Chicken Tikka Masala, Malai Kofta, Panner Butter Masala or Subzi/Curry of your choice or if you are like me, you can also eat it plain, just patted over with ghee or butter. Do try and let me know how you like it 🙂 Enjoy!
Recipe for Butter Naan / Baked Indian Bread /Homemade Naan


(Makes 6 Naans)


Ingredients :
All Purpose Flour/Maida : 2 cup /450 grms + 1/4 cup for rolling
Baking soda : a pinch
Yogurt : 2 tbsp
Oil/Ghee : 2 tbsp
Warm milk : 2/3 cup
Yeast : 1 tsp
Sugar : 1 tsp
Salt : 1 tsp
Butter : 4 tsp
Method of Preparation :
Preparation for Naan Dough :
1. Stir the yeast and sugar into the warm milk, and let it stand for 5 minutes.
2. Sift flour,baking soda and salt into a bowl, add yeast- sugar mixture,yogurt,oil/ghee and mix well together,turn the dough out onto a floured bench and knead for 5-10 minutes until shiny and elastic.(if necessary use some warm water)
3. Cover the dough with plastic wrap and keep it in a warm place (may be inside the cooking range) for almost 3-4 hour or until it risen.
Cooking Naan in the oven :
1. Preheat the oven at 450 degree and set the oven settings to high broil.
2. Meanwhile,knead the dough for 5 minutes quickly and then divide into 6 equal parts.
3. Roll each piece out to 2-4 mm thickness oval shaped roti.Dust lightly with dry flour to help with the rolling. Cover and rest in a warm place for 5-10 minutes.
4. Place the naan in baking or pizza stone (in case you don't have baking or pizza stone) then use the baking tray,cover it with foil and place 2 naans at a time.
5. Top the naan with some butter and put inside the broiler and cook for 2-3 minutes on each side depending on how crispy you like your naan. (Note: Timing setting varies depending upon oven so adjust accordingly)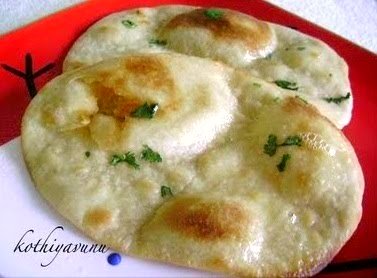 6. When they puff up and dark spots start appearing on the top; flip them and cook for 2 more mins on other side.
7. Take naan out of the oven and brush lightly with butter.
8. Repeat the procedure for the next batch.
9.Before serving top some butter and chopped coriander leaves and serve hot with Butter Chicken, Panner Butter Masala or Subzi of your choice & Enjoy!!!
Cooking Naan in the stove top:
1.Heat the skillet on the stove top.Grease it with some oil and wipe it off with a kitchen tissue.
2.Place the rolled naan and cook it on medium heat for 2-3 minutes.when its starts to puffs up apply some butter and flip it over and cook for 2 more minutes and remove from the fire.
3.Top with butter and chopped coriander leaves and serve hot & Enjoy!!!.
Notes :
A baking stone and a very hot oven are the keys to soft, crusty naan bread at home
Recipe Adapted from my friend Raksha Patel.
Check here for more Indian Bread Recipes.
Happy Cooking!
Sangeetha