Kurumulaku Rasam – Black Pepper Rasam Recipe | Black Pepper Soup
Ingredients :
Tamarind : Small lemon size or 1tbsp pulp
Tomatoes : 2 nos (medium,roughly chopped)
Turmeric powder : 1/2 tsp
Black peppercorns : 2 tbsp
Cumin seeds : 1 tbsp
Curry leaves : 1 spirg
Salt to taste
Oil : 1 tbsp
For Tempering:
Asafoetida powder : 1/4 tsp
Mustard seeds : 1 tsp
Curry leaves : a sprig
Shallots : 5-7 (finely sliced)
Garlic : 2 (crushed)
Coriander leaves : 2 tbs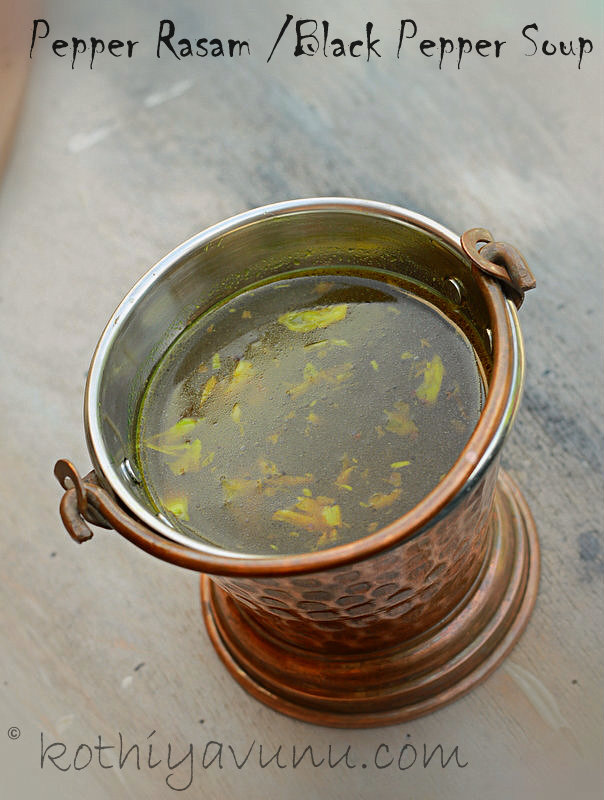 How to make Kurumulaku – Black Pepper Rasam | Black Pepper Clear Soup:


1. Soak tamarind in warm water for 10-15 min and squeeze the juice with 1/2 cup of water. If you are using tamarind pulp then dilute with 1/2 cup of water.
2. In a medium size pot, mix the tamarind paste with 2cups of water,add salt and turmeric powder,chopped tomatoes and bring to a boil.Simmer for about 10 minutes.
3. In blender crush the peppercorns, cumin seeds and curry leaves.
4. Add this crushed peppercorn mixture with tamarind water and stir well,cook for 2-3minutes.
5. Heat oil in a pan and add mustard seeds,when its splutter, add cumin seeds, asafoetida, shallots, garlic and curry leaves saute untill the shallots turns to brown colour.
6. Add this to rasam and remove from the heat and garnish chopped cilantro leaves.
7. Serve hot or warm with rice and fried pappada or drink like a soup and Enjoy!
Related Posts :
Tomato Rasam
Chicken/kozhi Rasam
Happy Cooking!
Sangeetha