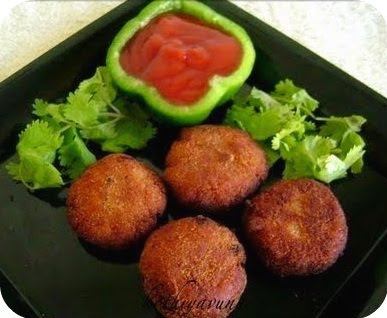 Ingredients:
Any Meat : 1/2 lb /220 grms (You can use Chicken /Mutton /Beef, Preferably boneless, I have used chicken)
Turmeric powder : 1/4 tsp
Green Chilly Paste : 1 tsp or to your spice level
Gram Masala powder : 1/2 tsp
Black pepper powder : 1/2 tsp
Ginger-Garlic paste : 1/2 tsp
Salt to taste
Onion : 1 (large,finely chopped)
Potato : 2 (large,boiled and smashed)
Ginger : 1 tbsp (finely chopped)
Green Chillies : 2 (finely chopped)
Garam masala : 1/2 tsp
Coriander leaves : few (finely chopped)
Bread crumbs : 1 cup
Eggs : 2
Corn flour : a pinch
Oil for frying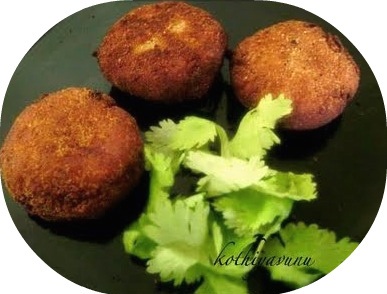 How to Make Meat Cutlet – Chicken Cutlet – Beef Cutlet – Mutton Cutlet Recipe :
1. Cook the meat with little water, turmeric powder, gram masala powders, green chilli paste, ginger-garlic paste and salt. Evaporate excess water and allow it to cool.Mince the cooked meat and set it aside.
2. Boil the potatoes; peel and smash well.
3. Heat oil in a pan/kadai,saute chopped onions until it turns to translucent. Add chopped ginger,green chillies and saute for few seconds.
4. Add garam masala, chopped coriander leaves and salt.
5. Add the minced meat, mashed potatoes and mix well.Remove from the fire and allow it to cool and mix well with your hands.
6. Make lemon sized balls out of it and roll into desired shapes.
7. In a bowl, beat the eggs with pinch of corn flour and salt.
8. Dip each cutlet in eggs and coat with bread crumbs.
9. Deep fry it in oil. Serve hot with tomato ketchup or any sauce of your choice and enjoy!
Click here for more Starters recipes
Now comes the award
My dear blogger friends Lissie,Esai Selvi,Rohini,Susri,Aysha,Anupama has honoured me with these awards. Thank u all my friends for all the appreciations and encouragements.
From Lissie & Aysha

From Lissie,Rohini,Susri,Anupama

From Esai selvi

I would love to share this awards to all my blogger friends.I request all my lovely friends to feel free to accept it and post it in your blog.
Happy blogging!
Sangeetha